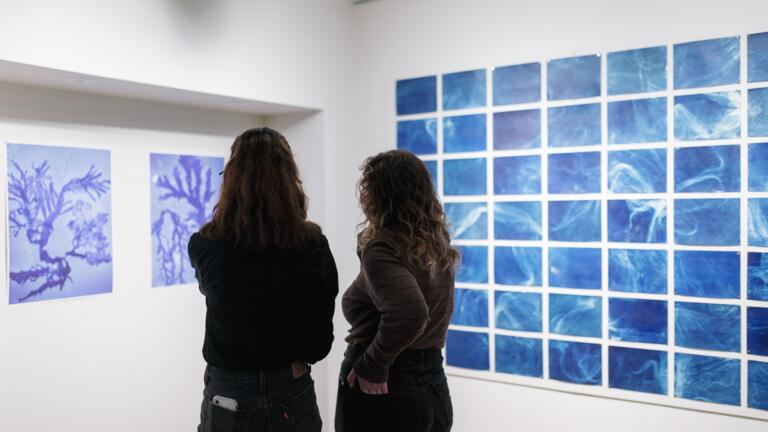 THACHER GALLERY
Past Exhibitions
Since its inception, the gallery has been committed to presenting a range of artistic media and expression, from regional to international, from traditional to experimental. Each year the gallery presents a diverse range of exhibitions, including an annual student showcase.
Previous group exhibitions and solo shows include:
Bay Area icons, past and present, such as Eleanor Dickinson, David Lance Goines, Lawrence Ferlinghetti, Tom Killion, Henry Evans, Carleton Watkins and William Keith;
Emerging California artists such as Desiree Holman, Tahiti Pehrson, Mitra Fabian and Jamil Hellu;
Exemplary spiritual and historical exhibitions such as Georges Rouault's Miserere et Guerre, Sacramental Light: Latin American Devotional Art, Galleons and Globalization: California Mission Arts and Pacific Rim and Interwoven: Native California Basketry Arts from the Missions Forward;
And innovative collaborations with groups such as the Indigenous Arts Collective, 3.9 Collective, Taller Tupac Amaru, Women's Environmental Artists Directory (WEAD) and the Faithful Fools/Kopanang Women's Group from South Africa.
2023
2022
2021
2020
2019
2018
2017
2016
2015
2014
¡Escultura! Selections from The Mexican Museum's Permanent Collections
From Here: The 15th Thacher Art + Architecture Annual
On Site: New Work by Mitra Fabian
Steamed: Faculty Art Triennial
2013
In Nature's Temple: Early California Art and Ecology—William Keith, Eadweard Muybridge, Carleton Watkins and John Muir
Paradox: New Ceramics by Arturo Araujo, SJ
Strange Attractors: New Work by Mark Baugh-Sasaki (Sculpture Terrace)
The 14th Thacher Art + Architecture Annual
Taller Tupac Amaru: A Decade of Radical Printmaking
Active Synchrony: New Work by Tahiti Pehrson
2012
Made in China: Ming to Mass Market & Ming Ren: Mysterious Ink World
Unearthed: USF's Hidden History
Silent Poetry: Woodcut Prints of the California Landscape by Tom Killion
13th Annual Art and Architecture
Aroused Tranquility: Graphic Botanicals by Henry Evans
Richard Kamler: A Retrospective
2011
Monsters in the Bookshelf: Artwork from Studio 5
Nature's Effigies: Tor Archer (Sculpture Terrace)
The 12th Thacher Art + Architecture Annual
The Art + Architecture Faculty Triennial
Textimonies: Early Etchings and Stencils by Glenn Ligon
2010
Ancestral Stones (Sculpture Terrace)
Galleons and Globalization: California Mission Arts and the Pacific Rim
The 11th Thacher Art + Architecture Annual
The Urban Unseen: Examining San Francisco's Interstitial Spaces
Genesis and the Rocks, Packed Up + Ready to Go: Topher Delaney
Positively Sixth Street: A Retrospective, 1992–2009
2009
Eric Gill Iconographer
Detour: New & Selected Works by Wanxin Zhang
New Climates: The 10th Annual Thacher Student Showcase
Make Believe: Video Works by Desiree Holman
As the Stars Go By: Textiles by Anna Von Mertens
2008
The Celluloid Bible: Film Posters Inspired by Scripture
Night Blooming: Sculptures by Ann Weber
Revolution 9: The 9th Annual Thacher Student Showcase
Power Up: Corita Kent
Between the Lines: the 2008 USF Faculty Exhibition
2007
Gleeson Library Associates 50th Anniversary Book Arts Exhibition with Terry Braunstein and Pia Pizzo
LAND: Leyya Tawil, Topher Keyes, and David Szlasa
To Hedonopolis, from Melancholy
Sight Circus: The 2007 Thacher Student Showcase
Sacramental Light: Latin American Devotional Art
2006
Rattlesnake in a Moving Car: Life with HIV
Earthly Concerns: Activist EcoArt Curated by WEAD—Women Environmental Artists Directory
[Re]mark: the 7th Annual Thacher Student Showcase
2005
Legacy and Promise: a Cabinet of Curiosities celebrating the history and lore of USF, formerly St. Ignatius College, at 150 years
Sense the Raw: 6th Annual Thacher Student Showcase
Carpe Lumen: Illuminated Sculpture from Faculty and Staff at The Crucible
Vandals: Artwork examining censorship and first amendment rights
2004
Human / Nature: Sukey Bryan and Janice Nakashima
From the Ground Up: Sculpture by Francisco "Pancho" Jiménez
New Geometries: Cherie Raciti and Patricia Walsh
For Good Measure: The 5th Annual Thacher Student Showcase
Adorned: Mixed Media Works by Ione Citrin & Jerry De La Cruz
Unframed: Janet Allinger, Alissa Kaplan, Lori Markman & Leslie Nemour
2003
Visual Inventions: Photomontage by Clifton Albergotti & Sr. Adele Rowland
Absence: New Work by Matthew Gehring
Give & Take: Sculpture / USF / 2003
The Cosmic Walk: Tapestries by the Kopanang Women's Group
A Delicate Balance: the 4th Thacher-USF-Annual Student Showcase
Radical Printmaking: Innovations in Contemporary Printmaking
Dancers: New Work by Borbála Kováts with Dance in California: 150 Years of Innovation
2002
Cuatro Voces: Recent work by Zulema Di Marco, Santiago Gino Gervasi, Veronica Rojas, and Gabriel Navar
Breakages: USF / Sculpture / 2002
Masterworks in Hot Type: Andrew Hoyem Exhibition
Thresholds: the 3rd Thacher-USF-Annual BFA Show
Indifference & the Fifth Horseman: Surrational Paintings by Fritz Hirschberger
Cultures and Community: The 16th USF Faculty / Staff Exhibition
2001
Bringing the Dark Madonna to Light: Contemporary Interpretations
Shooting Farm Workers: Photographs by Richard Steven Street
Resonance: The 2nd annual Thacher>>USF>>Annual BFA Show
Miserere et Guerre: The complete series of etchings by Georges Rouault
Pencil and Paper: Drawings by Samuel Fleming Lewis
2000
Gravity's Pull: Sculpture by Pamela Blotner and Kit Cameron
Sculpture / USF / 2000: Curated by Richard Kamler
Revelations: Selected works by Eleanor Dickinson
First Harvest: The first annual juried exhibition of works by USF BFA upper division students
Table of Voices by Richard Kamler
Birthing the Crone: Aging into Full Creativity
The Image and the Word: Works by Carlos Villa
1999
David Lance Goines: Retrospective
China: A Contemplation of Place
First, I Dream / Primero Sueno
Snakes in the Grass: The Deadly Legacy of Landmines & The Art of Peace and Justice: Art & Artifacts from the Friends of The Center for Law & Global Justice
15th Annual USF Faculty-Staff Art Exhibit
From "The Wonderful Wizard of Oz" to "Grandfather's Journey": 20th Century Illustrations for Children's Literature
1998
Ferlinghetti: Lyrical and Political Paintings by San Francisco's Poet Laureate, Lawrence Ferlinghetti
Diffused Limits: An Exhibit of Latin American Artists
The Road Less Taken: Works by Manuel Rodriguez, Sr.
Return from the Heritage: Mihail Chemiakin
Icons from the Celestial Kingdom
Igor Medvedev: View of Toledo
Gold!
Coyolxauhqui • Madre Cósmica, An Installation by Gloria Osuna Pérez