Just Passing Through: Sculptures and Installations
February 23 – December 11, 2015
Llewelynn Fletcher, Sasha Petrenko, Austin Thomas, May Wilson
Just Passing Through: Sculptures and Installations features new and recent large-scale works by Bay Area artists Llewelynn Fletcher, Sasha Petrenko, and May Wilson and a collaboration between New York artist Austin Thomas, Sasha Petrenko, and USF art students. Each artwork is accompanied by a set of instructions provided by the artist.
The installations reveal the diverse realms the artists explore when contemplating space—nature, power, social interaction and symbolism. The artist-created instructions invite viewers to interact with and inhabit their sculptures in order to discover how we, as individuals and groups, simultaneously fill, shape, pass through, and even become a part of our environment.
Excerpts from the Artists' Statements
Llewelynn Fletcher: My recent work addresses questions of personal empowerment and the possibilities of transformation, while employing forms familiar to our everyday lives such as clothing, costume, and furniture. Both Standing Sound Costume: Lion and Transformation Mask: Hawk include a physical invitation to the audience to come within the inhabitable space of the pieces, with the intention of offering a direct, body-based experience. What happens when we physically inhabit this form and these materials over time? Can a particular alchemy of form and material encourage listening and even transformation? These sculptures ask the audience to slow down and explore these questions for themselves.
Sasha Petrenko: What began in 2011 as a project about developing deeper interspecies relationships, The New Urban Naturalists has expanded in scope to include the whole Ecosystem, of which we are but a part. I am interested in exploring Human + Nature relationships, our connection and alienation to the thing that sustains us. I attempt to create structures, instructions and performances that explore models for deepening potential lived experience. I am making models for an audience to experience and evaluate. Inspired by the California redwood, spruce, cedar and conifers in general, Pinophyta will borrow the form and structure of a pinecone, resembling also primitive huts and shelters, calling attention to the immense ecological value of trees in our ecosystem. Pinophyta illustrates in its structure how individual cells form a larger structure and in its form is a reflection on the conifer, the tree that built the city, supports vast communities of creatures in life and in death.
Austin Thomas: I strive to make, often collaboratively, Pocket Utopias, or delicate constructions that promote or encourage community building. On a daily basis, I draw in sketchbooks while having coffee with friends and have hundreds of pages that contain the date and of topics of conversation. Immersed in conversation my hand never stops moving, I doodle incessantly. I have built funky benches and decks out of wood that have been placed in museums for visitors to hang out on. I design and then have fabricated simple steel pagodas to be placed on city sidewalks. Through the use of photography and collage, I propose other possible places that could ideally facilitate community or just a place to perch and think for a moment. I also run an art center called Pocket Utopia, where lectures are held, beer is brewed and where other artists make and hang their work. I write about art and maintain a blog titled Drawing on the Utopic. I work modestly and believe everyone is an artist.
---
Rooftop Sculpture Terrace History
Image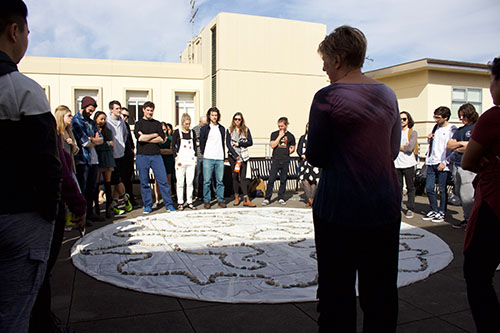 From 2000-2003, the Thacher Gallery sponsored an annual outdoor exhibition and now continues this tradition with biannual exhibitions on the Kalmanovitz Hall rooftop sculpture terrace. It opened in the Fall of 2008 with "The Puma at the End of Fulton Street: San Francisco Sculptor Arthur Putnam" featuring five figurative bronzes from the de Young Museum's collection.
When visiting the sculpture terrace, be sure to view the two historic portals located in Kalmanovitz Hall. The Romanesque Portal located in the Lou and Suzanne Giraulo Atrium dates to around 1175-1200. It came from Northern Italy, and shows Adam and Eve at the Tree of Knowledge. A gift of the Fine Arts Museums of San Francisco, the portal was raised through a generous gift of Diane Wilsey in honor of her late husband Alfred Wilsey.
The Santa Maria de Ovila Portal (ca. 1575) in the outdoor amphitheater between Kalmanovitz and Cowell Halls comes from a monastery approximately 90 miles northwest of Madrid, Spain. It features fine renaissance carvings of Saint Catherine and Saint Mary Magdalene, and God the Father. Brought to the United States by William Randolph Hearst, it stood for many years in the former de Young Museum building in Golden Gate Park, and was given to USF by the Fine Arts Museums of San Francisco. It serves as the backdrop of the Ovila Amphitheater, a vibrant new performance space at the center of the USF campus.
LOCATION AND HOURS
During the academic year, the sculpture terrace is open to the public weekdays 9 a.m. – 5 p.m. Appointments are recommended.