You're invited to the Hilltop. We'll show you the classrooms, hangout spots, and green spaces that make up our beautiful 55-acre campus in the center of San Francisco.
Campus Visit
Join us for a campus tour and information session. Our University Ambassadors can answer your questions about academics, student life, or what it's like to live in San Francisco.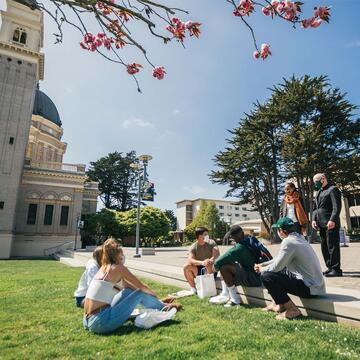 Group Visit
For groups of 10 to 50, please sign up for a group visit. We offer group tours to high school or transfer students. Our University Ambassadors would be happy to show you around.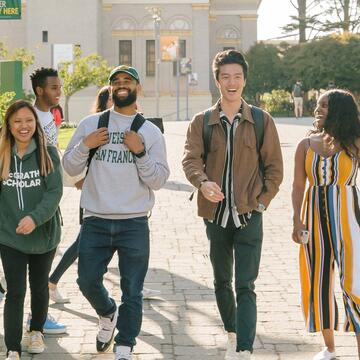 Self-Guided Tour
If you're in the area, take a walk through our campus to see where USF students study, live, and relax. 
Having the city of San Francisco be an extension of the campus appealed to me, and I immediately was drawn to the diversity, abundance of activities, and the nature that surrounded the campus."
Johanna Loacker '17, USF Biology Graduate
Plan your visit
Make the most of your trip to San Francisco and see our tips on where to stay, eat, and explore while you're here.
Admission Events
Join us for an event to talk to current students, learn more about academics, and see what it's like to live in San Francisco.
Lone Mountain Main 251
2800 Turk Street
San Francisco, CA 94118
Hours
Monday - Friday:
8:30 a.m. - 5 p.m.