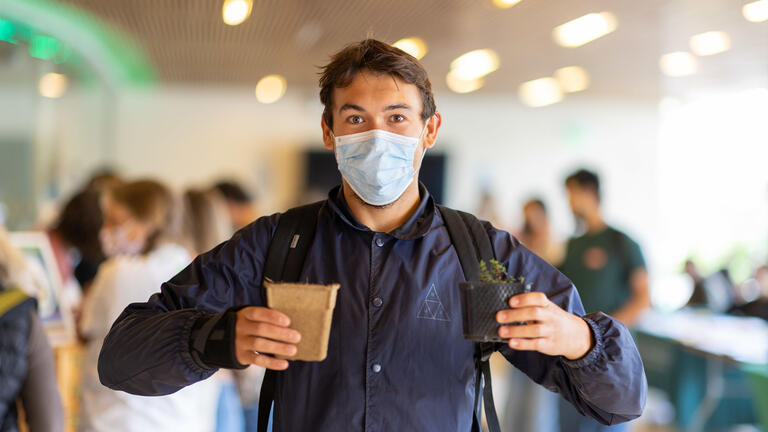 Community-Engaged Learning
Work with locals on local problems. Learn to listen and to be heard. Use what you learn to change the world.
Service learning / Community Engaged Learning are opportunities for students to engage in activities that address human and community needs while promoting personal development. Service learning / Community Engaged Learning courses are an integral part of the university's undergraduate curriculum, providing students with academic coursework and community-based lessons about social justice issues and their own potential to be agents of change.
All USF undergraduate students are required to complete either a service learning or community engaged learning course in order to graduate. But for many, one isn't enough. Our students average 1.5 service learning courses / community engaged learning during their academic careers.
Service Learning Around San Francisco
The ecological, socio-economic, political, and cultural diversity of San Francisco provides a wealth of service-learning opportunities across disciplines and industries.
Recent Courses
Writing/Speaking in the Community (RHET 126)
This year, students from the Martín-Baró Scholars program worked closely with Faithful Fools, an organization in the Tenderloin neighborhood that focuses on advocacy, accompaniment, and arts programming for people living with homelessness, mental illness, and substance abuse issues.
Community Organizing (SOC 392)
In 2015, the Esther Madriz Diversity Scholars community worked with Up On Top, an after-school organization that provides tutoring and academic support for youth in the Western Addition and Tenderloin districts.
Management and Organizational Dynamics (BUS 304)
One section of this course — organized by the School of Management — works entirely with Meals on Wheels (MOW) of San Francisco to provide senior home visits, corporate outreach presentations, and spring gala support.
Improving Health and Safety in Schools (NURS 326)
Each nursing student in this course is paired with a local public or private K-12 school to support the on-site nurse and other school staff in implementing health and safety measures.
Ethics: Service-Learning (PHIL 241)
This philosophy course partners with organizations across the city, from local labor unions to after school programs, to provide context for students' learning about ethical philosophies and dilemmas.