The Light Is Still On: The 23rd Thacher Art + Architecture Annual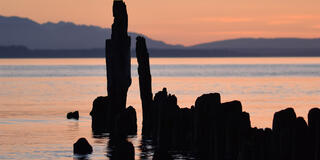 May 6-June 26, 2022
Healing is a constant journey with no linear path. By celebrating the diverse lives and unique artistic approaches of the University of San Francisco's student artists, the 23rd Thacher Annual reminds us that the light is still on, despite the many hardships present in the world.
The exhibition includes works by 40 junior and senior majors and minors from USF's Department of Art + Architecture. Through varied media and themes of the environment, introspection, and connection, students assert their honest emotions and approaches to the healing process. The featured works offer opportunities for reflection, as well as avenues for restoring ourselves, our communities, and our globe.
The Light Is Still On: The 23rd Thacher Art + Architecture Annual is presented by USF's undergraduate Art History & Museum Studies Thacher Practicum class led by Nell Herbert. Exhibited artworks were selected by jurors Alicia Escott, Barnali Ghosh, Aileen Mangan, and Jordán Sandoval.
What does healing look like for you, and where are you in your journey?
Featured Artists
Lily Basting
Samanda Beeman
Georgia Brabec
Reilly Brown
Andre Joshua Canta
Liv Castagna
Yitian Cheng
An Duong
India Eastridge
Nancy Estrella
Emily Farrow
Yolanda Faye
Cristina Gilstrap
Amanda Heauser-Caires
Vera Hines
Emma Hunter
Mohamed Ismail
Maj Jenkins
Serena Kathleen Johnson
Sherry Lam
Kahlia Laszlo
Charlotte Laurance
Shay McMillan
Savannah Miranda
Sola Nagaoki
Mira Nair
Natalie Ng
Alexa Ortiz
Mary Lou Grace Robison
Ronnie Saini
Natalie Sanfilippo
Grace Scerni
Peixuan (Jasper) Shao
Jacob Siu-Zmuidzinas
Beau Tattersall
Somer Taylor
Lily Turner-Kipke
Arin Vasquez
Fiona Young
Jingyi Zhao
May 6-June 26, 2022
Thacher Gallery

Lily Basting
pinch, pull, press
2022
Mixed media

Samanda Beeman
People Vultures
2021
Glazed ceramic, electric light

Georgia Brabec
Excess Dress
2022
Textile

Georgia Brabec
Welcome Home
2021
Mixed media

Reilly Brown
Oraia
2020
Digital photograph

Reilly Brown
City Girl
2021
Digital art

Andre Joshua Canta
Praying Hands of A Sinner
2021
Xerography prints

Andre Joshua Canta
Karinderya: A Philippine Cookbook
2021
28-page book

Liv Castagna
#lillivindigital
2022
Video, audio, 35mm film

Qifan Chen
Self-portrait
2022
Digital graphic

Yitian Cheng
Me in the Mirror
2021
Photography 

Yitian Cheng
My Portrait
2022
Information visualization

An Duong
Clement Street
2021
Packaging design

India Eastridge
Ta'Kaiya Blaney
2021
Watercolor, colored pencil, paper collage

Nancy Estrella
Change
2021
Photoshop

Emily Farrow
Homer
2021
Digital illustration

Emily Farrow
MUTE KID
2021
Digital illustration

Yolanda Faye
People Who Come For Our Children
2021
Printed cardstock and ink

Yolanda Faye
ABC's: Letters Are All Around Us
2021
Printed Book, cardstock, ink and chipboard

Cristina Gilstrap
The End Melody
2021
Website

Amanda Heauser-Caires
Breathe
2021
Oil pastels on cardboard

Amanda Heauser-Caires
Peace
2021
Oil pastels on cardboard

Amanda Heauser-Caires
Power
2021
Oil pastel on cardboard

Vera Hines
Dive In
2021
Video

Emma Hunter
My San Francisco
2022
Mixed media map

Mohamed Ismail
Rainy Day Soccer
2019
Film photograph

Maj Jenkins
Passport of the United Choirs of Angels
2021
Print booklet

Maj Jenkins
Tigerskin
2022
Multimedia costume and print materials

Mitch Johnson
Apparel Typography on Haight
2021
Digital magazine mockups

Serena Kathleen Johnson
Dark Forest
2021
Photograph

Sherry Lam
Data Self-Portraits
2020
Colored pen on paper

Sherry Lam
Fishing Time
2021
Digital website

Kahlia Laszlo
Presentation Template (for a client)
2020
Digital

Charlotte Laurance
Ratty
2021
Linoleum print

Shay McMillan
Untitled
2019
Acrylic on cardboard

Savannah Miranda
Blu
2021
Digital collage remix

Savannah Miranda
Flora
2021
Reduction linoleum print

Sola Nagaoki
Your Worst Nightmare
2021
Tiled tabloid paper

Mira Nair
After Party
2021
35mm Film

Mira Nair
Dead End
2020
35mm film

Natalie Ng
Pandamonium
2022
Glazed Stoneware

Natalie Ng
Flourish
2021
Glazed stoneware

Alexa Ortiz
Positivity Poster
2022
Printed digital art on poster board

Mary Lou Grace Robison
Guilt
2021
Oil paint and mixed media

Mary Lou Grace Robison
You've Had Too Much
2022
Oil paint and mixed media on recycled canvas

Mary Lou Grace Robison
More Guilt
2021
Oil paint and mixed media

Ronnie Saini
The Cold Flow
2021
Digital image

Natalie Sanfilippo
History of Horrors
2020
Digital narrative timeline

Natalie Sanfilippo
Dancing Laundry
2021
Oil-based ink on paper

Grace Scerni
Heartache
2021
Acrylic paint and oil pastel on canvas

Grace Scerni
Deep Blue
2022
Acrylic paint, oil pastel, and embroidery on canvas

Jasper Peixuan Shao
Driftwood
2019
Photograph

Jacob Siu-Zmuidzinas
Sacrifice
2022
Oil on canvas

Beau Tattersall
Glass
2020
Oil on canvas

Somer Taylor
I is… I am…
2022
Ceramic

Lily Turner-Kipke
362 11th
2020
Digital illustration

Arin Vasquez
Drypoint etchings series
2021
Drypoint etchings

Arin Vasquez
Demons
2021
Ink and watercolor wash on bristol paper

Fiona Young
Not A Disease
2021
Digital print on paper

Fiona Young
Our Growth
2020
Digital website

Jingyi Zhao
Your Luxury Came From Them
2021
Book
The Light Is Still On Installation Views