Commonstrust: artists and the commons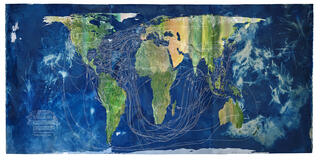 March 7-April 10, 2022
Thacher Gallery and Kalmanovitz Hall Sculpture Terrace
Asya Abdrahman, Bureau of Linguistical Reality, Alicia Escott, Orlando Smith, Redbird Willie, Connie Zheng, with USF students.
Named in collaboration with the artists and Bureau of Linguistical Reality, Commonstrust presents six artists whose works interweave essential elements of the commons: ecology, culture, and trust.
Redbird Willie's illustrations and baskets reflect his knowledge of Native California land and plants as well as our interlocking relationship to them. Comics by Orlando Smith depict the human causes and costs of the environmental crisis, along with the power of coming together. Asya Abdrahman's multimedia installation and work with fog catchers offer meditations on water, while Alicia Escott's living sculptures reveal the constant exchange between plants, pollinators, and humans. Intertwining seeds, history, and speculation, Connie Zheng's work seeks possibilities for environmental justice. Finally, the Bureau of Linguistical Reality invites us to create new words to express our complex emotions about the climate.
Often informed by their community work, these artists call us into the commons to ask us to consider our collective care of the environment and ourselves.
The exhibition continues on USF's Kalmanovitz Hall Rooftop Sculpture Terrace.
About the Artists
Image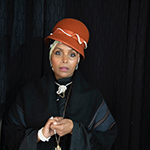 Asya Abdrahman
Asya Abdrahman is an Oakland and San Francisco artist/curator, world builder and multi-disciplinary artist who considers the intersection of cultural identity, human rights and the environment in her work. Of Somali, Eritrean, and Ethiopian heritages, she fled her East African homeland during a time of regional wars. Abdrahman's work promotes cultural and ecological survival through her use of human, technological, natural, found, and recycled resources. Abdrahman is the founder of Kindness Grocery Cooperative, The Kin DAO, and many other regenerative art-based projects.
Image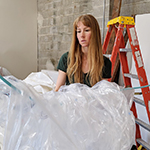 Alicia Escott
Alicia Escott's work has been shown in over 100 art institutions, galleries, museums, and alternative spaces, including the Headlands, Berkeley Arts Center, YBCA, and USF's Thacher Gallery. She/they have been Artist-in-Residence at Recology, The Growlery, Djerassi, Anderson Ranch, Lucid Art and Irving Street Projects. Escott is a founding member of 100 Days Action and The Bureau of Linguistical Reality. Her/their work has been featured in The New Yorker, MOMUS, SFChronicle, KQED, and others.
Image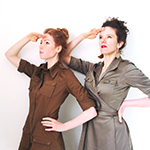 The Bureau of Linguistical Reality
The Bureau of Linguistical Reality is a public participatory artwork by Heidi Quante and Alicia Escott. The Bureau has been written about in The New Yorker, The Economist, The San Francisco Chronicle, Vice Magazine, the Huffington Post, KQED, and others. Their Mobile Field Office has traveled nationally and internationally including to Santa Barbara Museum of Contemporary Art, Berkeley Art Museum Pacific Film Archive (BAMFA), La Gaîté Lyrique in Paris, Blackwood Gallery at the University of Toronto, the Berkeley Art Center, Southern Exposure, and many others.
Image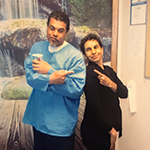 Orlando Smith
O.Smith is an artivist, muralist, illustrated journalist and independent comic book creator who happens to be incarcerated. O.Smith's work has appeared in the Los Angeles Times, San Francisco Chronicle, Davis Vanguard News, and over two dozen exhibitions across the United States, including the exhibition, A Matter of Liberation: Artwork from Prison Renaissance, at the Thacher Gallery. O.Smith has also worked on three collaborative curricula with Stanford University under Prison Renaissance.
Image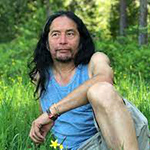 Redbird Willie
Redbird Willie (Pomo/Wailaki/Paiute/Wintu) is an artist, fire ecologist, graphic designer, basket weaver, regalia maker, and permaculturist. He has worked in various fields of education, while continuing to pursue his desire to uncover and rekindle the cultural earth-based knowledge of California Indians. He is a leader of adult programs at Weaving Earth Center for Relational Education, organizes for the Buckeye Gathering for ancestral skills, and serves as land steward at the Cultural Conservancy's Heron Shadow, an Indigenous Biocultural Heritage Oasis in Sonoma County.
Image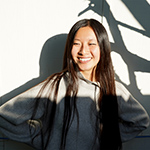 Connie Zheng
Connie Zheng has shown her work nationally and internationally through venues such as the Asian Art Museum, Contemporary Jewish Museum, and IMPAKT Festival, with support from organizations such as the Headlands Center for the Arts, the Minnesota Street Project Foundation, and the Kadist Foundation. She graduated with BAs in Economics and English from Brown University, an MFA in Art Practice from UC Berkeley, and is currently a PhD student in Visual Studies at UC Santa Cruz.