ACADEMICS
Connect With San Francisco
The city of San Francisco isn't just a backdrop to our campus; it's a part of our campus. Come connect with the city. Soak up its energy. Celebrate its diversity. Work with neighbors on community-service projects. Explore internships and jobs and thousands of things to learn and to do and to love. Come change the world from here.
Make the City
Your Classroom
Come to USF and take community-engaged learning classes. These classes put you to work at local nonprofits and other organizations. They enable you to change the world not just after you graduate but right now.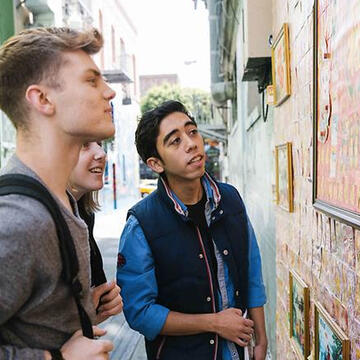 Apply Learning, Create Change
Come to USF and make a difference — like building a tiny-house village for young people who need homes. 
Come to USF and land an internship (aim for three internships in four undergraduate years) in every field that you can imagine — technology, finance, government, health care, education, the arts, hospitality, social services . . .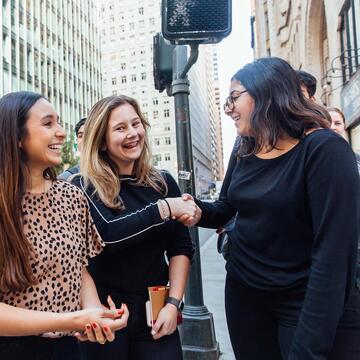 Make Connections That Matter
Meet the USF graduate who helps other first-generation college students gain work experience.
Ben Nguyen '18
Accounting
Take advantage of all the resources available to you. I got to network with alumni who already worked at Ernst & Young. Being connected gives you more opportunity and more support."
Ben Nguyen '18
Accounting
Volunteer in the community. Take service-learning courses. Take seminars on the cultures of San Francisco. Learn in the city. Learn from the city.