FACULTY & RESEARCH
Faculty & Student Research
Pursue in-depth research at the highest level. Do real-world work in small classes. Collaborate with faculty in ways not possible at other institutions.
Student & Faculty
Projects
Faculty mentor student research and creative activity across majors.
$1.5 million
In undergraduate and graduate research funds
1 in 5
Your chance of being treated by a USF-trained health professional if you are admitted to a Bay Area hospital
74%
Undergraduates received scholarships
Come dream, do, make, create, collaborate, ask questions, and find solutions in our state-of-the-art facilities.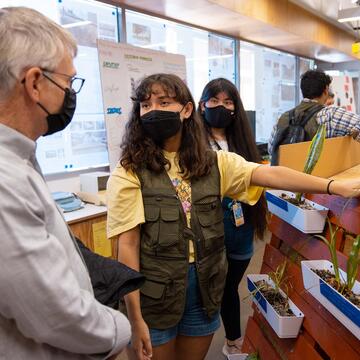 Creative Activity &
Research Day
The College of Arts and Sciences hosts an annual Creative Activity and Research Day (CARD). Students collaborate with faculty mentors on an tackling disease, mental health, and climate change, among other topics, and showcase their research.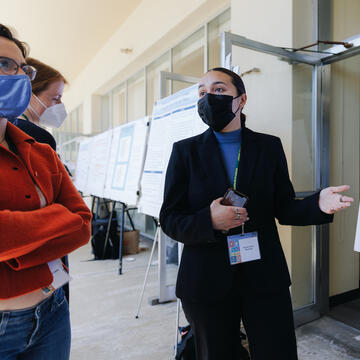 Nicole Pena-Martinez '22
This year psychology major Nicole examined the relationship between Latinx cultural values and interpersonal violence within Latinx populations.
"I looked at familismo, machismo, and caballerismo and how they acted as risks or protective factors for interpersonal violence within family households. A lot of families that practice these cultural values have internalized values that are unhealthy. Talking about it helps create mental health treatments that could help families."