Worlds in the Making: New Ecological Rituals by Christina Conklin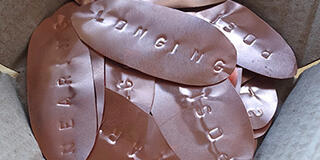 February 8 – December 11, 2016
Kalmanovitz Hall Sculpture Terrace
These four site-specific, interactive works invite visitors to take stock of their personal and collective roles in climate change, both at USF and in the larger world.
Informed by a variety of spiritual practices, these installations reinterpret rituals as catalysts for greater ecological awareness and action. They include Carbon Confessional; Infinite Vessel; Mappamundi, a collaborative study of the University's ecological footprint; and Return Again, a temple-like space for introspection. Marking Pope Francis' recent call for "integral ecology" and taking its title from Svante Arrhenis's 1908 book on the evolution of the universe, this timely exhibition proposes that the intersection of science and spirituality is an essential field of inquiry as we enter the Anthropocene Era.
About the Artist
Image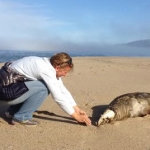 Christina Conklin is an artist, researcher, and writer living in Half Moon Bay, California. Her art explores the intersection of belief systems and natural systems with a focus on climatic and cultural change of the ocean. She has exhibited in private and University galleries throughout the Bay Area and in Oregon. She is currently serving on the Public Advisory Committee for the San Mateo County Sea Level Rise Vulnerability Assessment to develop programs to build awareness about sea level rise.
---
Rooftop Sculpture Terrace History
Image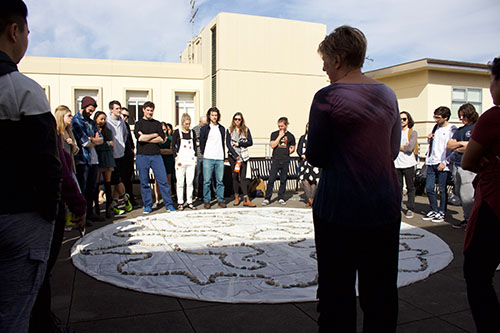 From 2000-2003, the Thacher Gallery sponsored an annual outdoor exhibition and now continues this tradition with biannual exhibitions on the Kalmanovitz Hall rooftop sculpture terrace. It opened in the Fall of 2008 with "The Puma at the End of Fulton Street: San Francisco Sculptor Arthur Putnam" featuring five figurative bronzes from the de Young Museum's collection.
When visiting the sculpture terrace, be sure to view the two historic portals located in Kalmanovitz Hall. The Romanesque Portal located in the Lou and Suzanne Giraulo Atrium dates to around 1175-1200. It came from Northern Italy, and shows Adam and Eve at the Tree of Knowledge. A gift of the Fine Arts Museums of San Francisco, the portal was raised through a generous gift of Diane Wilsey in honor of her late husband Alfred Wilsey.
The Santa Maria de Ovila Portal (ca. 1575) in the outdoor amphitheater between Kalmanovitz and Cowell Halls comes from a monastery approximately 90 miles northwest of Madrid, Spain. It features fine renaissance carvings of Saint Catherine and Saint Mary Magdalene, and God the Father. Brought to the United States by William Randolph Hearst, it stood for many years in the former de Young Museum building in Golden Gate Park, and was given to USF by the Fine Arts Museums of San Francisco. It serves as the backdrop of the Ovila Amphitheater, a vibrant new performance space at the center of the USF campus.
LOCATION AND HOURS
During the academic year, the sculpture terrace is open to the public weekdays 9 a.m. – 5 p.m. Appointments are recommended.