Adjacent Shores: Hughen/Starkweather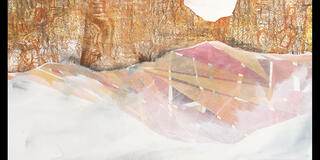 March 7 – April 24, 2016
Adjacent Shores presents new work from the collaborative team of San Francisco artists Amanda Hughen and Jennifer Starkweather. On view are mixed-media artworks that map the Pacific Ocean, as well as selections from the artists' recent Shifting Shorelines and Bay Bridge series.
At the center of the exhibition is the artists' response to an 18th century Japanese map, which will also be on display in the gallery. The Japanese map, created by Confucian scholar Nagakubo Sekisui, is an interpretation of Matteo Ricci S.J.'s 1602 map of the world. Informed by Sekisui's historic map as well as 21st century tools and data, Hughen/Starkweather's abstract representation of the Pacific addresses current environmental issues including sea level rise, shore erosion, and the great Pacific garbage patch.
For this project the artists also created a new collection of artworks based on interviews with USF community members, whose specialties range from cartography to poetry to environmental studies. Each interview probed a personal memory of the Pacific Ocean, information about the specific location where the memory occurred, and projections about what that place might look like in 50 years. The resulting abstractions take us on a journey around the Pacific, highlighting locations including Japan, Hawaii, the Philippines, and areas along California's coast from Humboldt Bay to Big Sur.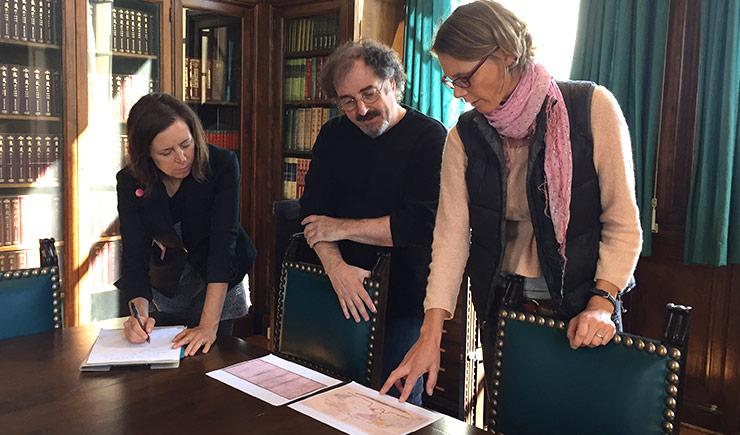 Adjacent Shores interviewees included USF President Paul J. Fitzgerald, S.J., Mark Mir (Archivist & Resource Coordinator, Ricci Institute for Chinese-Western Cultural History), Sabrina Oliveros (Museum Studies), Dean Rader (English), Melinda Stone (Environmental Studies and Media Studies), and Fr. Antoni Ucerler (Director, Ricci Institute for Chinese-Western Cultural History).
This exhibition was curated by Nell Herbert, MA candidate in Museum Studies, and is presented in conjunction with the Ricci Institute for Chinese-Western Cultural History's Mapping "The East": Envisioning Asia in the Age of Exploration, on view in Manresa Gallery March 30–May 22, and the Asian Art Museum's China at the Center: Rare Ricci & Verbiest World Maps, on view March 4­–May 8.
---
Meet the Artists
Image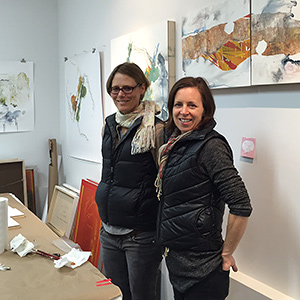 Hughen/Starkweather is comprised of San Francisco artists Jennifer Starkweather and Amanda Hughen. Their collaborative projects explore the layers, complexities, built systems, and natural movements of specific Bay Area locations. They begin by researching a place using historic and current maps, data, photos, and personal interviews. The resulting artworks are abstract, but contain visible traces of the source materials, revealing forms unique to the location.
Hughen/Starkweather past projects include San Francisco's Market Street (2006-7), the Marin Headlands (2008), Airport Systems (2009-2010), the San Francisco-Oakland Bay Bridge (2010-2013), the Asian Art Museum (2014), and Shifting Shorelines (2015-present). They are currently working on a permanent public artwork in San Francisco's Union Square as part of the Central Subway.