POROUS: New Works by Jonathan Anzalone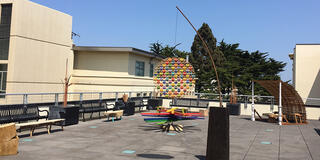 Aug. 20-Dec. 16, 2018
On the Kalmanovitz Hall Sculpture Terrace
For the past ten years, I have maintained a wood shop and art studio in San Francisco. During that time I discovered a shared dialogue between furniture and art making. They both explore a process and require an investigation of technique and materials. This porous interchange provides the foundation for the current installation. I am attracted to organic and geometric structures that readily reveal their inherent qualities. The natural world–ocean, flora and fauna, and weather–are my primary influences. Engaging the synergies of furniture and art has the potential to stimulate sight, sound, smell and touch. I hope that the installation will offer the viewer room for interpretation, allow appreciation for simple materials and ultimately grant a sense of well-being."
Jonathan Anzalone
Image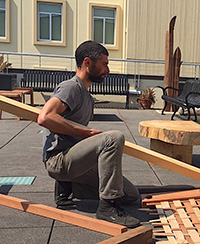 About the Artist
A graduate of the Rhode Island School of Design, Jonathan Anzalone apprenticed for three years with the New England furniture maker Peter Murkett, during which time woodworking became a passion that supported his art making.
After moving to the Bay Area, Jonathan co-founded Anzfer Farms, a studio committed to creating unique objects and installations that erased distinctions between functional and non-functional objects and residential and gallery spaces. He currently works independently, maintaining a workshop exploring the boundaries and intersections between furniture and art.
August 20-December 16, 2018
Kalmanovitz Hall Atrium and Rooftop Sculpture Terrace

Strand line
Beach plastic, monofilament

Cone
Pine

Hourglass
Cypress

Faceted ball
Redwood

Turbine
Poplar, latex paint, walnut, brass, pine, paint, sand

Potted Plant 1
Claro walnut

Twined
Oak, ash, latex paint, natural fiber twine

Reyes 1
Cypress, pine, paint, sand

Reyes 2
Cypress, paint, sand

Reyes 3
Cypress, paint, sand

Stabile
Redwood base, ipe arm, polypropylene rope, cypress, plexiglass, copper nails

Faceted Round
Redwood

Weathered End
Elm

Coffee table 1
Redwood, paint

Potted Plant 2
White oak, walnut dust

Coffee Table 2
Eucalyptus, paint

Plinth
Eucalyptus

Potted plant 3
Ipe

Coffee table 3
Elm, paint

Potted plant 4
Mahogany, walnut

Color Wheel
Fir, latex paint, brass tubing, redwood base

Coffee Table 4
Elm, paint

Potted plant 5
Claro walnut

Bench
Redwood, fir legs, oil paint

Coffee Table 6
Eucalyptus, pine base

Star
Elm

Potted plant 6
Redwood, walnut, oak

Cube
Cypress

Side Table
Claro walnut

Potted plant 7
Redwood

Pyramid
Cypress

Arbor, table and bench
White oak, mahogany, walnut, redwood, latex paint, edar, pine 

Stabile 2
Cypress, brass, walnut, mica

Stabile 3 
Cypress, ipe, chain, maple, cedar, oil paint, aluminum leaf

Skylight
Self-adhesive vinyl