POROUS: New Works by Jonathan Anzalone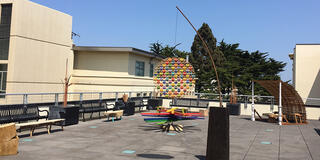 August 20 – December 16, 2018
On the Kalmanovitz Hall Sculpture Terrace
For the past ten years, I have maintained a wood shop and art studio in San Francisco. During that time I discovered a shared dialogue between furniture and art making. They both explore a process and require an investigation of technique and materials. This porous interchange provides the foundation for the current installation.
I am attracted to organic and geometric structures that readily reveal their inherent qualities. The natural world–ocean, flora and fauna, and weather–are my primary influences.
Engaging the synergies of furniture and art has the potential to stimulate sight, sound, smell and touch. I hope that the installation will offer the viewer room for interpretation, allow appreciation for simple materials and ultimately grant a sense of well-being."
About the Artist
Image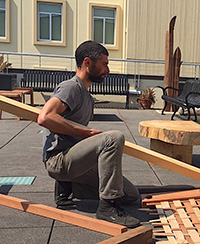 A graduate of the Rhode Island School of Design, Jonathan Anzalone apprenticed for three years with the New England furniture maker Peter Murkett, during which time woodworking became a passion that supported his art making.
After moving to the Bay Area, Jonathan co-founded Anzfer Farms, a studio committed to creating unique objects and installations that erased distinctions between functional and non-functional objects and residential and gallery spaces. He currently works independently, maintaining a workshop exploring the boundaries and intersections between furniture and art.
---
Rooftop Sculpture Terrace History
Image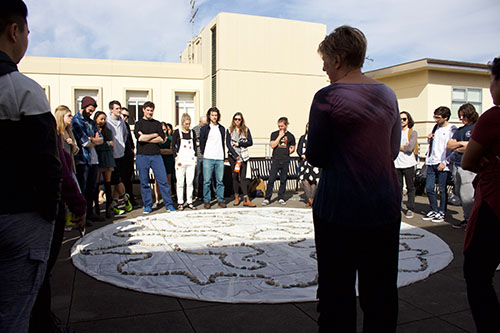 From 2000-2003, the Thacher Gallery sponsored an annual outdoor exhibition and now continues this tradition with biannual exhibitions on the Kalmanovitz Hall rooftop sculpture terrace. It opened in the Fall of 2008 with "The Puma at the End of Fulton Street: San Francisco Sculptor Arthur Putnam" featuring five figurative bronzes from the de Young Museum's collection.
When visiting the sculpture terrace, be sure to view the two historic portals located in Kalmanovitz Hall. The Romanesque Portal located in the Lou and Suzanne Giraulo Atrium dates to around 1175-1200. It came from Northern Italy, and shows Adam and Eve at the Tree of Knowledge. A gift of the Fine Arts Museums of San Francisco, the portal was raised through a generous gift of Diane Wilsey in honor of her late husband Alfred Wilsey.
The Santa Maria de Ovila Portal (ca. 1575) in the outdoor amphitheater between Kalmanovitz and Cowell Halls comes from a monastery approximately 90 miles northwest of Madrid, Spain. It features fine renaissance carvings of Saint Catherine and Saint Mary Magdalene, and God the Father. Brought to the United States by William Randolph Hearst, it stood for many years in the former de Young Museum building in Golden Gate Park, and was given to USF by the Fine Arts Museums of San Francisco. It serves as the backdrop of the Ovila Amphitheater, a vibrant new performance space at the center of the USF campus.
LOCATION AND HOURS
During the academic year, the sculpture terrace is open to the public weekdays 9 a.m. – 5 p.m. Appointments are recommended.