The Depravities of War: Sandow Birk and the Art of Social Critique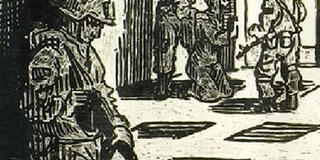 Nov. 10, 2016 – Feb. 19, 2017
Featuring Sandow Birk's monumental print series of the Iraq War alongside historical source materials, this exhibition celebrates the longevity and persuasive power of socially-engaged art. Birk's designs are exhibited with reproductions of Jacques Callot's 17th-century Miseries of War prints.
About the Artist
Los Angeles-based artist Sandow Birk is known for his poignant works of art that are often critical of important political aspects of contemporary life. Frequent themes in Birk's work range from politics, war, and violence to urban life, surfing, and skateboarding. Birk regularly draws on art history for inspiration. His 2005 series The Leading Causes of Death in America is inspired by the works of George Bellows, while his recent illuminated manuscript, American Qur'an, draws parallels between Islamic traditions and contemporary American life. A graduate of the Otis/Parsons Art Institute, Birk is the recipient of numerous grants, residencies, and fellowships. He is represented by galleries in New York, Los Angeles, and locally at Catharine Clark Gallery in San Francisco.
The fifteen monumental woodblock Depravities prints were executed in collaboration with San Francisco master printmaker Paul Mullowney.
---
This exhibition is curated by the MA in Museum Studies Curatorial Practicum class, led by Associate Professor Catherine Lusheck (Art + Architecture). Student curators include:
Sarin Cemcem
Cecilia Colzani
Emily Lawhead
Kelly Millán
Greer Montgomery
Niki Schmidt
Shabnam Shermatova
Michelle Tarbell
Caitlin Toomey
Kim Turner
Lydia Webster