Allan deSouza: Through the Black Country...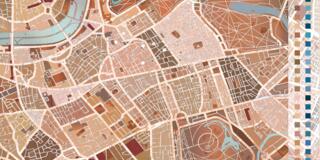 Sept. 4-Nov. 4, 2018
Allan deSouza's Through the Black Country, or, The Sources of the Thames Around the Great Shires of Lower England and Down the Severn River to the Atlantic Ocean reenacts and upends iconic colonial narratives of discovery in Africa. The exhibition is based on the expedition diaries of the Zanzibari crypto-ethnologist Hafeed Sidi Mubarak Mumbai, the fictional great-grandson of the historic figure, Sidi Mubarak Bombay—a formerly enslaved African who, upon gaining his freedom in India, returned to Africa and lead numerous British expeditions across the continent. In this installation, comprised of photographs, diary extracts, and sculptural works, Hafeed sets off to fulfill his great grandfather's unfulfilled wish—to discover the fabled and elusive source of the River Thames.
Organized by Krannert Art Museum, University of Illinois at Urbana-Champaign
Curated by Allyson Purpura with Bay Area artist Allan deSouza
View the exhibition object list
Through the Black Country... Educational Resources
About the Artist
Allan deSouza is internationally acclaimed for his photographic, installation, text, and performance works that restage historical evidence through counter-strategies of fiction, erasure, and (mis)translation. In addition to his art practice, deSouza is chair of the department of Art Practice at the University of California, Berkeley. His current book project, How Art Can Be Thought, an examination of art pedagogy and a lexicon of terms used within the art critique, will be published in 2018.
View images of the installed exhibition and opening reception.