If I'd known then: the Art + Architecture Faculty Triennial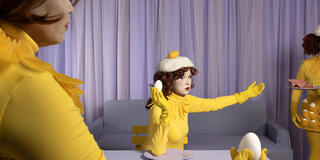 Mar. 6-Apr. 16, 2023
Thacher Gallery
If I'd known then features current projects created by 26 University of San Francisco faculty members in the Department of Art + Architecture as they share insights with their younger artist selves. 
As part of the exhibition, each participant was invited to respond to one of the following prompts:
Looking back on your art practice to date, give a piece of advice to your younger creative self.
Share a piece of advice from a mentor that changed your way of thinking or approaching your practice.
Think of a community you've worked with and what you learned from working with them.
Describe a belief or assumption that you held early in your career, which you have learned to let go of or which no longer serves you.
The works presented here introduce viewers to the breadth of art practices utilized by the University's teaching artists. Shown alongside these responses, they offer a glimpse into the ways each of the artists' approaches has been informed by life experience, creative obstacles, and advice passed down.
Artists
Noopur Agarwal
Renata Ancona
Brian Bartz
Roger Bass
Liat Berdugo
Alexa Ann Bonomo
Andrea Cernusak
Sergio De La Torre
Rachel Beth Egenhoefer
Sofia Gonzalez
Eric Hongisto
Carrie Hott
Sandra Kelch
Rivka Louissaint
Stuart McKee
Sean Olson
Matthew Peek
Brett Reichman
Lexygius Sanchez Calip
Tanu Sankalia
Mimi Sheiner
Jessica Snow
Seth Wachtel
Jenifer K. Wofford
Susan Wolsborn
Renata Ancona
Potrero Point Shipyard (pier 70), 1995
Ink on Carson paper

Noopur Agarwal
Giving Care and Getting Care, 2022
Digital print

Brian Bartz
Cybernetic System (Pointless Machine), 2023
Aluminum, copper, glass, 3D printed resin, stepper motor, custom electronics

Brian Bartz
Lossy Compression, 2020
Digital photo archive, wireless transceivers and micro-computers, helium balloon

Roger Bass
The Boulders, 2022
Acrylic on canvas

Roger Bass
Three Towers, 2020
Acrylic on canvas

Liat Berdugo
The Art of Life, 2023
Single-channel video incorporating ChatGPT, 2023
9:09 minutes, looped

Liat Berdugo
Soft Force Corps: Missions and Means Framework, 2020
Linen

Liat Berdugo
Soft Force Corps: We Fuel The Forces, 2020
Fleece

Alexa Ann Bonomo
Nightingales, 2022
Website using JavaScript (p5.js)

Andrea Cernusak
Lines, 2022
Photograph

Andrea Cernusak
Grays, 2022
Photograph

Andrea Cernusak
Reflecting, 2022
Photograph

Sergio De La Torre
Undocumented Unafraid, 2022
Neon

Rachel Beth Egenhoefer
Dragon Egret, 2023
stop motion animation and sculpture

Rachel Beth Egenhoefer
Illustrating Regeneration, 2022
mixed media (water color, thread, collage, pen) 

Sofia Gonzalez
Taking Root (Northern California, Quilt 3), 2015
Pomegranate, black bean, blackberry leaves, eucalyptus, walnut and golden rod natural dye with iron and alum on raw silk

Sofia Gonzalez
Color Place, Petaluma Map, 2023
Naturally dyed silk and cotton on canvas

Eric Hongisto
Fairfield Osborn Preserve, 2022
Artist Book

Carrie Hott
Tellers and Givers, 2017
Found object, ceramics, wood, and Plexiglas

Sandra Kelch
Pixelate, 2019
Mixed media print

Rivka Valérie Louissaint
… and yet we still fight, 2023
Mixed media on wood panel

Stuart D. McKee
Acts of the Apostles 2.2, in English and Choctaw, 2023
Relief prints

MOB (Eliza O. Barrios, Reanne Estrada, Jenifer K Wofford)
Chatsilog Revisited 1, 2, and 3, 2022
Performance photographs

Sean Olson
Video Sketches, 2023
Stop-motion animation
(12:57 min, looped)

Matthew Peek
Drawing on History, 2020
Pen

Brett Reichman
Owl Collection, 2020
Egg tempera on paper

Lexygius Sanchez Calip
Airtight, 2022
Vacuumed air packing material

Lexygius Sanchez Calip
How They Said It Should Be, 2022
3-single channel videos

Tanu Sankalia
Peter Macchiarini Steps, 2020
Graphite pencil, and color pencil on vellum

Tanu Sankalia
Peter Macchiarini Steps, 2021
Graphite pencil, and color pencil on vellum

Tanu Sankalia
Romolo Place, 2020
Graphite pencil, and color pencil on vellum

Tanu Sankalia
Montgomery Street, 2020
Graphite pencil, and color pencil on vellum

Tanu Sankalia
Taylor Street, 2021
Graphite pencil, and color pencil on vellum

Tanu Sankalia
Mason Street, 2021
Graphite pencil, and color pencil on vellum

Tanu Sankalia
Mason Street, 2021
Graphite pencil, and color pencil on vellum

Tanu Sankalia
Peter Macchiarini Steps, 2021
Graphite pencil, and color pencil on vellum

Tanu Sankalia
Romolo Place, 2021
Graphite pencil, and color pencil on vellum

Mimi Sheiner
From the Willow Creek Bridge, 2021
Oil on rag paper, dry mounted to board

Mimi Sheiner
Millerton Point, 2022
Oil on rag paper dry mounted to board

Mimi Sheiner
Shadow Play, Blake Gardens Overflow Parking Lot, 2023
Oil on board

Jessica Snow
Minoan Stories 4, 2022
Acrylic and oil pastel on paper

Jessica Snow
Minoan Stories 8, 2022
Acrylic and oil pastel on paper

Seth Wachtel
Youth Spirit Artworks Empowerment Village II, 2022
Large format color prints on paper

Susan Wolsborn
Sections of Cycles, 2021
Collaged rifle targets

Susan Wolsborn
Inflated Rotation, 2023
Concrete
If I'd known then: the Art + Architecture Faculty Triennial Exhibition Views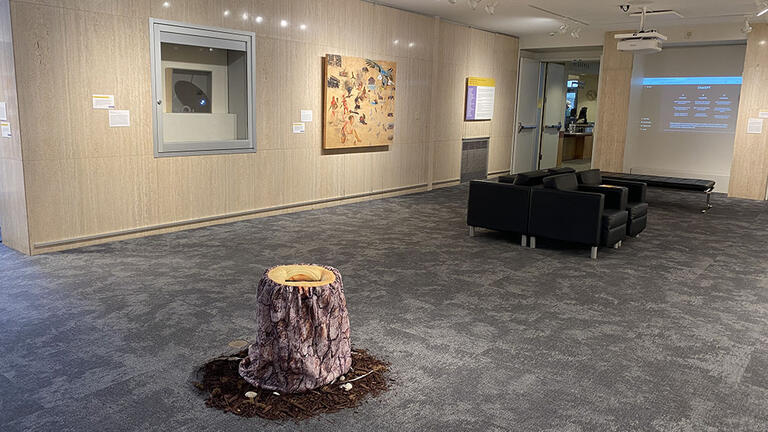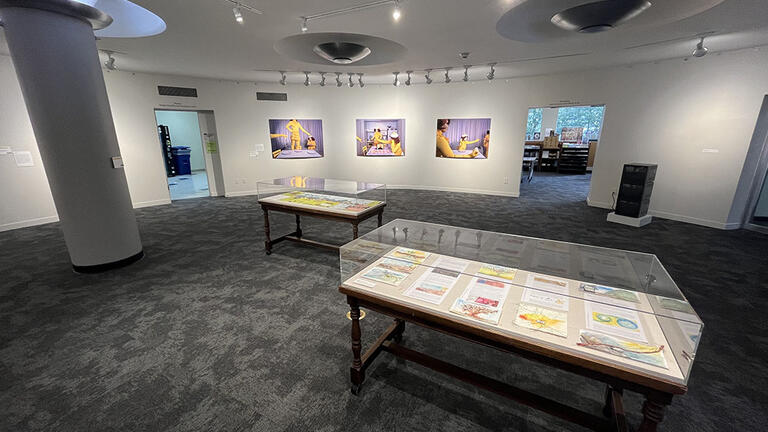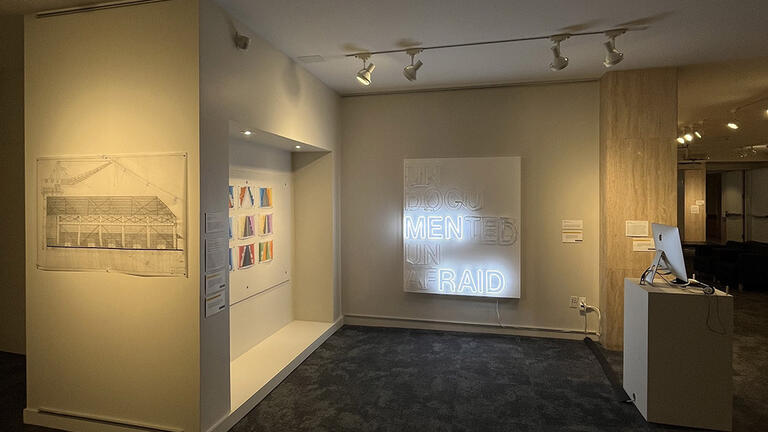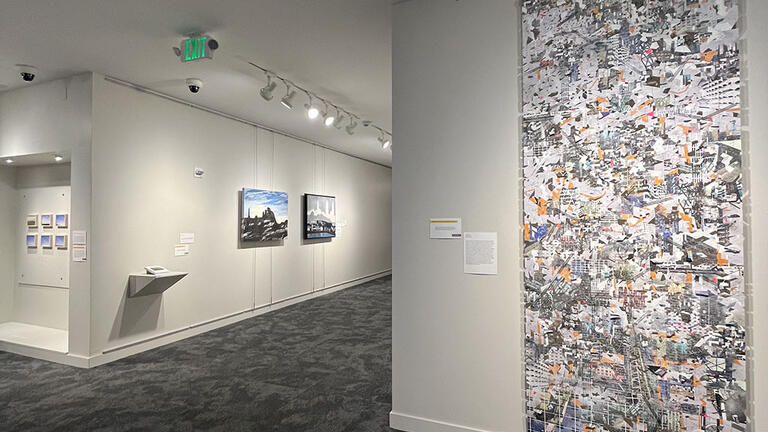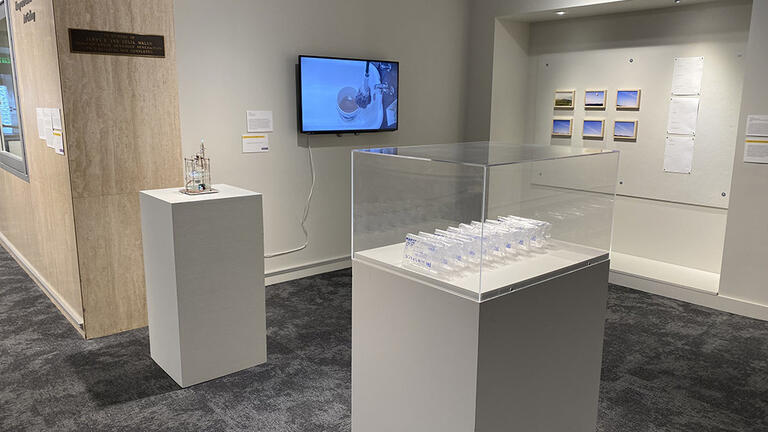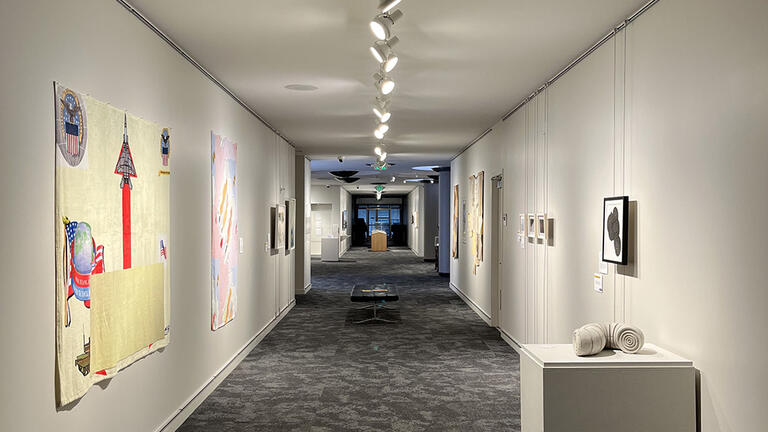 Entrance of exhibition, artwork by Rachel Beth Egenhoefer, Carrie Hott, and Rivka Valérie Louissaint
Center of gallery, artworks by Jennifer K Wofford, Lexigius Sanchez Calip, Noopur Argawal, Rachel Beth Egenhoefer
Side gallery, artworks by Renata Arcona, Tanu Sankalia, and Sergio De La Torre
Exhibition side view, artworks by Brian Bartz, Eric Hongisto, Richard Bass, and Sandra Kelch
Side gallery, artworks by Lexigius Sanchez Calip, Brian Bartz, and Sean Olson
Corridor view, artworks by Liat Berdugo and Susan Wolsborn
Upcoming Events
There are no upcoming events at this time.