Interwoven: Native California Basketry Arts from the Missions Forward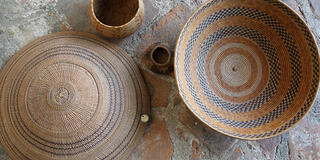 August 24 – November 1, 2015
Drawn primarily from mission collections, Interwoven presents over 50 baskets created by Native American Californians, including the world-renowned Chumash and Pomo weavers. With a focus on baskets made during the Mission era (1769-1830s) to the early 20th century, Interwoven includes functional baskets such as parching trays and cradleboards as well as baskets made exclusively for trade with Europeans, all demonstrating exemplary basketry arts.
This remarkable collection represents numerous tribal traditions and reveals the complex artistic sensibilities, inventiveness and ingenuity of Native weavers working with natural materials. Baskets tell a remarkable story of cultural continuity and survival despite conquest, environmental interruptions, suppressive policies and huge population loss. The weavers' knowledge of the environment and their exemplary artistry have been passed from generation to generation despite these historic and cultural intrusions.
While the original creations served a vast variety of utilitarian and religious purposes, adaptation over time has included new uses and recognition of Native American weavers as artists whose works are highly sought by collectors. After a decline in production during the 19th and 20th centuries, current basket weavers have revived the art form by pursuing both traditional and innovative basketry arts. These artworks are a testament to the weavers' strong tie to the land and ingenious and artistic uses of the environment to build a lasting and valuable cultural legacy.
— CURATOR KRISTINA FOSS (MUSKOGEE),PROFESSOR OF NATIVE AMERICAN STUDIES,
SANTA BARBARA CITY COLLEGE

PHOTO CREDIT: RUBEN G. MENDOZA
Image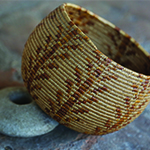 Image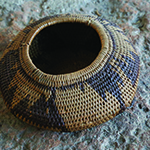 Image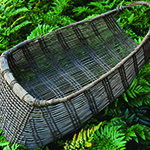 Image