Anting Anting | Magic Objects by Michael Arcega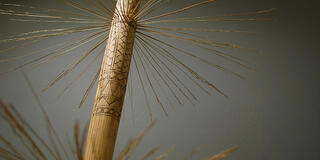 March 5 – April 15, 2018
Anting Anting | Magic Objects presents ceramic, mixed media and found objects that play on mysterious practices from artist Michael Arcega's Filipino culture and experiences.
These handmade objects explore the indigenous Filipino concept of anting anting, a belief that everyday items and handcrafted amulets etched with symbols can heal, bring prosperity, protect and strengthen through ritual and prayer. After Spanish colonization, anting anting appropriated imagery from Catholicism. It is still practiced by many today.
As a child in the Philippines, Arcega encountered anting antings and the practice of the albularyos and hilots, seers and healers. Arcega draws from these memories to recreate commonplace items that have special meaning in his own life. Serving as functional, decorative and spiritual objects, they guard from the looming threats that surround us and empower those who believe.
Merging fine arts practices with an anthropological sensibility, Arcega invites viewers to consider the power of belief and ordinary objects in our lives.
Presented by Thacher Gallery. Co-sponsored by Asian Pacific American Studies and Yuchengo Philippine Studies Program.
Image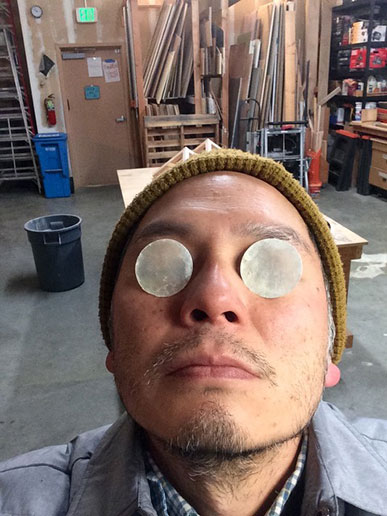 About the Artist
Born in Manila, Philippines, Michael Arcega migrated to Los Angeles at the age of ten. He is an interdisciplinary artist working primarily in sculpture and installation. His work revolves around language and sociopolitical dynamics. Directly informed by historic narratives, material significance, and geography, his subject matter deals with inequitable power relations.
Arcega has a BFA from the San Francisco Art Institute and an MFA from Stanford University. His work has exhibited at the Asian Art Museum, Museum of Contemporary Art in San Diego, the de Young Museum, Yerba Buena Center for the Arts, the Orange County Museum of Art, The Contemporary Museum in Honolulu, the Museum of Fine Arts in Houston, Cue Arts Foundation, and the Asia Society in NY among many others. He currently lives and works in San Francisco, California where he is an Assistant Professor at San Francisco State University.
Michael Arcega
March 5-April 15, 2018
Thacher Gallery at USF

Doña Señorita
(Matriarchal power enhancement)
Ceramics, steel, wax, fabric, crystals and mixed media
2018

Beisbol Club: PEN15 Club
(Over - compensation wand or fertility club)
Wood,& feathers,& crystal and stand
2015

Bula-Bula / Bola-Bola
(Implement for creating shallow and fleeting happiness)
Ceramics, pyrography on wood, fur, string and potion
2018

In Be-Twin
(For harnessing the power of opposites)
Ceramics, silicone, candle, fabric and
potion 2018

Kulam: Navy
(Object for focusing curses)
Straw, miniature clothing and
pins 2018

Kulam: SS
(Object for focusing curses)
Straw, miniature clothing and
pins 2018

Batong Bato
(For alieving boredom or items for throwing)
Ceramics and cork (gasoline is optional)
2018

Kalabasang / Kabocha Flask for Tagay
(Squash container for getting "squashed")
Ceramics, cork, alcohol and fabric
2018

Put Tongue in a Mood
(Post-lingual crutch)
Ceramics, twine and doily (gasoline is optional)
2018

Dekcuf Garment
(Anti-power costume for waiting)
Jumpsuit, ink, rhinestones and emergency blanket
2018

Swerte or Iwas-malas
(Power cape or partial furry-rainbow)
Fur, acrylic and burloloy (crystals, coral, sticks, capiz shells, broken needle and magnet, lucky pins, whip, plastic, coral, patch, safety pins and partial baby-blanket)
2018

Truknut
(Fertility talisman)
Blue sticky-tack putty, nail and primer paint
2015

Myleftfoot
(Symbol of disbelief with Nacireman stories)
Cast of foot, sheep fur and
books 2015

Beisbol Club: Fahyerbatte
(Incendiary Device)
Wood, phosphorous and grip
tape 2015

Beisbol Club: Heilomaker
(Unknown purpose)
Wood and phosphorous
2015

Beisbol Club: Headhunter's Broom
(Ceremonial cleansing)
Pyrography on wood and
hay 2015

Xylophoneme
(Kulintang Buto)
Aksarben cow bones, ink, oak, fox pelt, osprey feather, coral, sisal and Nacireman artifacts
2015

Uni-versalinity
(The original asin [salt])
Sea Urchin, Capiz shell and fancy crystal
2018

8008
(Comfort object)
Silicon
201