Stitching Communities and the AIDS Memorial Quilt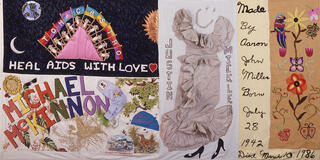 Dec. 1, 2022-Feb. 17, 2023
Thacher Gallery
The AIDS Memorial Quilt stands as an enduring monument to love, loss, and the power of art to bring communities together. Started in a storefront on Market Street in San Francisco's Castro District in 1985, the Quilt is now celebrated as the largest community arts project in the world: a poignant and visually arresting memorial to those who have died—and are still dying—of AIDS around the globe.
Stitching Communities and the AIDS Memorial Quilt features five blocks of the Quilt, as well as related archival objects from the collection of the GLBT Historical Society in San Francisco. Together, they showcase the early history of the AIDS epidemic, and the continued power of the Quilt to memorialize, celebrate, and unify. By examining themes of togetherness and intimacy, the queer tradition of craft, communal empathy and action, and sense of place, the exhibition highlights how art and memory-making through craft can serve as a powerful form of creative individual and collective resilience during times of loss and social marginalization. 
Presented by USF's MA in Museum Studies Curatorial Practicum class led by Professor Kate Lusheck.