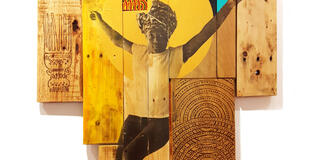 Nov. 21, 2019 to Feb. 16, 2020
Presented by USF's MA in Museum Studies Curatorial Practicum class, Emboldened, Embodied features seven Bay Area artists whose work reveals the power and challenges of intersectional experiences.
Through portraits, artists Kim Anno, Lenore Chinn, Jessica Sabogal, and Shanna Strauss offer empowered representations of individuals whose identities are often excluded from the larger narrative. Installations by Yolanda López and Na Omi Judy Shintani demonstrate women's roles and the ways dress is used as a social and cultural signifier. Angela Hennessy's new installation expands her use of African and Victorian hair weaving traditions to illuminate the Black body. An invitation to reflect on the systemic political and societal inequities at play in our world today, Emboldened, Embodied creates space for reflection, celebration, and community building.
Emboldened, Embodied exhibition catalog