Studio Misión: The Artist Studio as Medium by René Yañez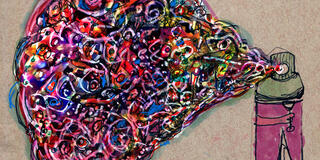 Aug. 19-Nov. 4, 2019
Studio Misión offers a look into the world and creative process of San Francisco artist and curator René Yañez, focusing on his final years from 2016 to 2018. Bringing together Yañez's most recent projects and sketchbooks—seldomly seen outside of his close circle of friends—the works presented reveal his state of mind, his medically-induced visions, the faces of the Mission District that meant so much to him, and the politics that he fought for to the end. Curated by Rio Yañez.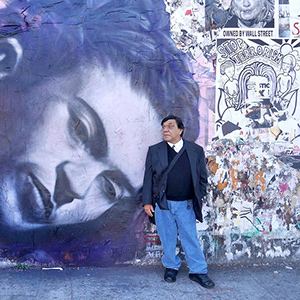 About the Artist
Best known as a curator, René Yañez (1942-2018) was a conductor of art and culture in the Mission District beginning in 1970. He dedicated his life to fostering cultural milestones in San Francisco, co-founding Galería de la Raza, co-presenting one of the first West Coast exhibitions of Frida Kahlo's art, helping to root Carnaval in the Mission, and establishing Día de los Muertos as an art practice. While he worked tirelessly to earn his nickname of Padrino of the Mission, he constructed a secret body of work that few people outside of his closest friends saw.
About the Curator
The son of René Yañez, Rio Yañez is a curator, photographer, and graphic artist who has exhibited in cities ranging from San Francisco to Tokyo. He often curates for South of Market Cultural Center (SOMArts). Yañez is a founding member of The Great Tortilla Conspiracy, the world's most dangerous tortilla art collective.
Co-presented by Latin American Studies and the Center for Latinx Studies in the Americas (CELASA).
Designed by students in the Department of Art + Architecture and MA in Museum Studies program's Spring 2019 Exhibition Design course.
View the Studio Misión Object Checklist
View images of the exhibition's opening and closing receptions.