Anja Ulfeldt: Selectively Informed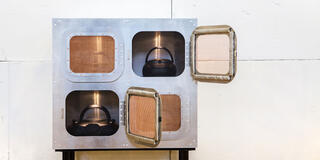 Sept. 19-Dec. 15, 2019
Featuring new, site-specific works by Bay Area artist Anja Ulfeldt, Selectively Informed is an investigation into current trends towards selective "truth" in media, with a focus on radio broadcasting. From a large sculptural dwelling to interactive sound installations, Ulfeldt's works explore themes of infrastructure and communication.
Selectively Informed, the piece from which the exhibition draws its name, creates an intimate listening space where visitors can orchestrate a customizable chorus of radio voices and opinions. The work offers direct interaction with the physics of radio frequencies by blocking or allowing particular signals. The resulting soundscape combines transmissions on the public airwaves with content transmitted by the artist and her collaborators. Additional featured artworks explore issues such as our impact on our surroundings.
About the Artist
Anja Ulfeldt is a Bay Area installation artist working primarily in sculpture and time based media. Imbued with a sense of mortality that is both an examination and a celebration of contemporary life, Ulfeldt's work addresses psychological relationships to human infrastructure through visual art, sound, and durational experience. Ulfeldt is a full-time lecturer at Stanford University in the areas of Sculpture and Emerging Technology. Currently an artist in residence at Stochastic Labs in Berkeley, CA, she has exhibited in the Bay Area at institutions including Pro Arts Gallery, Kala Art Institute, SOMArts, The Museum of Craft & Design, and in venues in New York, London, Salzburg and Berlin.
View the Selectively Informed Object Checklist