Soft Power: Recent Projects by Alexander Hernandez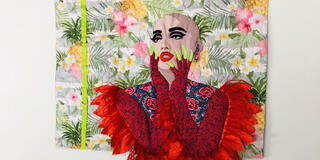 Aug. 22-Nov. 6, 2022
In Soft Power, mixed-media artist Alexander Hernandez brings together quilt and sculpture projects to explore intersectional identities and survival.
Featured projects include the Bay Area premiere of "STAYIN' POSITIVE," a series of textile portraits investigating the identities of Latinx and people of color living with HIV, funded by the San Francisco Arts Commission. Together, the colorful and playful "chimeras" celebrate the rich lives of these survivors. Hernandez's "SURROGATES" includes soft human-sized sculptures locked in an embrace along with photographs in the desert terrain at the Mexico-US border. The works remind us of the isolation and dangers that migrants endure, along with the necessity to adapt, persevere, and care for each other. His sensibilities as a queer Latinx artist can be seen in his quilts and videos, which utilize pop culture references along with materials and patterns familiar in Mexican homes to evoke feelings of delight and longing. 
 
The found materials, motifs, and colors in Hernandez's works reflect the multi-layered references that saturate contemporary life. The artist states, "I patchwork together domestic fabrics, digitized prints, cultural textiles and pop-cultural artifacts to create Frankensteinian-like work that embraces layers and patterns. In the process I challenge gender roles and acculturation anxieties through visual code switching."
Image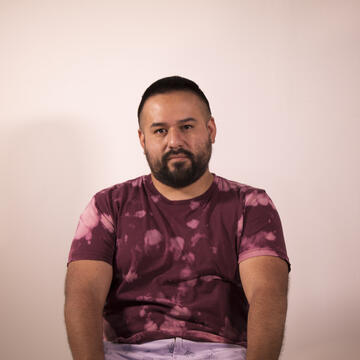 About the Artist
Born in Huajuapan de León, Oaxaca, Mexico and raised in Grand Junction, Colorado, Alexander Hernandez (he/him) received his BFA (2007) in Painting and Drawing from Rocky Mountain College of Art & Design in Denver and an MFA in Studio Art (2012) from California College of the Arts in San Francisco. Having participated in residency programs in the Bay Area and nationally, he is currently the inaugural artist in residence at the New Museum Los Gatos (NUMU). He has received grants from the San Francisco Arts Commission, the Queer Cultural Center, and Visual AIDS. He currently lives in San Francisco, and has worked as a social worker finding housing for displaced LGBTQ youth at Larkin Street Youth Services and as an art teacher at Creativity Explored.
This exhibition is showing concurrently with Lost Keys: Recent Work by Mercy Hawkins, on view in the Kalmanovitz Hall Sculpture Terrace, the Kalmanovitz Hall atrium, and Thacher Gallery.
Learn more about Alexander Hernandez
Aug. 22-Nov. 6, 2022
Thacher Gallery

Baggage, 2018
Digital video, continuous loop (4 minutes, 41 seconds)

Cacti, 2018
fabric remnants, polyester fiber fill, metal spikes, pots
(3 sculptures; blue: 19.5" x 8" x 2.5; multi-color: 19.5" x 4.5" x 3"; green: 20.5" x 3.5" x 3")

Untitled (crossed legs), 2022
Fabric remnants, polyester fiber fill
(19" x 30" x 9")

Prototypes/Quilted Collages:

Crying in Spanish, 2018
printed textiles, fabric remnants, quilting batting, found objects
(58" x 44")

Brown Dreamsicle, 2018
printed textiles, fabric remnants, quilting batting, vinyl, video game manual
(30.5" x 56.6")

Surrogates:

Untitled (Acre Farm, Wisconsin), 2021
digital print on archival paper
(print: 8.5" x 13.5"; frame: 18" x 22")

Untitled (Steuben, Wisconsin), 2021
digital print on archival paper
(print: 8.5" x 13.5"; frame: 18" x 22")

Surrogate Untitled 1 and 2, 2016-2019
fabric remnants, polyester fiber fill
(60" x 30")

Untitled (Johnson, Vermont), 2019
digital print on archival paper
(print: 8.5" x 13.5"; frame: 18" x 22")

Untitled (Palm Springs, California), 2019
digital print on archival paper
(print: 8.5" x 13.5"; frame: 18" x 22")

Surrogate Untitled 1 and 2, 2016-2019
fabric remnants, polyester fiber fill
(60" x 30")

Stayin' Positive:

Rudy Soaring, 2020
printed textiles, fabric remnants, quilting batting
(60" x 40")

Splashing Mondo, 2020
printed textiles, fabric remnants, quilting batting
(59" x 52")

Ray Unleashed, 2020
printed textiles, fabric remnants, quilting batting
(54" x 40")

Dashing Omar, 2020
printed textiles, fabric remnants, quilting batting
(78" x 36")

Majestic Leslye, 2019
printed textiles, fabric remnants, quilting batting
(70" x 41.5")

Hatching Cal, 2019
printed textiles, fabric remnants, quilting batting
(55" x 45")

Ongina Uncaged, 2019
printed textiles, fabric remnants, quilting batting
(62" x 39.5")

Rudy Soaring, 2020
printed textiles, fabric remnants, quilting batting
(49" x 60")
Soft Power Artwork & Installation Views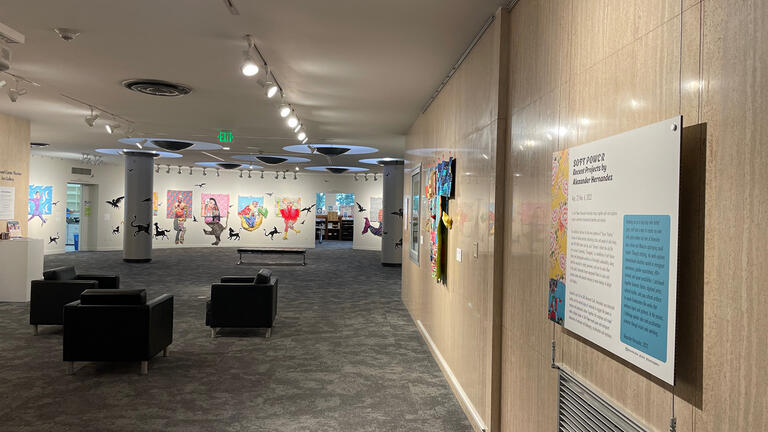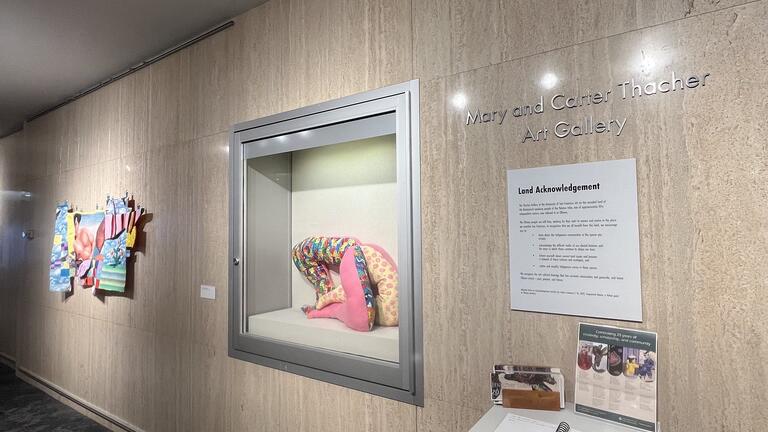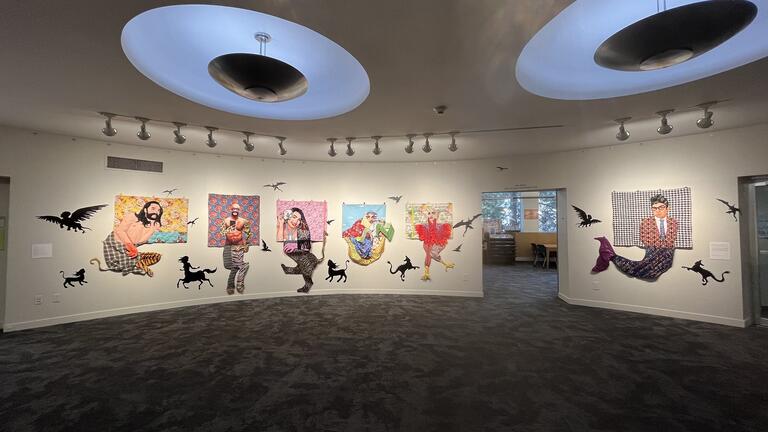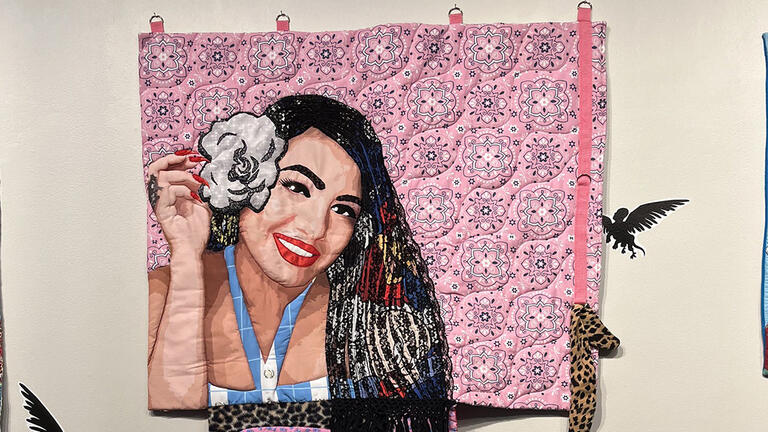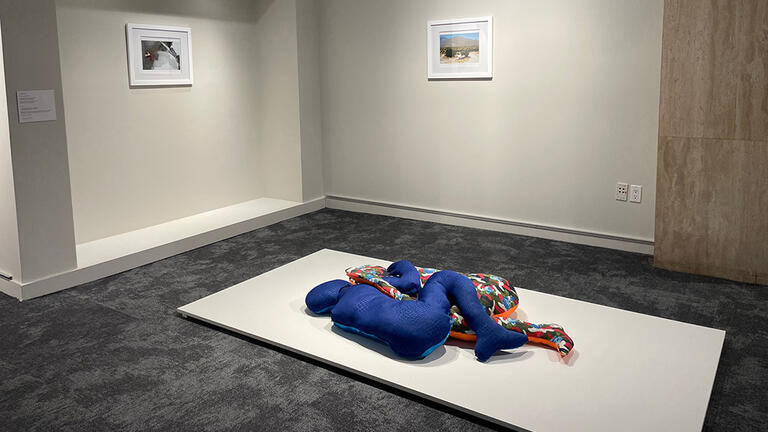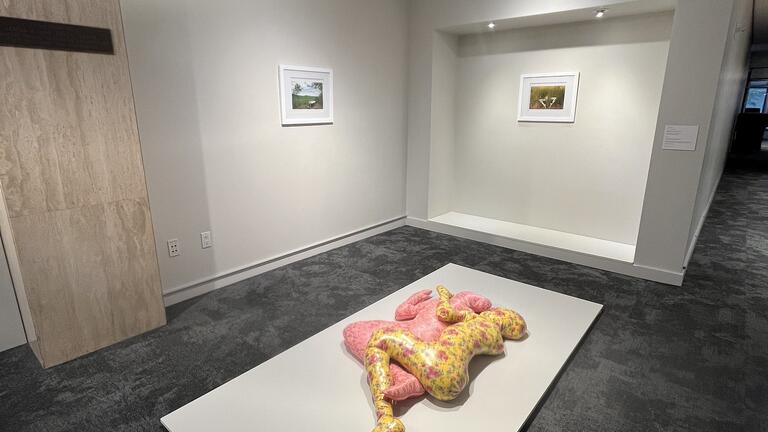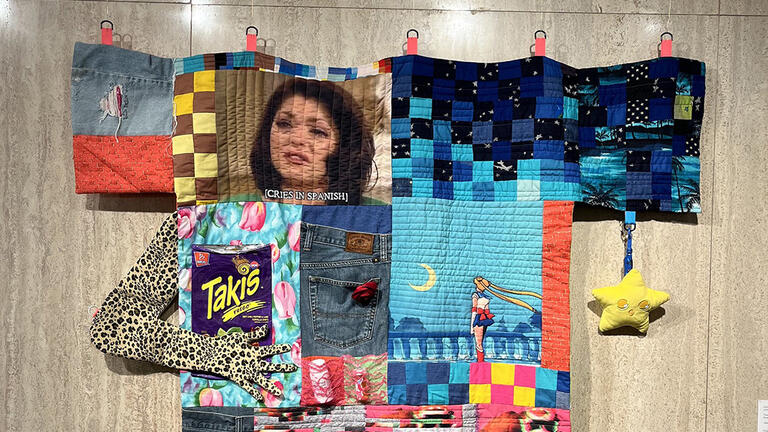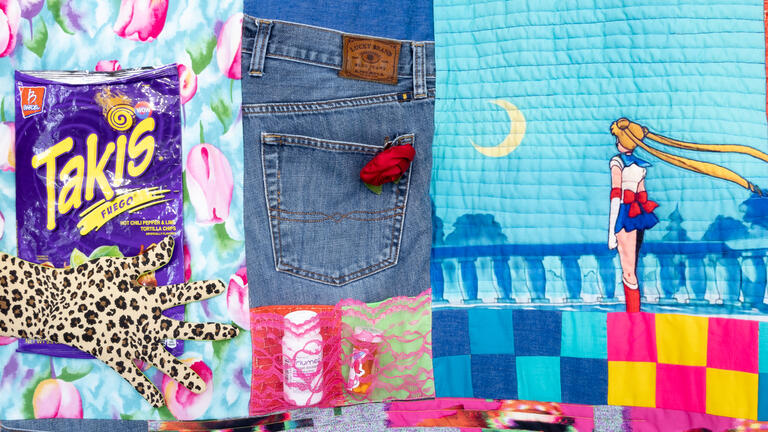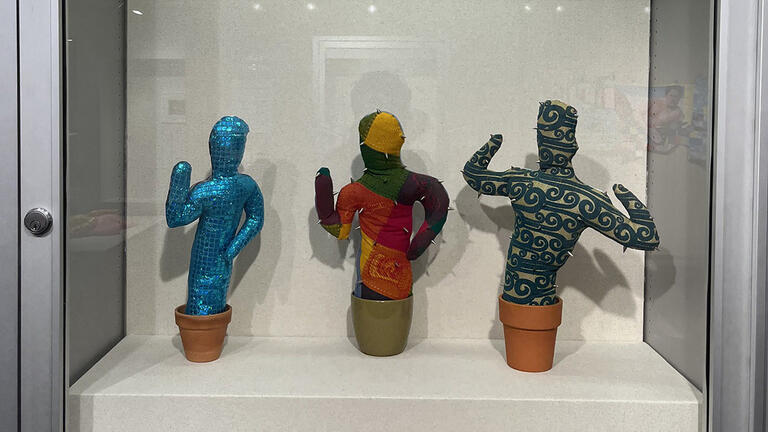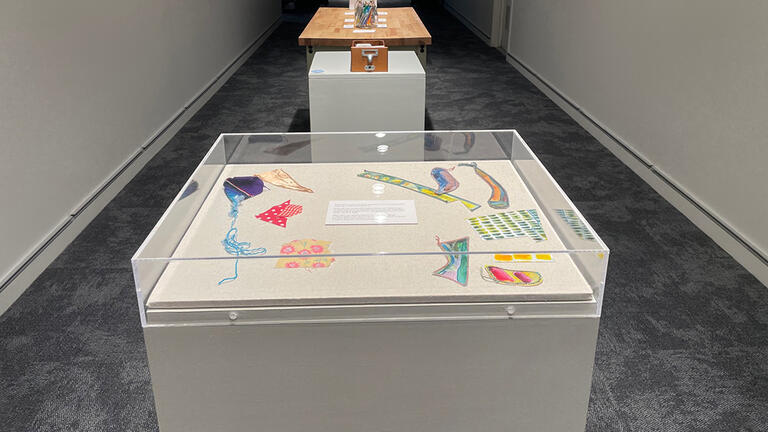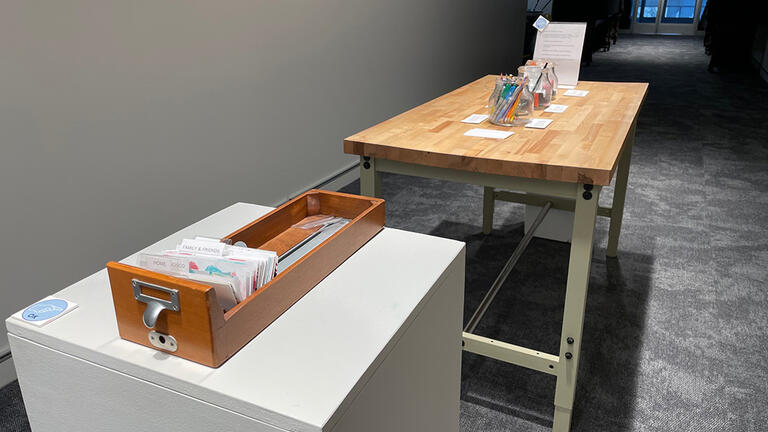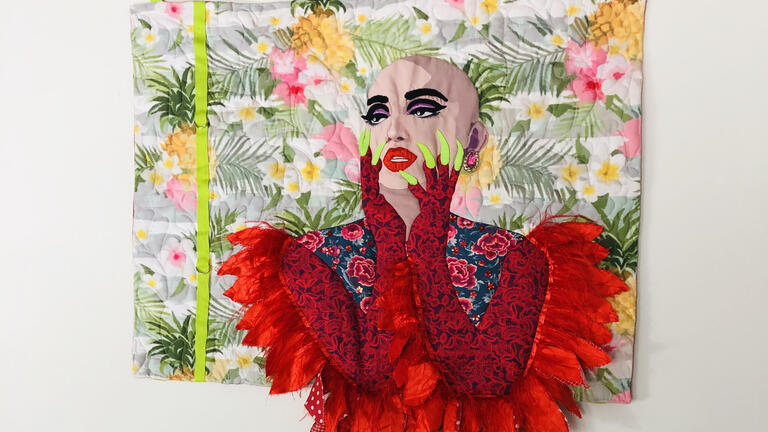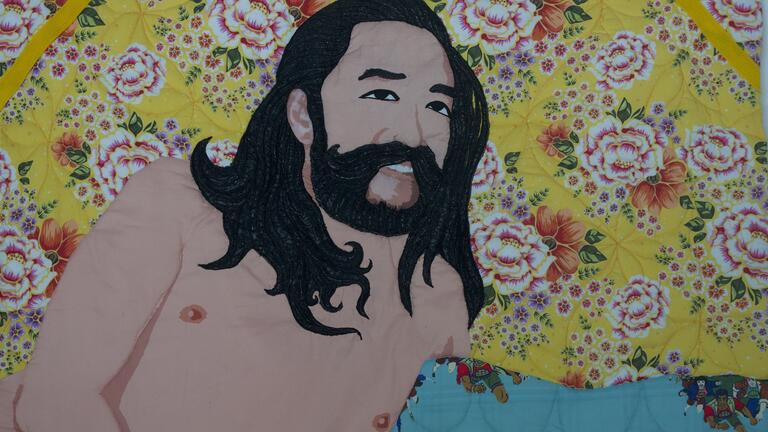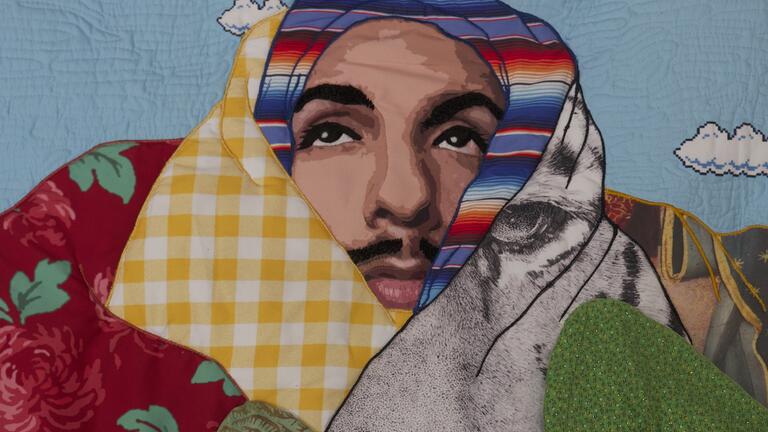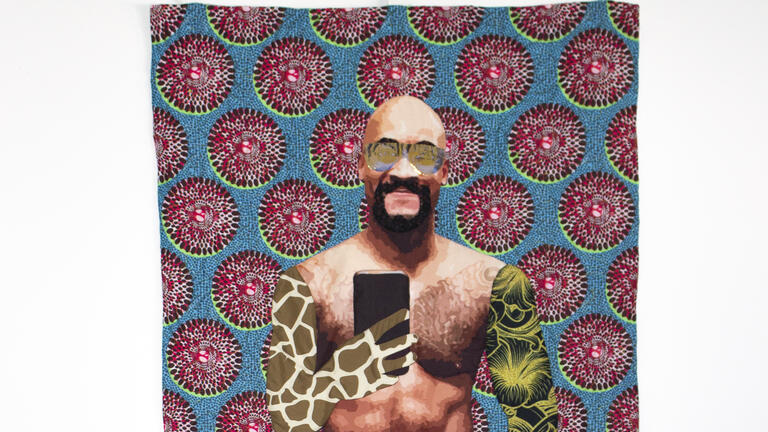 View of the entrance to Soft Power: Recent Projects by Alexander Hernandez
Installation view of Soft Power
Installation view of Alexander Hernandez's project Stayin' Positive (2019-2020)
Majestic Leslye by Alexander Hernandez, 2019, printed textiles, fabric remnants, and quilting batting
Installation view of Alexander Hernandez's project Surrogates (2016-2019)
Installation view of Alexander Hernandez's project Surrogates (2016-2019)
Crying in Spanish by Alexander Hernandez, 2018, printed textiles, fabric remnants, quilting batting, and found objects
Crying in Spanish (detail) by Alexander Hernandez, 2018, printed textiles, fabric remnants, quilting batting, and found objects
Cacti by Alexander Hernandez, 2018, mixed media
Installation view of exhibition interactive activity
Installation view of exhibition interactive activity
Ongina Uncaged, 2019, printed textiles, fabric remnants, quilting batting
Ray Unleashed by Alexander Hernandez, 2019, printed textiles, fabric remnants, and quilting batting
Hatching Cal by Alexander Hernandez, 2019, printed textiles, fabric remnants, and quilting batting
Dashing Omar by Alexander Hernandez, 2020, printed textiles, fabric remnants, and quilting batting