STUDIO VISIT: The Art + Architecture Faculty Triennial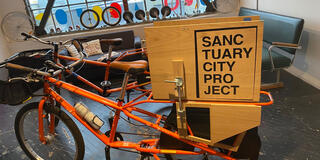 March 3-April 8, 2020
STUDIO VISIT: The Art + Architecture Faculty Triennial presents recent art and design by twenty-seven University of San Francisco faculty alongside the spaces in which these works were made.
There is a long-held fascination with artists' studios. The spaces utilized by these USF artists run the gamut, from a home studio to a design collective, a secluded barn to a converted warehouse, a technology-cluttered desk to a print shop on wheels. Some have no walls or structure; the artists' subjects--nature or an urban market--have become the studio. Determined by practical matters such as tools and economy as well as creative processes, they offer insight into the essential elements that support and define each artist's practice.
Artists include: Noopur Agarwal, Hannah Ahlblad, Rhiannon Alpers, Renata Ancona, Johnna Arnold, Sabiha Basrai, Liat Berdugo + Emily Martinez: Anxious to Make, Hana Böttger, Frank Cole, Sergio De La Torre + Chris Treggiari, Rachel Beth Egenhoefer, Steve Green, Eric Hongisto, Carrie Hott, Sandra Kelch, Kathryn Kenworth, Scott Kildall, Stuart McKee, Sean Olson, Matthew Peek, Tanu Sankalia, Tamara Suarez Porras, Mimi Sheiner, Jessica Snow, Seth Wachtel, Jenifer K Wofford, Susan Wolsborn.
STUDIO VISIT is presented by the University of San Francisco's Thacher Gallery and the Center for Research, Scholarly, and Artistic Excellence and the Department of Art + Architecture.
Studio Visit Object List
Noopur Agarwal
The Courageous Way Forward
Poster, digital print
2019

Noopur Agarwal
Alys Albers
Web/video/projection
2019

Hannah Ahlblad
Shaping Light
Digital photo, Handmade Models: Poster board, museum board, vellum, clear acrylic
2018

Hannah Ahlblad
Sunset, Lisbon
Watercolor
2018

Hannah Ahlblad
The Wall
Drinking straws, laser cut paper, Plexiglas scraps, and black thread
2014

Rhiannon Alpers
Finding Her Place | Jeanne Baret: The woman behind the naturalist
2019

Rhiannon Alpers
Field Work
2019

Rhiannon Alpers
Dwellings
2019

Renata Ancona
Hillside House, Burlingame
Photograph
2018

Renata Ancona
Hillside House Rendering
3-D rendering on paper
2017

Anxious to Make (Liat Berdugo + Emily Martinez)
Bitcoin Futures
Interactive sculpture comprised of wood, electronics, LCD display, thermal printer, digital coin acceptor, paint
2018

Anxious to Make (Liat Berdugo + Emily Martinez)
The Insufferable Whiteness of Being
Single-channel video
2018

Anxious to Make (Liat Berdugo + Emily Martinez)
Crypto Camouflage Keyboard
Custom-printed wireless keyboard
2018

Johnna Arnold
2014 Honda Civic #01
Unique chromogenic print
2018

Johnna Arnold
Texas Crude Resist #04
Unique print on DuPoint Yupo
2019

Johnna Arnold
1989 Toyota Land Cruiser #02
Unique chromogenic print
2018

Sabiha Basrai
No War Against Iran
Digital print
2019

Hana Böttger
Blue Purse
Glass bead, nylon thread, leather cord, blood, sweat, but no tears
2002

Hana Böttger
Bud Vase
Glass bead, nylon thread, tiny pyrex beaker borrowed from Dept of Chemistry
2001

Hana Böttger
Business Card Case
Glass bead, nylon thread
2019

Frank Cole
Lake House (A Hundred Billion)
Acrylic on drop cloth
2017

Frank Cole
Gulf House (Mother, Father, Sister, Brother)
Acrylic on drop cloth
2020

Sergio De La Torre and Chris Treggiari
This is Not a Wall, from the Sanctuary City Project
Vinyl on wall
2020

Sergio De La Torre and Chris Treggiari
I am an Immigrant, tote bag, from the Sanctuary City Project
Tote bag
2019

Sergio De La Torre and Chris Treggiari
Sanctuary Mobile Print Studio, from the Sanctuary
City Project
2019

Sergio De La Torre and Chris Treggiari
This is not a wall, from the Sanctuary
City Project
Screen print on newsprint
2019

Rachel Beth Egenhoefer
Paper Trail
Installation; jeans, thread, receipts
2016

Steve Green
Dorothy Mort
Screenprint; ink on paper
2017

Steve Green
Minotaur, Juvenile
Screenprint; ink on paper
2019

Steve Green
Sweater #2
Screenprint; ink on paper
2018

Eric Hongisto
Selections from Fairfield Osborn Preserve
Fuji Prints
2019

Carrie Hott
Lamps That See Us
Digital print on newsprint
2019

Sandra Kelch
Atoms to Bits
Giclee print of print-based assemblage
2020

Kathryn Kenworth
Regular or Decaf
Collage and pencil on paper
2019

Kathryn Kenworth
Menswear
Collage and pencil on paper
2019

Kathryn Kenworth
Meat Sculpture
Color screenprint on plywood
2019

Scott Kildall
Rigged: Ohio 3rd
Sculpture: wood with rope
2019

Scott Kildall
Rigged: Maryland 3rd
Sculpture: wood with rope
2019

Stuart McKee
The Acts of the Apostles 2:2, in English and Choctaw
Woodblock print on Japanese paper
2020

Sean Olson
Fish with Sweaters
Porcelain, reclaimed wool
In Process

Matthew Peek
Hurricane Sandy Recovery
3-D CAD rendering on paper
2019

tamara suarez porras
constructing the moon, or mercury
Gelatin Silver Print
2019

tamara suarez porras
coronae
Gelatin Silver Print
2019

tamara suarez porras
the similarity of mercury (shown here) to the moon
Gelatin Silver Print
2019

Tanu Sankalia
Awnings, roof, sky: A view of Cuetzalan's tianguis
Digital photograph
2019

Mimi Sheiner
Rockland Pier
Oil on board
2019

Mimi Sheiner
Afternoon
Oil on rag paper
2019

Mimi Sheiner
Tenants Harbor
Oil on rag paper
2019

Jessica Snow
Space Groove 3
2019

Jessica Snow
Space Groove 2
2019

Jessica Snow
Space Groove 1
2019

Seth Wachtel
Selections of Built work from Community Design
Color Prints
2006-2018

Jenifer K Wofford
Rupturre!! QTE
Ink and acrylic on paper
2019

Jenifer K Wofford
Rupturre!! QTZ
Ink and acrylic on paper
2019

Susan Wolsborn
Serpentine
Collaged rifle targets
2019

Susan Wolsborn
Rotation
Rifle target, vellum
2019

Susan Wolsborn
Optic
Rifle target, vellum
2019

Frank Cole
Study for Lake House

Stuart McKee
Laser-cut wooden type

Matthew Peek
Sketch

Sean Olson
Model and mold for Fish with Sweaters

Mimi Sheiner
Sketchbooks

Jessica Snow
Sketchbook

Susan Wolsborn
Sketchbook