Become The Monuments That Cannot Fall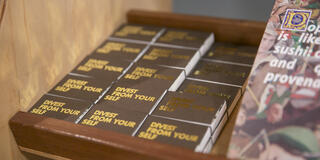 Nov. 19, 2020-Feb. 14, 2021
Thacher Gallery at USF & 3rd Street Corridor, Bayview
Organized by guest curator Astria Suparak with USF's MA in Museum Studies Curatorial Practicum class, Become The Monuments That Cannot Fall is a two-part exhibition project featuring the Bay Area and Washington D.C.-based art collective Related Tactics.
Beginning November 19, 2020, The future now, a sprawling, site-responsive public art project will be viewable along the 3rd Street corridor of San Francisco's Bayview neighborhood. Commissioned by the Thacher Gallery, this poster series illuminates facets of Black life in the city and explores the state of national politics. The map below shows the 14 poster sites, all within walking distance and visible from the street.
Accompanying the poster series is a web-based survey of the group's work at the intersection of race and culture, in conversation with the creative practices of individual members Michele Carlson, Weston Teruya, and Nathan Watson. This exhibition created by the Museum Studies Curatorial Practicum class will be viewable from December 1, 2020—February 14, 2021. A virtual opening event featuring the artists was held on Tuesday, Dec. 1, 5:30-7 p.m.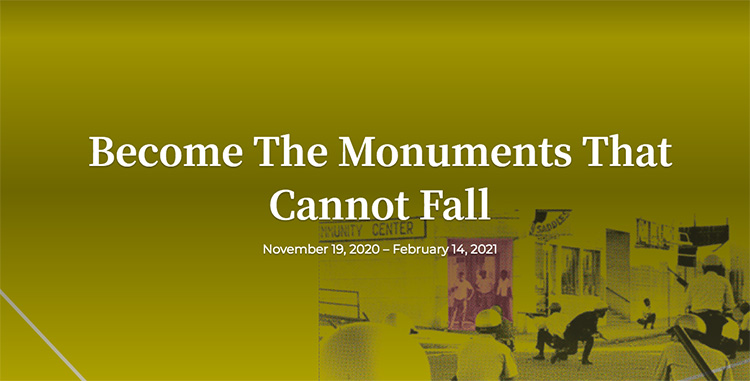 Acknowledgements
Artists
Related Tactics (Michele Carlson, Weston Teruya, and Nathan Watson)
Curatorial Team
Astria Suparak, guest curator and instructor
Subject Matter: Gorety Gallardo, Hannah Jeffers, Sarah Kefalas, Ashley Vairo
Design: Stephanie Kerry, Colbie Little, Alice Timmins
Visitor Experience: Miranda Bello, Justin Channels, Caillean Magee
Bayview Businesses and Storefronts Participating in The future now
Auntie April's Chicken Waffles & Soul Food, Bayview Opera House gallery space, Economic Development on Third (EDOT), G. Mazzei & Sons' Hardware, Gratta Wines, The Jazz Room, JN Outreach, Kennedy Market, La Laguna Taqueria, Radio Africa Kitchen, Star Market, Sunday Gather, and the representatives of 4726, and 4900 3rd St.
Curatorial Practicum Guest Speakers
Aleesa Pitchamarn Alexander, Michele Carlson, Kevin B. Chen, John Gefroh, Andrea Gonzales, Nell Herbert, Glori Simmons, Zoë Taleporos, Weston Teruya, Nathan Watson
USF Partners and Staff
USF Departments of Educational Technology Services and Marketing and Communications, Kevin Evensen, Victoria Farlow, Shannon Foley, John Gefroh, Andrea Gonzales, Nell Herbert, Eileen Lai, Kellie Samson, Glori Simmons, Somer Taylor