Eudaimonia: The 19th Thacher Art + Architecture Annual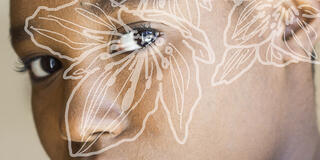 May 4 – June 29, 2018
In its 19th year, the Thacher Annual celebrates artwork by 40 junior and senior majors and minors from the University of San Francisco's Department of Art + Architecture. The exhibition's student organizers have chosen the title Eudaimonia (eu·dae·mo·nia), a Greek word that roughly translates to "human flourishing." The exhibition highlights the artists' personal and creative evolutions during their time at USF.
Just as organic life blooms and flourishes, so do we, ever molding into greater human beings. The artwork in Eudaimonia reflects varying human experiences, allowing viewers an opportunity for self-reflection.
Eudaimonia was organized by the Thacher Gallery Practicum class, providing an opportunity for undergraduate students to learn and apply the process of curating and implementing a professional, juried exhibition. The show's jury included artists Paz de la Calzada and Marshall Elliott, designer, author, and Design Action Collective co-founder Innosanto Nagara, and Haight Street Art Center executive director Peter McQuaid. The exhibition features 69 artworks of various media, including paintings, audio, digital, print, graphic design, and ceramics.
Opening events will be May 4, with an awards ceremony at 4pm in the Xavier Auditorium in Fromm Hall, followed by a reception in the Thacher Gallery.
Exhibiting Artists:
Yasmeen Abedifard
Fredo Alvarez
Allison Arriola
Megan Badilla
Justin Barreras
Esperanza Carmona
Marisa Centrella
Bailey Dare Chaconas
Maya Chin
Noa Chupkov
Elora Cuenco
June Dao
Genesis DeJesus
Tin Dinh
Joanna Douglas
John Finkenberg
Valentina Flores
Alex Foster
Christine Gonzalez
Monica Greene
Terence Ho
Lauren Imada
Jackie Isbell
Gina Kuhlmann
Danlu Liang
Ema Matsumura
Shana Mofarrah
Casey Moylan
Tiffany Nassirian
Joshua Oakley
McKenna Pahl
Ginelle Dela Peña
Giovanni Presutti
Amber Ramirez
Laura Schmaeler
Jackie Todani
San Trieu
Saorise-Naomie Weaver
Rose Yao
Shijia Zhang
Student Organizers:
Subject Matter
Heather Butler
Chloe Damiba
Delaney Gibbons
Christine Guo
Giovanni Presutti
Design
Lily Basting
Carrie Deng
Grace Hale
Zoila Marquez
Nina Vukic
Visitor Experience
Victoria Fraire
Pengxin Guo
Chaniece Jefferson
Jordan Sandoval
Luis Sepulveda
Nell Herbert and Glori Simmons, instructors
Yasmeen Abedifard
A Life Long Battle
Acrylic on wood
2017

Yasmeen Abedifard 
Bearer
Oil on canvas
2017

Fredo Alvarez
Alice at the Wall
Linocut print with oil based ink on paper
2017

Allison Arriola
End Artist Manifesto Book
Print
2017

Allison Arriola
Middle Artist Manifesto Book
Print
2017

Megan Badilla
Gals and Friends
Digital prints
2015-2018

Megan Badilla
Men and Women Trained
Digitally collaged publication
2017

Justin Barreras
Hella Hyphy
Pen and ink on paper
2014

Justin Barreras
Sk8s on H8
Acrylic and spray paint on skateboards
2016

Esperanza Carmona
Coddiwomple
Photography with watercolor
2015

Esperanza Carmona
Pelle Fiorentina
Leather
2017

Marisa Centrella 
Rika
Acrylic on canvas
2018

Bailey Dare Chaconas 
Aquifer House Cooling
Digital print and mixed media
2017

Maya Chin
Pencil Drawing of Robert Mapplethorpe's Photograph
Graphite pencil on bristol board
2017

Maya Chin
Words in Motion (Based on "Rain" by Shel Silverstein)
Website
2017

Noa Chupkov
From Sketch to Sculpture
Wire sculpture
2014

Elora Lam Cuenco
Eyes Off, Paws Off
Acrylic on bristol board
2017

Elora Lam Cuenco
Why Am I Afraid of the Dark?
Ink on bristol board
2017

June Dao
Blue Poppy
Photography
2017

June Dao
Lily
Photography
2017

Ginelle Dela Pena 
Ready, Set, Lift Off
3D Mixed Media
2017

Ginelle Dela Pena 
A Dash of Realism
Cardstock and Construction Paper
2018

Gensis De Jesus 
Spotted Hyena Skull
Graphite on bristol
2018

Tin Dinh
Gay Masculinities
Book
2016

Tin Dinh
Vietnamese Playing Cards
Playing cards
2018

Joanna Douglas
Vibrant in a Dull Setting
Digital photography
2017

John Finkenberg
Edit Me
Mixed media
2015

John Finkenberg
Crossing Gender in America: Davies Forum Poster Series
Mixed media
2017

John Finkenberg
Interactive "Focus" Patterns
Interactive website
2017

Valentina Flores
48 Hour Tea Set
Ceramic
2018

Valentina Flores
Un Breve Momento
Linocut reduction print
2017

Alex Foster 
Color + Sound
Video
2017

Alex Foster
World Cover
Print
2017

Christine Gonzalez 
Back to Basics
Digital inkjet print booklet and letters
booklet
2017

Christine Gonzalez 
Avant Garde
Digital inkjet print
2017

Monica Greene
The Privacy Conundrum
Interactive website
2017

Terrence Ho
Phase
Interactive web game
2016

Terrence Ho
Report a Problem/Last Breath
Digital print, audio
2016

Lauren Imada 
Dispatches Against Displacement: Field Notes on San Francisco's Housing Wars
Chapter 3: They Plan for Profits, We Plan for People
Bound matte paper, cardboard
2016

Jackie Isbell
Nude Model #3
Acrylic paint on bristol board
2017

Gina Kuhlman 
(Re)Moving East
Digital inkjet print
2017

Gina Kuhlman
Interwoven
Interactive website
2017

Danlu Liang
Grow Up
Interactive web page
2017

Danlu Liang 
The Chinese Restaurants That Hana Has Been to in San Francisco
Poster
2017

Ema Matsumura
Innocence Gone Wrong
Print, video
2017

Ema Matsumura
You are What You Choose to Wear
Print
2017

Shana Mofarrah
The Indigenous People's History of the United States
Hardcover book
2017

Shana Mofarrah
Type as Composition
Digital inkjet print
2016

Casey Moylan
Let's (M)eat
Interactive web game
2016

Casey Moylan
Succulents
Acrylic on paper
2016

Tiffany Nassirian
Nude
Acrylic
2016

Joshua Oakley
From the Bottom Up: Part of Something Larger
Acrylic on gesso board
2017

Joshua Oakley
I Came Back
Oil and collage on canvas
2017

McKenna Pahl
Melting Point
Interactive web game
2017

McKenna Pahl
Moon Balloon
Vector illustration
2016

Giovanni Presutti
Loving the Parallax
Oil, charcoal, pastel on canvas
2018

Giovanni Presutti
Apples and Oranges
Acrylic, charcoal on canvas
2017

Amber Ramirez
Lost
Acrylic
2018

Amber Ramirez
Lost #2
Acrylic
2018

Laura Schmaeler
Citizen
Digital inkjet printed book
2017

Laura Schmaeler
Date Night
Handmade/hand-crafted book cover with digital inkjet printed interior
2017

Trieu San
Life and Death
Reduction print on paper
2017

Trieu San
Walk at the Palace
Gouache and ink on paper
2017

Jackie Todani
Aquifer Cooling Building
Digital print and mixed media
2017

Saoirse Weaver
Black Power
Publishing paper, book board
2015

Saoirse Weaver
My Neighborhood Is
Copy paper, packing tape
2016

Rose Yao
Raw
Acrylic on canvas
2017

Shija Zhang
The Back
Photography
2018

Shija Zhang
Peppers in black
Photography
2018