Feeding a Thousand Souls: Kōlam by Bay Area Makers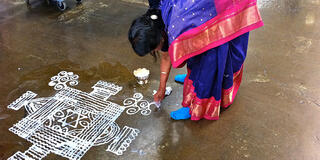 March 6-April 7, 2019
Kalmanovitz Hall Sculpture Terrace and Campus Thresholds
Curated by Vijaya Nagarajan
Feeding a Thousand Souls presents kōlam by Bay Area makers. Created with rice flour on the thresholds of homes, businesses and temples, these ephemeral designs are offered as a morning ritual of gratitude and generosity by Tamil women throughout southern India and beyond. This thousand-year-old folk ritual welcomes and honors Lakshmi, the goddess of wealth and alertness, and Bhudevi, the goddess of the earth. Formed by hand with great skill, artistry, and mathematical precision, the kōlam disappears in a few hours, borne away by passersby, insects and birds.
In the Tamil language, the word kōlam means beauty, form play, disguise, and ritual design. This exhibition will introduce several kinds of kōlam, including the dot (pulli), square (katta), and figurative, among others.
Curated by Vijaya Nagarajan, Associate Professor, Theology/Religious Studies and Environmental Studies, University of San Francisco and author of Feeding a Thousand Souls: Women, Ritual, and Ecology in India -- An Exploration of the Kōlam.
Co-presented by the University of San Francisco's Thacher Gallery, Department of Theology/Religious Studies, and the Global Women's Rights Forum.