Portale by Paz de la Calzada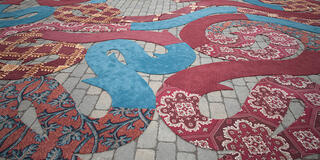 Feb. 5 – Mar. 25, 2018
Kalmanovitz Hall Sculpture Terrace
In Portale, artist Paz de la Calzada explores ideas of passage and transformation through a site-specific installation that creates a path through the stone portal in Kalmanovitz Hall's Giraulo Atrium to the Nomadic Labyrinth on the building's rooftop sculpture terrace.
Dated 1175-1200, the Romanesque portal featuring Adam and Eve and the Tree of Knowledge was originally from the Chapel of the Penitents in Northern Italy. Taken from its original sacred space and later donated by the de Young Museum to be placed in the heart of an academic building dedicated to the arts and humanities, it is now a reminder of many passages: from one place to another, from the past to the present, from the tangible world to the spiritual realm.
For Portale, de la Calzada incorporates a common ornamental pattern used in churches of Northern Italy to form a path that links the monument and the space, while inviting visitors to begin a new journey through the portal to the Nomadic Labyrinth. Used throughout history and in spiritual practices around the world, labyrinths serve as paths for contemplation, meditation, and reflection. Using gaudy reclaimed carpets from hotels and casinos, de la Calzada evokes with irony the relationship between the sacred and the profane.
Presented by Thacher Gallery. Co-sponsored by Theology and Religious Studies, The Joan and Ralph Lane Center for Catholic Social Thought and the Ignatian Tradition, and University Ministry.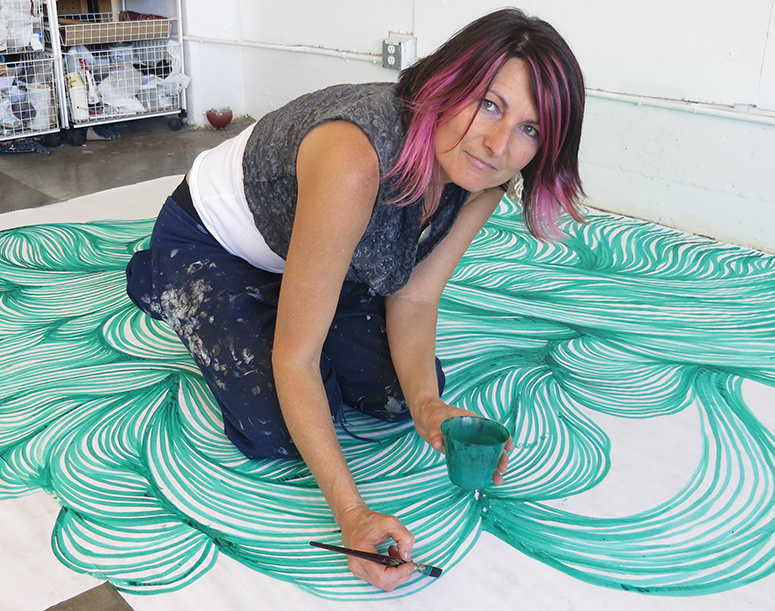 About the Artist
Paz de la Calzada, a native of Spain, is a San Francisco based artist working in site-specific drawing and temporary projects that have a real and direct interaction with the public. Her whimsical installations play with existing architecture, responding to social, historical or spatial context.
Using everyday materials to interweave the public and private space, she explores the relationship between urban environment, daily life and ritual. Paz presents her work as a playful examination of the world, the human psyche and the interconnectedness of human beings.
De la Calzada's work has been shown nationally and internationally, including the San Jose Museum of Art, the Palo Alto Art Center, the de Young Museum, YBCA, the Union Fenosa Museum and the Fundacion Caixa Galicia in Spain, the Leon Trotsky Museum and the San Angel Cultural Center in Mexico City.
De la Calzada came to the San Francisco Bay Area in 2003 as an Artist in Residence at Djerassi Resident Artist Program. Since then she has been in several residency programs like Kala Art Institute in Berkeley, Millay Colony for the Arts in New York, ArtAmari in Crete and most recently Tvak Studios in India. Her interactive public art project, The Nomadic Labyrinth, is a recipient of the Cultural Equity Grants by the San Francisco Arts Commission.