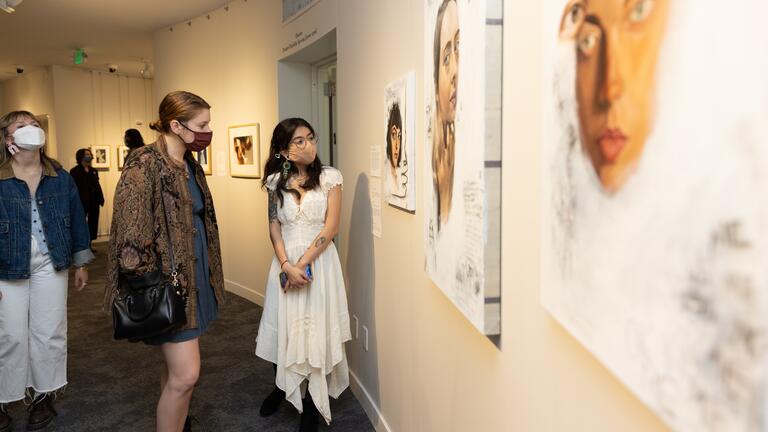 Located in the Gleeson Library/Geschke Center, the Mary and Carter Thacher Gallery is a crossroads where creativity, scholarship, and community converge.
Each year the Thacher Gallery presents a series of diverse, high-caliber art exhibitions that probe aesthetics, stimulate dialogue and reflect the urban Jesuit university's commitment to social justice. With a focus on art from California, the Thacher Gallery shows emerging artists, Bay Area icons and major collections.
Along with its exhibition calendar, the Thacher Gallery presents free public programs, such as artist talks, craft demonstrations, and docent-led tours for all ages. The facility also serves as a professional training laboratory for students interested in arts management, museum studies and exhibitions.
Plan a Visit
The Thacher Gallery is free and open to the public 12-6 p.m. Monday through Saturday, and is closed on Sundays. If you do not carry a USF identification card, please ring the doorbell at the library entrance.
The sculpture terrace, located on the third floor of Kalmanovitz Hall, is open to the public on weekdays from 9 a.m.–5 p.m. during the academic year. Appointments are required for those without a USF ID card.
Submissions
The Thacher Gallery accepts submissions from California-based artists and collectors. To submit a proposal, please send an email inquiry with a brief description of your work or collection to thachergallery@usfca.edu. If the artwork fits within the gallery's mission and current needs, we will request a complete submission. The gallery calendar is selected annually by a rotating curatorial advisory board made up of faculty, staff and local arts administrators. On occasion, we issue calls for submissions for thematic exhibitions.
Curatorial Advisory Board
Jenifer K Wofford: Assistant Professor, Department of Art + Architecture
Javier Plasencia, Program Manager, Museum Studies
Kevin Chen, Curator
Chanda Briggs, MLIS, Outreach Librarian, Gleeson Library | Geschke Center
Staff
Victoria Farlow, Program Assistant
Glori Simmons, Director
Current student gallery staff include: Alexa Ortiz, Designer, and Kilian Fitzgerald, Museum Studies Intern
Upcoming Events
There are no upcoming events at this time.
Gleeson Library | Geschke Center
2495 Golden Gate Ave
San Francisco, CA 94117
Hours
Thacher Gallery is free and open to the public from 12-6 p.m. daily. Please check USF's pandemic protocols before planning your visit.