Unmuted: The 22nd Thacher Art + Architecture Annual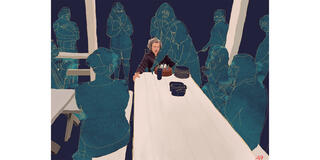 May 7-July 30, 2021
Online exhibition and programs
Thacher Gallery, University of San Francisco
Following a year during which our collective interactions have primarily occurred virtually, the 22nd Thacher Annual playfully responds to the now ubiquitous phrase, "You're on mute!" While the impacts of the pandemic have left many feeling disconnected and stifled, Unmuted provides a platform for University of San Francisco student artists to speak out, express themselves, and let their creative voices be heard.
The exhibition presents 64 works by junior and senior majors and minors from USF's Department of Art + Architecture. With themes ranging from isolation to our dependence on the natural environment, the featured works represent an honest vocalization of emotions, experiences, and discoveries made during the silence of the pandemic. Through these artworks, viewers are invited to reflect on their own experiences during the past year.
Unmuted is presented by USF's Thacher Gallery and Art History & Museum Studies Thacher Practicum class led by Nell Herbert. Student curators include Evan Carlson, Shannon Foley, Christina Gazi, Maria Ivanyuk, Julia Kea, Catherine Pluimer, Nora Robbins, Zoe Sun, and Quinna Xia. Exhibited artworks were selected by jurors Jenna Marie Blair, Eddie Herena, Cynthia Hooper, and Weston Teruya.
Featured Artists
Joshua Alas
Jazz Alcanices
Max Amido
Sonja Angst
Arantza Aramburu
Megan Babigian
Tessa Bartholio
Samanda Beeman
Nicole Belton
Valerie Bravo
Sam Cadenas-Arzate
Dana Capistrano
Angelica Carinugan
Brandi Chang
Joanne Chu
Courtney Crother
Louise de Oliveira
Natalie Ferrer
DJ Hoffman
Maria Ivanyuk
Gabrielle Kim
Nathan Lee
Danae Lenda
Margarita Lopez-Dale
Allyssa Mabute
Jenna Mansperger
Camilla Martinez
Natalie Morris
Tanvi Murugesh
My Nguyen
Lauren Nipper
Natalie Ortez-Arevalo
Milla Petrolino
Ariane Corrine Reyes
Eduardo Reyes
Paola Reyes Melendez
Lucas Ricci
Mary Lou Grace Robison
Tomas Rodriguez
Sebastian Rojas
Coco Romano Giordano
Emma Schwartz
Aneesha Solomon
Somer Taylor
Mai Ly Torres Baker
Josephine Tov
Brianna Vargas
Xingyi Wang
Halle Watson
Ryan Williams
Acknowledgments
The Thacher Practicum class would like to thank the following people for their contributions to the Unmuted exhibition project:
Jenna Marie Blair, Kevin B. Chen, Eddie Herena, Cynthia Hooper, Weston Teruya, Rio Yañez, USF's Department of Web Services, and the Thacher Gallery team: Victoria Farlow, Andrea Gonzales (designer), Nell Herbert, Ariane Corinne Reyes, Glori Simmons, and Somer Taylor.
May 7-July 30, 2021
Thacher Gallery 

Joshua Alas
Nothing out of the Ordinary
2021
Photoshop painting

Jazz Alcanices
Affirmations To Self
2021
Digital illustration

Max Amido
Los Angeles Low Income Homes
2020
Poster

Sonja Angst
Help Save The Ocean
2019
Web application, P5.play

Arantza Aramburu
Untitled
2020
Gouache painting

Arantza Aramburu
May
2020
Watercolor painting

Megan Babigian
2020 calendars
2019
Printed poster made with Illustrator

Megan Babigian
Flower Showbox
2020
Cardstock

Tessa Bartholio
Disconnect to Connect
2019
Printed poster

Samanda Beeman
Making more or less
2021
Mixed media, digital, 1:41 minutes

Nicole Belton
Soft kiss
2021
Acrylic paint and colored pencils on canvas

Nicole Belton
Monsters
2021
Acrylic paint, water color, and markers on canvas

Valerie Bravo
VOID
2020
Digital (Adobe Illustrator)

Sam Cadenas-Arzate
Pieces of Me
2019
Ceramic

Sam Cadenas-Arzate
A Break
2021
Photography

Dana Capistrano
Kare Care
2019
Interactive web narrative (HTML, CSS)

Angelica Carinugan
Floating in Space
2021
Acrylic paint on skateboard

Brandi Chang
Painted Memories
2021
Acrylic paint on seashells

Joanne Chu
How to Manufacture Gender
2019
Zine

Courtney Crother
Collage of Tongues
2019
Paper collage

Natalie Ferrer
Fingers Crossed
2019
Playing cards, 52 card deck

Natalie Ferrer
Motel Quarantine
2020
Digital illustration

DJ Hoffman
GMom
2020
Digital portrait

Maria Ivanyuk
Stay Outdoors
2020
Digital photography

Gabrielle Kim
SF Children & Nature Community Report
2020
Print

Nathan Lee
Hope
2019
Kinetic typography animation, 1:57 minutes

Nathan Lee
Pachinko
2020
Redesigned book cover

Danae Lenda
Quarantine in San Francisco
2020
Acrylic on canvas

Danae Lenda
Untitled Triptych
2020
Acrylic on canvas

Margarita Lopez-Dale
Idle
2020
Illustration 

Allyssa Mabute
video_art: GLITCH
2021
Video, 1:31 minutes

Jenna Mansperger
Growing
2021
Acrylic on canvas

Camilla Martinez
Untitled
2021
Oil, acrylic, and gouache paint

Natalie Morris
Postcards
2020
Print

Tanvi Murugesh
In Another World
2019
Website (HTML, CSS)

My Nguyen
McVitamins
2020
Package design

Lauren Nipper
Parks. IPA
2020
Digital package and brand

Louise De Oliveira
No Exit
2019
Mixed media sculpture

Natalie Ortez-Arevalo
My Thoughts, Her View
2020
Watercolor and ink on paper

Milla Petrolino
The Interactive Recipe
2020
Interactive website

Ariane Corrine Reyes
San Francisco Museum of Film and Digital Entertainment
2019
SketchUp and Adobe Photoshop Programs

Ariane Corrine Reyes
Saipan's Bird Island
2017
Digital photograph

Eduardo Reyes
Tunnel Vision
2021
Oil on canvas

Paola Reyes Melendez
Crisis
2021
Linocut print

Paola Reyes Melendez
Happy New Year
2020
Acrylic on canvas, stitched yarn

Lucas Ricci
The World on Fire
2020
Information visualization magazine spread

Lucas Ricci
United States Energy Generation
2020
Data visualization mapping

Mary Lou Grace Robison
Hard to Smile
2019
Colored pencils

Mary Lou Grace Robison
Wounds
2019
Oil painting

Mary Lou Grace Robison
Muted
2019
Oil painting

Coco Romano Giordano
New Friends
2020
Photograph

Tomas Rodriguez
Psychapetals
2020
Package design

Sebastian Rojas
Rojas Whiskey
2020
Stained oak wood, hold spray paint, magnetic hinges 

Emma Schwartz
The Book Thief Redesign
2019
Digital rendering

Aneesha Solomon
Book Cover Recreation
2019
Scratch paper, gold paint, photography, and photoshop

Aneesha Solomon
SOMCAN Transit Justice Posters
2020
Digital design

Somer Taylor
the distance between the sun and the moon
2021
Gold wire and faux blue stones

Mai Ly Torres Baker
Williams Trail in Taos, NM Mountains
2021
Acrylic on canvas

Mai Ly Torres Baker
Grandpa and Thanksgiving Turkey
2020
Acrylic on paper

Josephine Tov
For the women in my life
2018
Pen and paper, tattoo ink

Brianna Vargas
Numbers, Neighbors, & Narcotics: West Virginia, Maryland, and the Opioid Epidemic
2020
Poster

Xingyi Wang
The Battle of Buir Lake
2021
Painting

Halle Watson
Unity
2021
Digital painting

Ryan Williams
Holy Shit I Just Burnt Down Madame Tussauds™ Wax Museum
2020
Blender 3D
Views of the Unmuted Virtual Gallery