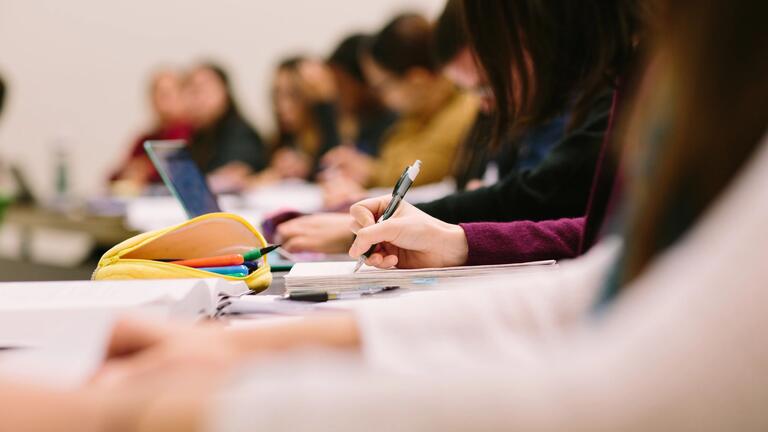 SCHOOL LIFE & CAREERS
Publications
The USF School of Law publishes a variety of publications for the academic, student, and alumni communities.
To obtain copies of law school publications, contact the Office of Communications at lawcommunications@usfca.edu or (415) 422-6097.
Image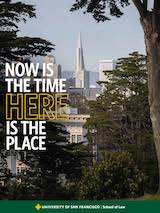 Viewbook
The Viewbook is published each year for prospective students and provides an overview of the law school's mission, degree programs, facilities, faculty, student life, and admission requirements. To receive a print copy of the Viewbook, please contact the Office of Admissions at lawadmissions@usfca.edu or (415) 422-6586.
USF Lawyer
The USF Lawyer is a full-color magazine published annually for alumni, students, and supporters of the law school. It includes feature articles on current trends in law and legal education, law school news, faculty scholarship listings, and alumni news.
Fall 2022 Issue
Read the Fall 2022 issue (an accessible version is available upon request)
Image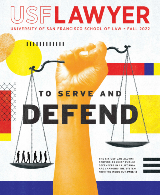 To Serve and Defend
The six USF law alumni serving as chief public defenders in California are changing the system from the inside out.
IP Support Network
Students in USF's IP Clinic help clients elevate their business.
Go Forth and Set the Words on Fire
In a new program, USF Law brings better writing to the field of tax law.
One to Watch: Sophia Abebe '24
Fall 2021 Issue
Read the Fall 2021 issue (an accessible version is available upon request)
Image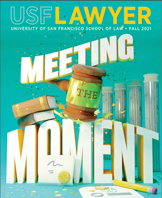 Meeting the Moment: Diary of a Law School Pandemic
Celebrating the resilience, grit, and determination of the Class of 2020.
At the Intersection
Amy Van Prooyen '99, a pioneer in litigation communication, brings her expertise to the vaccine world.
For these Alums, It's Personal
Reformers Marshal Arnwine Jr. '18, Hillary Blout '06, and Dean Ito Taylor '75 make justice their mission.
Closing Argument
Logan Tillema '15 successfully advocates on behalf of an endangered plants species native to southern California.
Fall 2020 Issue
Read the Fall 2020 issue (an accessible version is available upon request)
Image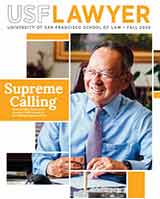 Supreme Calling
Alumnus Ming Chin's Career of Service, From Vietnam to the California Supreme Court
Animating Factor
Accomplished litigator and advocate Matthew Liebman named Justice for Animals chair.
A Tale From Two Cities
David Sutton '08 takes a holistic approach to advocacy in the Federal Public Defender's Office.
Quiz Master
Eli Wagner '11 keeps Jeopardy and Wheel of Fortune on the straight and narrow.
Fall 2019 Issue
Image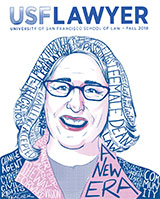 A New Era
Susan Freiwald is the 19th dean of the School of Law — and its first female dean.
Masterful Minds
Before they came to law school, they excelled at most anything they pursued. Now, they are the USF Law Provost Scholars.
Beyond Music
Josh Binder '01 walks the leading edge of entertainment law.
One to Watch
Linda Szabados '20 is a first-generation college graduate who came to USF School of Law to pursue her passion for antitrust, consumer protection, and privacy law.
Spring 2018 Issue
Image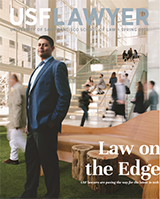 Law on the Edge
USF lawyers are paving the way for the latest in tech

Changing the World, Worldwide
Across 46 states and 60 countries, USF School of Law graduates are making their mark in the legal profession and beyond
Closing Argument
Linda Chan '78 remembers how her father, the first Asian American to practice law in California, fought discrimination — and won
Fall 2017 Issue
Image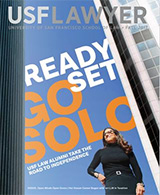 Ready, Set, Go Solo
USF Law alumni take the road to independence
Open Minds Open Doors
To thrive in today's legal industry, embrace your options, advises leading recruiter Stacy Miller Azcarate '96
Her Dream Career Began with an LLM in Taxation
Cassandra Banks LLM '16 launched her dream career with a USF LLM in Taxation
Closing Argument
Edward J. Imwinkelried '69 says it's time to rethink the rules of evidence
Spring 2017 Issue
Image
Trailblazers
USF women graduates have been breaking ground in the law for more than eight decades
From Cases to Courses
Alumni turned adjuncts give back in the classroom
Closing Argument
We are what we believe by Jonathan Madison '16
Fall 2016 Issue
Image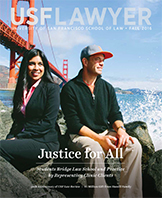 Justice for All
Students bridge law school and practice by representing clinic clients
Write an Article, Make an Impact
Celebrating the 50th Anniversary of the USF Law Review
Closing Argument
Rescued from the Brink of Death: A Refugee's Gratitude by Lauren Vuong '99 
Spring 2016 Issue
Image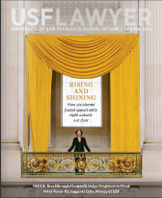 Rising and Shining
How six alumni found opportunity right outside our door
Breakthrough Nonprofit Helps Neighbors in Need
USFers bring universal legal aid to the poor and marginalized in Bayview-Hunters Point
Closing Argument
From a Personal Tragedy, a Global Remedy by Alex Gerould '92
Fall 2015 Issue
Image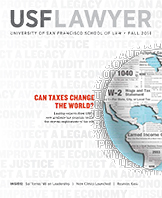 Can Taxes Change the World?
In a global economy where everything is connected, taxes are everyone's business. Here, leading experts from USF's new graduate tax program tackle the myriad implications of tax law.
"You Have to Learn to be a Leader"
Sal Torres '88 places law at the center of his eclectic career.
Closing Argument
There's No Guarantee of Anonymity: Genetic databases hold risks for genetic identity theft and privacy invasion, by Ifeoma Ajunwa '07
Fall 2014 Issue
Image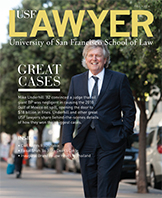 Great Cases
Five alumni recount their experiences with noteworthy cases and how their USF School of Law education helped prepare them.
Civil Rights Roundtable
As the nation marks the 50th anniversary of the Civil Rights Act and the 60th anniversary of Brown v. Board of Education, leading lawyers and legal scholars consider what's needed for true equality.
Closing Argument
Mediating for Stronger Start-ups, by Carole Bellis '96
Spring 2014 Issue
Read the Spring 2014 USF Lawyer
Image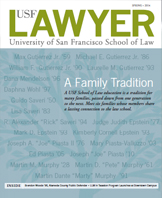 A Family Tradition
A USF School of Law education is a tradition for many families, passed down from one generation to the next. Meet six families whose members share a lasting connection to the law school.
Reshaping Criminal Justice
As Alameda County Public Defender, Brendon Woods '96 is doing more than representing indigent criminal defendants. He's also making broader policy changes that enhance the community.
Closing Argument
Learning to Celebrate You, by Cameron Cloar '09 
Fall 2013 Issue
Image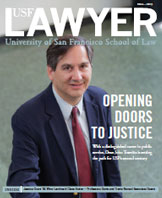 Opening Doors to Justice
With a distinguished career in public service, Dean John Trasviña is setting a path for USF's second century. 
Big Battles, Big Victories
With a small legal team driven by her smart strategies, trial attorney Jessica Grant '95 prevailed recently in two hard-fought class action suits, winning verdicts totaling more than $989 million. 
Closing Argument
Building a Career on Your Integrity, by Judge Saundra Brown Armstrong '77
Spring 2013 Issue
Read the Spring 2013 USF Lawyer
Image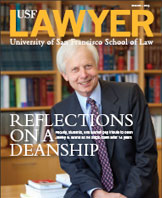 Reflections on a Deanship
Faculty, students, and alumni pay tribute to Dean Jeffrey S. Brand as he steps down after 14 years.
The Road Less Traveled
Many with legal backgrounds pursue creative employment options that draw upon skills honed during their JD education. USF School of Law graduates demonstrate how their law degree opened doors to innovative and rewarding careers.
Closing Argument
Alone in the American Legal System, by Anna Ciesielski '06
Fall 2012 Issue
Image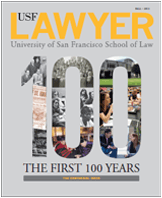 The First 100 Years
A look back over a century of USF legal education reveals a remarkable transformation since its founding in a small building on Market Street. 
Looking Forward
Former deans and current faculty spanning five decades explore critical issues in legal education as part of centennial roundtable discussions.
Closing Argument
The Opposite of Poverty, by Peter Toren '85 
Fall 2011 Issue
Image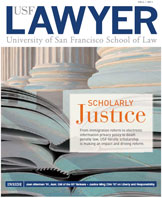 Scholarly Justice 
From the nonproliferation of nuclear weapons to immigration reform to death penalty law, USF faculty scholarship is making an impact and driving reform. 

Heavy Hitter 
As assistant general manager of the New York Yankees, Jean Afterman '91 is one of the most powerful women in Major League Baseball. 

Closing Argument 
Liberty and Individual Responsibility, by Justice Ming Chin BA '64, JD '67
Student Publications
USF Law Review
The USF Law Review is a quarterly journal of legal scholarship staffed and edited by students of the University of San Francisco School of Law. USF Law Review serves as USF's voice in the ongoing academic debate regarding the evolution of law. Each issue is typically comprised of articles by professors and practitioners and several student notes and/or comments. All articles are subjected to a rigorous editorial process in order to strengthen substance, polish tone, and ensure citation accuracy. 
Intellectual Property Law Bulletin
The Intellectual Property Law Bulletin is a student-run law journal focusing on current trends in intellectual property law. It includes articles from professors, practitioners, and law students on diverse areas of intellectual property law ranging from patents to cyberspace law. It also includes a survey of key intellectual property cases in the country.