Passion for Justice
Supreme Calling
Alumnus Ming Chin's career of service, from Vietnam to the California Supreme Court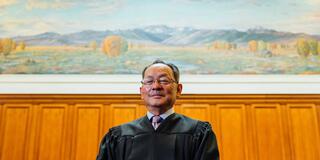 He started his career in the Vietnam War.
He concluded it during a pandemic. But in between, for 32 years on the bench and 24 years on the California Supreme Court, he brightened the world with his work, with his warmth, and with his service to others.
"It's been an adventure better than I could have imagined," said Associate Justice Ming W. Chin BA '64, JD '67, as his retirement approached on Aug. 31, 2020, his 78th birthday. "But it's time to let someone else have the privilege of doing this job."
For Chin, as a boy growing up on a potato farm in Klamath Falls, Oregon, judge was a job that seemed out of reach. "I didn't think it would be possible for an Asian American to become a judge. There were very few," Chin says. "But I set my sights on becoming a lawyer and wanted to be the best lawyer possible."
Chin's father had arrived in the United States in 1913, at the age of 18 — "without funds, without family, and without language," his son recounted more than 100 years later. The youngest of eight children, Ming was also the only one who didn't have two first names: one Chinese, one English.
"I was just Ming. I don't know how that happened," he laughs. "I found it difficult when I was young because it was so unusual. But I got used to it — and I kinda like it now."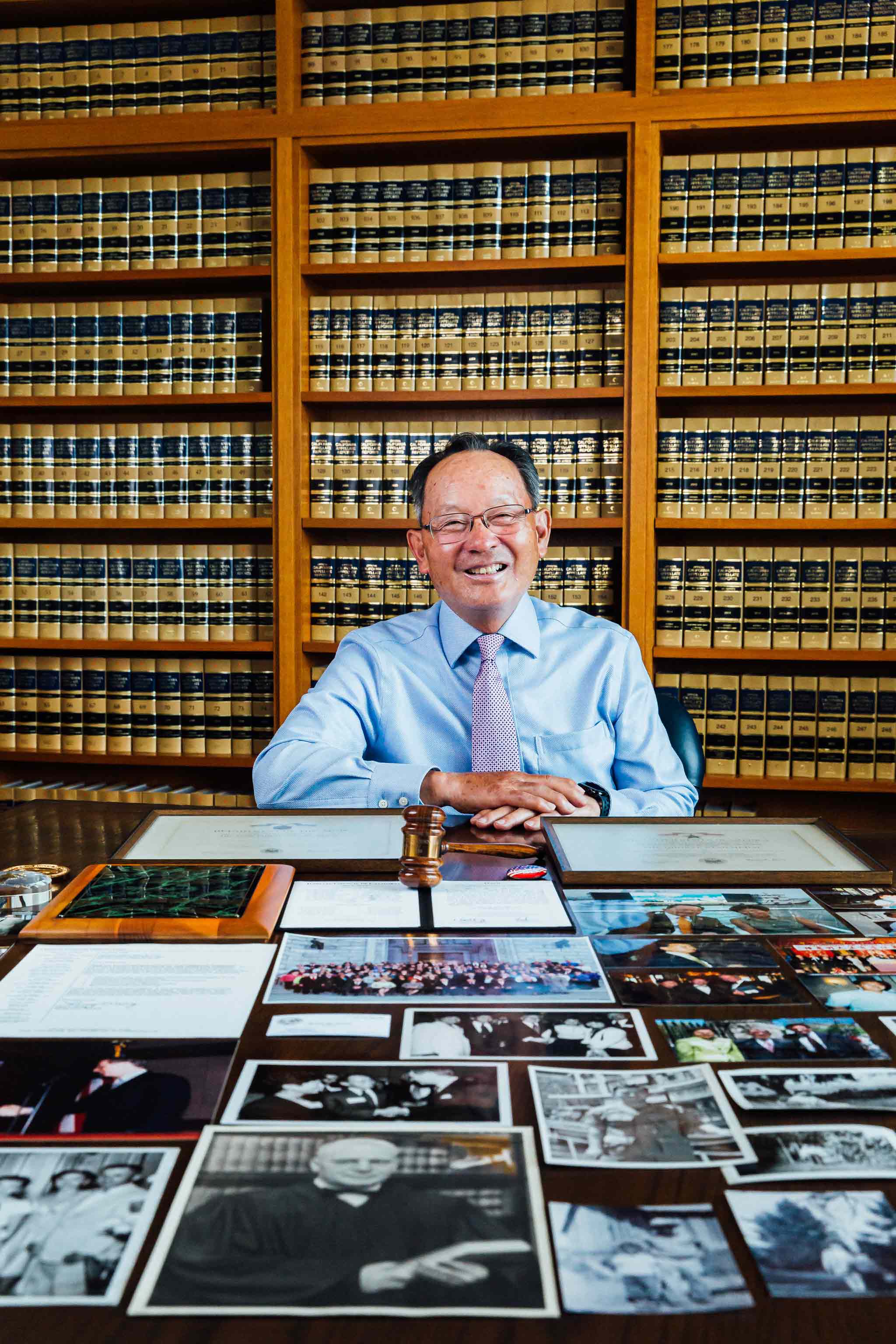 As the only Asian American students in the area, Chin and his siblings encountered racial discrimination. They also faced tragedy: When Ming was 4, a fire claimed the family home and the life of one of his brothers. But Klamath Falls rallied around the family. After a neighbor couple heard the news while on their honeymoon, they rushed home to offer their house keys to Chin's parents. When Chin was in seventh grade, the living quarters of his Catholic boarding school were forced to close, threatening to interrupt his education. Once again, a family friend — this time a local judge named David Vandenberg — intervened, giving Ming a place to stay while he completed his studies.
"He gave me Blackstone to read when I was 12," Chin recalls, referring to Sir William Blackstone, the 18th-century English jurist. "Are you kidding me?"
Judge Vandenberg also took his young protégé to the courthouse, encouraging him to watch jury trials. This marked Chin's first exposure to the legal profession. It would change the course of his life.
Drawn to the city of San Francisco and to Jesuit education, Chin enrolled at the Hilltop. "My experience at USF, both the undergrad and law school, was exceptional," he says. "We had a good group of students and a wonderful faculty, so I've always been grateful."
This may be an understatement.
Over the course of his career, Chin has taught at USF Law, served on the University's Board of Trustees and the law school's Board of Counselors, and he made it a point to hire one or more USF externs nearly every semester.
"He's one of, if not the most distinguished USF alums," says Daniel Ruby '11, who says he considers his 2010 externship with Chin a career highlight. "I know he wanted to help current students and alumni as much as he could."
Perhaps this explains why, to a person, Chin's USF Law externs describe him as unusually accessible compared with his colleagues.
"Incredibly warm. Always had a smile on his face," recalls Michael Haley '19. "He's really good at making you feel like you're the most important person in the room."
Dayna Louie '19 recalls the advice Chin offered. "I remember him encouraging me to ask questions, reach out to people, use your connections," she says. "Networking and mentoring are good things to do, but sometimes they're on the back burner. But it was important to him."
When Chin discusses his own career, he talks less about the positions he's held than the people who made them possible. The district attorney who gave Chin his first job as a prosecutor. The judge who recommended him to a law firm. The advocates, allies, and California governors who elevated him from a superior court judge to an appellate justice and, in 1996, to an associate justice of the California Supreme Court. Chin speaks even more glowingly about his staff.
"They are just wonderful people in every way," he says. When he retired in August, all but one of his employees had served in his chambers for 25 years. One had been with him for 30.
In 1967, after graduating from USF Law, Chin joined the U.S. Army. He served in Vietnam, rose to the rank of captain, and was awarded the Bronze Star and the Commendation Medal."It was an important part of my life," he says. "I met terrific people from all over the country under very trying circumstances."
The parallels between that moment and this one — a global crisis unfolding, a country divided — are not lost on Chin. Yet he sounds determined to find his way through this latest stretch of darkness, and confident that his state and his country will, too.
"In times of conflict, we learn more about ourselves," he says. "I think we learn more about ourselves when we've lost something than when we've won."
When he was sworn in on March 1, 1996, Associate Justice Chin made history as the first Chinese American ever to serve on the California Supreme Court. To celebrate his confirmation, a daughter of the late Judge Vandenberg — who had sparked Chin's interest in the law so many decades earlier — presented him with her father's old gavel.
"I think Dad would want you to have this," she said. Touched, Chin put the gift on display in his chambers alongside an old photo of the judge — with a recommendation letter the judge had written for Chin's application to USF Law tucked away behind it.
By the time Chin packed up these mementos 24 years later, he'd authored more than 350 majority opinions and 100 separate opinions, mentored dozens of USF externs, and helped pave the way for the Supreme Court of California to become the most diverse in the nation.
With his retirement, the former justice will spend more time with his family and more time on the golf course — during daylight hours instead of before dawn, which is when he played during his later years on the bench.
"I didn't even start playing until I was 65," Chin says. "It just proves you're never too old to learn something stupid."
He says he's happy to reconnect with Carol, his wife of 49 years, and to take their grandchildren to the driving range.
"Family is important to him. He's extremely proud of his kids and grandkids," says Raul Jacobson '20, who served in Chin's chambers as a Supreme Court extern this past spring. Jacobson adds, "His devotion to public service is obviously what his legacy will be — and creating opportunities for people who don't have it as easy as others."
After 32 years on the bench, Chin's parting advice is simple.
"We are privileged to hold these positions," he says. "Enjoy every minute of it."