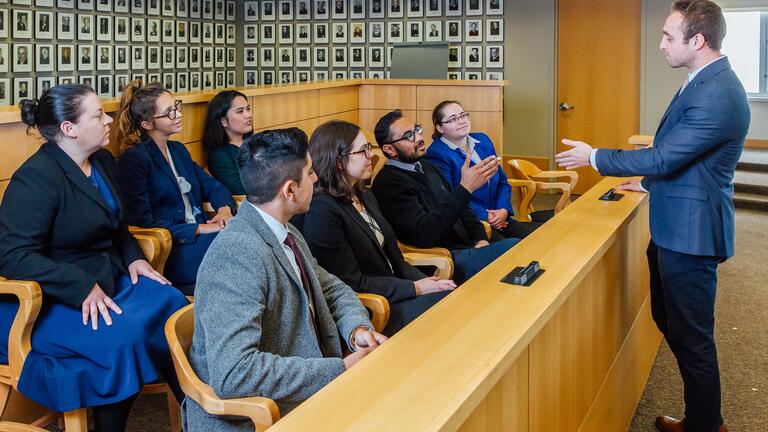 Part-time students generally graduate after four years of study unless they use summer classes to accelerate the program.
In their first year, part-time students enroll in four required courses in the fall semester and four required classes in spring, all taught during the day. After that, part-time day students may continue taking only day classes, or may also select evening or summer courses to fulfill their requirements.
Deadlines and application instructions for the JD program.
Required Curriculum
JD students must earn at least 87 units of course credit, including 52 units in required core courses, plus additional program requirements. In the full-time program, required courses are concentrated in the first and second years.
Additional program requirements for all students entering fall 2019 and beyond:
Bar Subjects: students must take a minimum of three California bar subject courses, which include Community Property, Corporations, Remedies, and Wills & Trusts.
Experiential Learning: students must also take one or more experiential course(s) totaling at least 6 units. An experiential course may be a simulation course, law clinic or externship.
| First-Year Courses | Fall | Spring |
| --- | --- | --- |
| Civil Procedure or Contracts | 3 Units | 3 Units |
| Legal Writing | 3 Units | 3 Units |
| Skills for Future Lawyers | 1 Unit |   |
| Torts | 4 Units |   |
| Criminal Law |   | 3 Units |
| Criminal Procedure |   | 3 Units |
| Second-Year Courses | Fall | Spring |
| --- | --- | --- |
| Civil Procedure of Contracts (deferred from first year) | 3 Units | 3 Units |
| Constitutional Law I & II | 3 Units | 3 Units |
| Property I & II | 3 Units | 3 Units |
| Upper Division Courses | Must be completed after first year |
| --- | --- |
| Advanced Legal Analysis | 2 Units |
| Evidence | 4 Units |
| Legal Drafting | 2 Units |
| Legal Ethics or Professional Responsibility | 3 Units |
| Upper Level Writing Requirement | 0 Units |
Kendrick Hall, 230
2130 Fulton Street
San Franciscio, CA 94117-1080