Equipped to Lead and Succeed
At The Intersection
A pioneer in litigation communication brings her expertise to the vaccine world.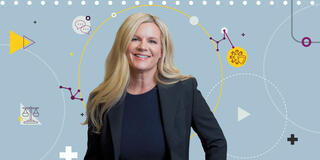 Some companies have one team for public relations and another team for legal affairs. Verndari has Amy Van Prooyen '99.
That's an oversimplification — but it's safe to say that Van Prooyen wears multiple hats as head of corporate and legal affairs of the biotech startup. On a typical workday she may spend the morning issuing press releases and handling media interviews, and the afternoon managing corporate legal matters. She's uniquely suited to do so. With a master's degree in communication from the University of Utah and a JD from USF, Van Prooyen has spent her career at the intersection of communications and the law. Her expertise has served her well, from a 13-year stint running her own litigation communication firm to her current role at Verndari.
Verndari, a California-based startup, has developed an intradermal patch that can administer a single-dose vaccine through tiny, painless microneedles. The technology could revolutionize vaccination efforts, making it possible for people to self-administer a vaccine at home simply by applying the patch. The fact that the process is painless could also entice people who refuse vaccines because of fear of needles.
Van Prooyen joined the company full-time in 2020 shortly after the start of the pandemic.
"When the pandemic hit, many asked questions about our lives and about what path forward they wanted. I reflected on how I could make an impact on the world," says Van Prooyen, who had been consulting and taking a break from the demands of full-time corporate life.
Though Van Prooyen was beginning a new life at a new company, one element of Verndari's work was familiar: crisis.
Reputations at Stake
Van Prooyen has been dealing with crises her entire career — though a different sort than a pandemic. She's a pioneer in a field known as litigation communication, a niche area of law that deals with public relations involving legal matters such as lawsuits or bankruptcies. It often takes the form of crisis management, helping clients minimize damage to their public reputations.
"We often worked very closely with the client's litigation team — creating and executing communications strategies, thereby defending against civil and criminal cases and congressional, regulatory, state attorney general, law enforcement, and media investigations," Van Prooyen explains. "The litigation team might ask questions about the timing of a filing, or ask how to explain their legal position to the public, or whether the legal benefit of an action outweighed the reputational risk."
Her firm, Van Prooyen Greenfield (VPG), was one of the only law firms in the nation that focused primarily on litigation communications and strategic communications counsel. It eventually grew to four offices: New York, Hawaii, San Francisco, and Salt Lake City.
Van Prooyen became interested in the law while taking a graduate- level media law class at the University of Utah, where she also earned her undergraduate degree. That led her to pursuing a law degree at USF, not too far away from her extended family in Napa. She was drawn to the school not only for its location, she says, but for its focus on justice.
"I learned how to turn purpose and passion into action, to make a real difference in the world," she says.
After graduating she went to work in New York at Edelman, a public relations agency, where she became vice president in its crisis and reputation risk practice. She used this experience as a steppingstone to start her own firm. She formed VPG as a law firm because there was more client privilege afforded to law firms than communications agencies, and because the firm would partner with the litigation team in corporate cases.
Her clients ranged from leading law firms to Fortune 500 companies to professional athletes. One major case, for example, involved several MLB players who were targeted in a Congressional investigation over doping. VPG helped the athletes and their attorneys navigate both the legal process and the public relations process. In another case, one of the largest bankruptcies in US history, VPG worked to protect shareholders after an accounting scandal rocked a company. The firm campaigned to oust the current board of directors and reduce excessive compensation packages for executives.
"This was a time when legal investigations and lawsuits were becoming higher profile. It was no longer acceptable for companies to respond, 'No comment.'" Van Prooyen said. "It was gratifying to be involved on the frontlines in this groundbreaking era for law. We were changing the way legal cases were being communicated about."
Returning to USF
VPG didn't just manage corporate crises, though. It also provided communications consulting services for law firms and law schools. In 2008, Van Prooyen counseled USF's School of Law in bolstering its brand. She did it with the assistance of another USF alumna: Lori Teranishi MBA '02.
Van Prooyen and Teranishi have been friends since meeting as undergraduates at the University of Utah. They both went on to graduate school at USF, and after founding her business, Van Prooyen asked Teranishi to become the chief operating officer of VPG. Working with USF, VPG spent months interviewing students, faculty, and employers, searching for the core elements that made the law school stand out.
"We found that USF was known for graduating lawyers who have a lot of practical knowledge, along with their legal education," says Teranishi. "We believe this particular attribute enables the school to better position itself against competitors."
Van Prooyen and Teranishi didn't just learn about USF's values from talking to people about them — they lived them, as former students. Teranishi says she can see those values at work in her business relationship with Van Prooyen.
Teranishi was initially apprehensive about becoming business partners with a longtime friend. But the relationship worked out, even strengthening their friendship. A USF education emphasizes "what you should be as a person," says Teranishi. "Treat others with respect, and know that relationships are the most important things in life — not just making money."
Van Prooyen has also maintained her relationship with USF by previously serving on the Board of Counselors. She is also a member of the Dean's Circle.
"I turn to Amy when I need the best advice because she pairs her tremendous experience and savvy with a deep love and appreciation for the law school and what we are trying to achieve here," says Dean Susan Freiwald. "She always wants to help in any way she can."
A New Chapter
In 2011, Van Prooyen made the difficult decision to close VPG. She returned West to be closer to her family and to have more work-life balance.
For several years she was a consultant and later had a stint teaching a senior seminar on law and communications at the University of Utah. She also became an early investor in Verndari, which was co-founded by her father.
Then, in 2020, the pandemic hit. Verndari was suddenly in hyperdrive and began developing its own proprietary COVID-19 vaccine. It needed help communicating its mission and managing its legal matters. It was the perfect time for Van Prooyen to return to a demanding, corporate role.
"At Verndari, my work again intersects with law and communications," says Van Prooyen.
This time, Van Prooyen is at the forefront of a different kind of crisis. But communication is still key: telling the story of how vaccines and vaccine technology can save lives.
"There's so much misinformation out there about vaccines, and at the same time, there are also disparities in health care," says Van Prooyen. "It's important to communicate about vaccine safety and technologies that can make a difference, while appealing to people's concerns. There have been inequities in health for far too long. There is a social responsibility and opportunity around COVID-19 to correct access to health care."
Speaking of communications, Van Prooyen has brought in a team to assist her with public relations: IQ360, the communications agency run by her old friend Lori Teranishi. Some of Van Prooyen's former employees at VPG are also part of IQ360.
"It's been gratifying to come full circle in my career and become a next-generation client of the predecessor firm that I founded," says Van Prooyen.
With the success of other COVID-19 vaccinations, Verndari has pivoted back to developing a vaccine for influenza — another virus with the potential to wreak global havoc, as with the Spanish flu of 1918. "I told students that meaningful work can come from combining your passion with a purpose," Van Prooyen says. "There's nothing more gratifying than being able to combine something you really care about with the goal of making an impact on the world."