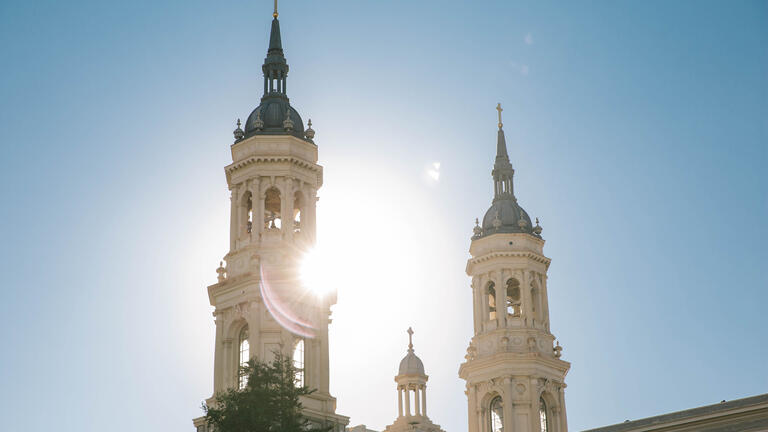 OUR DIFFERENCE
Our Mission & History
The law school pursues excellence in a humane, diverse, and intellectually vibrant learning community of outstanding teachers and scholars dedicated to training ethical professionals. Consistent with the Jesuit tradition, the law school contributes to society by inspiring the pursuit of justice and serving the many communities—from the academic to the professional and the local to the global—of which it is a part.
History
The University of San Francisco was established in 1855 by the Jesuit Fathers as San Francisco's first institution of higher learning.
The university has grown from a one-room school house to become San Francisco's largest independent university. The USF School of Law, established in 1912, has demonstrated a corresponding growth. Today there are more than 500 students enrolled in the law school and approximately 135 students receive the Juris Doctor degree from USF each year.
In its early years, the USF School of Law was housed in a building known as "The Shirt Factory" on the corner of Hayes and Shrader streets.
Throughout its history, the USF School of Law has prepared students for law careers in a community which boasts one of the finest legal traditions in America. Graduates have distinguished themselves in private practice and as attorneys in city, county, state and federal offices. Many of our alums have become members of both the state and federal judiciaries, including justices of the California Supreme Court, as well as prominent members of local, state, and federal legislative bodies.
We have done this by blending tradition and innovation: our tradition of excellence in educating students to be skilled and effective lawyers who leave law school ready to practice law along with innovative programming that reflects the vast changes taking place in all aspects of society and the law.
At the same time, we recognize our responsibility to train ethical lawyers who will help to make the world a better place, and we sustain an intense commitment to social justice and a belief that in this rapidly changing world we must redouble efforts to provide access to justice for those who remain marginalized in our country and around the world.
Pursuing Excellence in Education
We inspire students to excel academically and ethically in their professional and personal lives by:
maintaining the highest standards for teaching and student performance
providing intellectual and moral depth through exploration of relationships among law, policy, and social justice
providing students with the practical skills they need to become effective and ethical lawyers and leaders in today's complex world
Building A Supportive and Open Learning Community
Our mission is inclusive and we invite everyone to join our community. At USF, we nourish a supportive and open learning environment by:
fostering respect, caring, and connections among faculty, students, staff, and alumni
seeking and welcoming the education and cultural richness offered by faculty, students, and staff from diverse backgrounds, including men and women of differing races, ethnicities, religions, and sexual orientations
encouraging vigorous debate and the unfettered pursuit of truth in an academically free environment
Contributing to Society, Theoretically and Practically
We believe that lawyering is a noble profession, capable of doing enormous good, and we strive to train professionals who care about the well being of others and have a deep concern about justice. We encourage students to contribute to society by:
fostering an intellectual community that cultivates creative and insightful scholarship
creating innovative programs and training skilled lawyers to serve our local San Francisco community, the region, the nation, and an increasingly global society
inspiring our graduates to pursue justice as ethical professionals and to engage in practice or public service activities that help those in need