Equipped to Lead and Succeed
One to Watch: Sophia Abebe '24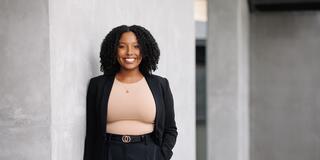 Growing up, Sophia Abebe didn't know a single lawyer. Raised in Northern Virginia by parents who immigrated to the United States from Ethiopia, she believes her self-discipline has helped her achieve many goals, including becoming a law student.
Abebe also credits her father for providing a solid support system and instilling in her a sense of self-confidence that helped her recognize that she could achieve anything she set her mind to. A JD/MBA dual degree candidate, Abebe has been a student leader since the beginning. Last year, she served as president of the Black Law Student Association, a Legal Research, Writing, and Analysis tutor for the Academic Support Program, a case counsel for Moot Court, and worked in both the Admissions Office and at the circulation desk in Zief Law Library. The summer after her 1L year, Abebe was a legal intern at Oracle and this past summer, she served as a legal intern at Palo Alto Networks working in the Privacy and Commercial groups. Abebe transitioned to her MBA studies in fall 2022.
What is one of your most memorable experiences at USF?
My most memorable experience at USF would have to be the Black Law Student Association's Fireside Chat held during my first year of law school. I could immediately feel the love from all of the USF Law alumni, and from that moment, I knew that I was coming into a community that was rooting for me and my success. It was like getting a sneak peek into my future as an attorney and alumna, and I look forward to coming back to support the future BLSA community, especially the 1Ls.
Which class has challenged you the most?
Evidence was by far the most challenging class I have ever taken. Prof. Katie Moran '16 is very passionate about the course and would ask us questions that made us think through the nuances of each rule. Our final exam was similar to, but more difficult than, Bar essay questions; she was trying to really test our understanding of the material.
How do you plan on using your JD/MBA degrees?
My goal is to use my degrees in a way that will help organizations with their corporate development efforts. I think the two degrees are really complementary; a JD helps develop analytical skills and reasoning skills that I think are important for employees focused on growing company revenues. On the other hand, an MBA helps in understanding the ins and outs of what is needed for the day-to-day operations and expansion of corporations. After I gain some work experience, I hope to assist Black business owners and entrepreneurs with growing their companies and providing them with insights on how to manage their operations.
Any specific highlights from your involvement with the student orgs?
As the president of the Black Law Student Association, I really enjoyed connecting with new Black students and making sure they felt supported in every way, as well as working to provide them with resources and assistance whenever I could. Also, being a case counsel for Moot Court was very rewarding. Helping the 1Ls develop their research and oral advocacy skills and seeing their thought process adjust into thinking like a lawyer was gratifying, especially seeing as I was in their exact position the year prior.