Passion for Justice
Animating Factor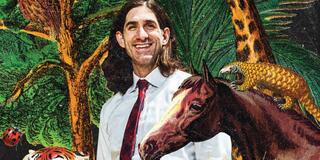 Some facts about the green conure: It's tiny — at 4 to 5 inches long and weighing about an ounce, it's the smallest bird in the parrot family.
It lives a long time — a 20-year lifespan is average, but it's not uncommon for some to live into their 30s. A green conure is responsible (albeit indirectly) for bringing Matthew Liebman to USF as the School of Law's first animal law chair.
Chaplin the tiny parrot was adopted as an infant by a 15-year-old Liebman in a pet store in Dallas, where his parents had moved him and his twin brother Jeremy from Berkeley, California, at age 6 to be closer to family and employment opportunities. Having always had a fondness for animals, a teenage Liebman entered the store intent on leaving with a pet of his own, but without a specific type in mind. It was as much a surprise to him as it was to his parents when, after a few more visits to the pet store, he brought home a 5-week-old green conure that he named Chaplin.
"I raised him basically from birth, fed him formula as an infant, and cared for him as his mother should have been doing (which I realize now). Chaplin was my constant companion and best friend."
For his relatively brief lifespan (he died prematurely at age 6), Chaplin was also his conscience. Liebman became a vegetarian in high school, despite knowing only one other non-meat-eater, because he couldn't understand the difference between eating chicken and eating Chaplin. Being mostly alone in his commitment to not eating animals didn't bother him, though — Liebman describes himself as "kind of a punk/contrarian" who was used to questioning the status quo. He thinks that's probably why he became a philosophy major.
"My first year of undergrad at UT Austin, I took a philosophy course, and one of our assignments was to read Peter Singer's Animal Liberation. That book is what sparked my philosophical interest in animal ethics, and from there I went vegan and declared a major in philosophy with a special focus on our ethical relationship to the nonhuman world." From that point on, Liebman's sole professional goal has been to advocate for creatures great and small.
Decision Time
After graduating from the University of Texas at Austin with highest honors in philosophy in 2001, Liebman was invited by his college debate coach (yes, the iconoclast was an excellent debater) to join him at the University of Richmond, where he would work as his assistant coach. Without a clear idea of what a philosophy major should do upon graduation, Liebman followed his coach to Virginia.
Because assistant-coaching a college debate team wasn't enough to pay the bills, Liebman took a position at a deli in a natural foods store. His particular job turned out to be in direct opposition to his vegan lifestyle — he was charged with working the meat slicer.
Liebman knew then that it was time to make a choice, and both options under his consideration included more schooling: He would either get his doctorate in philosophy and spend his career teaching and thinking about animal ethics, or he would go to law school and start practicing what he preached. The latter satisfied his desire to tangibly change the world, and so he went to Stanford Law School with more direction than most first-years: He wanted to specialize in and practice animal law.
"Law school struck me as the most practical way to alleviate animal suffering."
Focus on the Cause
Upon receiving his J.D. from Stanford in 2006 and leaving law school with a slew of honors under his belt (Deborah L. Rhode Public Interest Award, Stanford Law School Public Interest Fellow, National Animal Law Moot Court Competition winner, to name a few), Liebman stayed on track. After clerking for the Honorable Warren J. Ferguson on the Ninth Circuit, he joined the Animal Legal Defense Fund (ALDF), the nation's foremost animal law advocacy organization, as a litigation fellow. And there he achieved his vision of impact at the ground level, working his way up from staff attorney to senior staff attorney to chief legal counsel to director of litigation.
At ALDF, a team of 12 lawyers litigated every aspect of animal law under Liebman's direction, and that included constitutional and environmental litigation. The goal has always been to improve — and save — the lives of as many animals as possible. When asked about big wins, the first successes he names are individual cases like Ricky the bear, who for 16 years lived in a concrete cage in Pennsylvania before ALDF represented her in court, and Bear, a wolf who ALDF liberated from a filthy roadside zoo.
But the scope of ALDF's work extends far beyond rescuing single animals. They have litigated high-profile national cases, too, on behalf of large populations of animals. "We've shut down puppy mills, protected the First Amendment rights of undercover slaughterhouse investigators, defended state animal protection legislation from constitutional challenges by exploitative industries, and made in-roads to fundamentally transforming animals' legal status away from the current property paradigm," Liebman said. Fighting climate change and promoting animal rights activism have also been on the organization's agenda. And the fight is just beginning.
"What's surprised me most about animal law is its rapid growth. Although it's still in its early stages, it's come a long way since its founding in the late 1970s. Many judges are now treating these cases with the seriousness they deserve, whereas 40 years ago, my mentors faced ridicule and hostility from the bench." Liebman goes on to note that, especially in California, many of the most recent legislative victories were inconceivable only 10 years ago, citing the banning of the sale of fur, the testing of cosmetics on animals, the inhumane confinement for farmed animals, and the use of wild animals in circuses. "We still have a long way to go, but the progress we've made is staggering."
Courtroom to Classroom
Liebman acknowledges that swapping the front lines for the classroom requires a different skill set, but says he's relishing the challenge. "Teaching presents an exciting opportunity to share the knowledge I've gained from more than 12 years of practice. Today's law students are tomorrow's lawyers, judges, activists, and policymakers, and animal law is such an exciting field because it's so unchartered. We can determine the direction of the field." It's also an area of public interest law that offers timely and tangible results profoundly impacting the lives of others. Liebman hopes that having a robust program on campus will inspire students who might not otherwise have considered animal law.
Being part of an academic institution is what influenced his decision to accept the position as the Justice for Animals program chair in the first place. "I was deeply impressed by the faculty and the students. Everyone I met was kind, welcoming, and happy. My conversations with the faculty were engaging, whether we were discussing my area of expertise or theirs." He also mentions sharing a common goal with USF Law — he, too, wants to educate leaders who will strive toward a more humane and just world.
"Humaneness and justice are such important animating concepts for me," he says. "On the one hand we need kindness and compassion — the emotive side of ethics is what drew me to this work in the first place. But ethical treatment of animals requires more than just humaneness — we also need a commitment to justice for animals." He points out that USF Law could not be more committed. Thanks to a $6.1 million gift from an anonymous donor, the school is creating a dedicated program and putting resources toward living up to its ideals.
And Liebman has big plans for the program's design. He'll start broadly and teach the introductory survey course on animal law this fall, before adding niche courses like farmed animal law, food law, animal legislation, and wildlife law. He imagines seminars designed to explore the relationship between animal law and social justice, and eventually wants to provide students with real-life experience in animal law practice through an in-house clinic that addresses a multitude of animal law issues.
The Next Legal Frontier
Those issues aren't going away anytime soon, according to Liebman. He sees the animal rights movement as one in which the main battles are still on the horizon. "Our society still believes that animals are, in a fundamental sense, here on Earth for humans to use," he said. "The concept of animals as property has extremely deep cultural roots and underpins multibillion-dollar industries with a vested interest in continuing to exploit animals with impunity." But where there are challenges, there is opportunity. The very fact that animal law is in comparative infancy can be an advantage.
It's Liebman's vision to make the most of that advantage through his own and the program's scholarship. "The future of animal law is unwritten and therefore demands theoretical inquiry. USF could become an epicenter for addressing animal law questions about ethics, political theory, ontology, and epistemology through legal scholarship, multidisciplinary conferences, symposia, and speaker series." He's convinced that creating a program that caters both to students' growing academic interest in the field and to the ever-increasing urgency with which animal rights need to be addressed in the courts is a unique opportunity to further set USF Law apart from the pack.
Of course, setting himself apart from the pack is nothing new for the vegan philosopher from Dallas. These days, though, when he's not crusading for the rights and protection of animals big and small, he enjoys spending time with family. He married his college sweetheart, Salena Copeland, whom he credits with giving him the final push he needed to go from vegetarian to vegan back in 1999. Copeland joined him at Stanford Law School and is now the executive director of the Legal Aid Association of California, where she works to ensure access to the justice system for underserved Californians. They live in the East Bay with their two children, 7-year-old Myra and 4-year-old Felix, and their cat, Pishi, 9 months old.
And while Pishi is a constant, present reminder of the "why" of his work, Liebman never forgets the animal who started him down this path all those years ago; it's this particular memory that keeps his vision for USF's Animal Law program an expansive one. If you were to peek inside his wallet, you'd find an increasingly furrowed photograph of Chaplin the conure.