Equipped to Lead and Succeed
Masterful Minds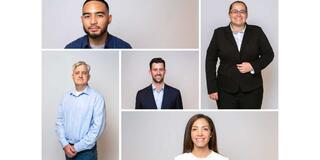 Before they came to USF School of Law, they were entrepreneurs, scientists, and accountants. They trained horses professionally, worked at Fortune 500 companies, and navigated naval ships. They excelled at most anything they pursued.
To their budding legal careers, they've brought the same commitment to excellence. They are the School of Law's Provost Scholars. Scholarships are a key component of the law school's mission to produce a diverse community of lawyers who think critically and do good in the world. First offered in fall 2016, the Provost Scholarship is one of several merit-based scholarships available to incoming students. Provost Scholars receive a full-tuition award, renewable for their second and third years of law school. Since the program's inception, there have been 28 scholars. The scholarship has repeatedly provided a critical opportunity to incoming students.
"To be honest, I've kind of always suffered from imposter syndrome, not sure if I belong, if I'm supposed to be here," says scholar John Maclan '20. "The Provost Scholarship means that USF believes in me. That means a lot to me. It inspires confidence in me."
USF's Provost Scholars are leaders inside and outside of the classroom, and though they are just starting their legal careers, they are already sharpening their skills as advocates and making an impact in their communities.
Meet five.
Alexis Ramsey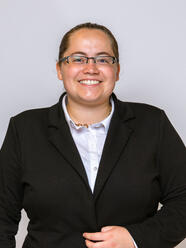 Her mother studied marine biology. Her father studied chemistry. Alexis Ramsey '21 majored in biochemistry and molecular biology and worked in a fungal mutation lab during college. She planned to pursue a career as a cancer researcher. It was her twin sister, Jessica '21, who first floated the idea of careers in patent law for both of them. Ramsey consulted an advisor, who was getting a patent in cancer research, and she was intrigued. Both sisters applied to law schools and when Ramsey was awarded the Provost Scholarship, and Jessica also received a significant scholarship, their minds were made up.
That's how she and Jessica ended up on a cross- country road trip from Maryland to California bound for law school. They arrived just days before orientation.
"You know that scene in the Wizard of Oz when the house flies out during the tornado? That was me," Ramsey says. It was a whirlwind transition to what would be a transformative year. "Everyone talks about how hard the first year is, and it is, but it's been one of the best years of my life," she says. "The scholarship has been one of the better things in my life because it brought us to this community."
Ramsey's found a close-knit community of professors, classmates, and mentors, including one who suggested she apply to the Intensive Advocacy Program (IAP), a two-week course on litigation and trial techniques run by Doris Cheng '98 and Elinor Leary '03. Students learn about and practice taking depositions, cross-examining witnesses, and making opening and closing statements. At the end of the course, each student conducts a mock jury trial. Ramsey participated in IAP at the end of her first year, just before her summer externship at the California Supreme Court.
"I didn't know anything about trials. I don't watch trial shows," she says with a laugh. "So this program takes you, regardless of your background, and puts you through the wringer. It was fabulous."
Thanks in part to her IAP experience, Ramsey is imagining a new future for herself as a patent litigator — one that blends her science background with her newfound passion.
John Maclan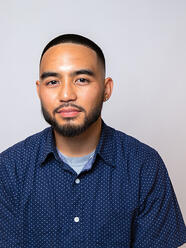 Bay Area native John Maclan '20 grew up watching the place he calls home transform before his eyes. He's had a front row seat to the rise of tech giants like Google and Facebook, the gentrification of neighborhoods like the Mission, and skyrocketing housing costs.
"The Bay Area has an incredible problem with housing," Maclan says. "I've worked with many people who commute to the city from as far away as Sacramento or deep in the East Bay. It's ridiculous."
Maclan wanted to give back to the community in which he was born and raised. He found his opportunity with San Francisco's Eviction Defense Collaborative, an organization that provides emergency legal assistance to low-income tenants facing eviction. The summer after his first year at USF, Maclan served as a law clerk at the collaborative, helping tenants file legal papers and educating them on their rights.
"I worked with people from so many different walks of life. People in their most stressful moments. Often it was either this or the streets," he says.
Maclan found his work at the Eviction Defense Collaborative demanding, but also one of the most rewarding experiences he's ever had. Last summer, Maclan interned on the alternative investment funds team at Andersen Tax, a financial advisory and consulting firm. At Andersen, Maclan, who was an accountant at Oracle before law school, was able to combine his business and legal backgrounds. He's also been able to connect with the robust community of fellow alumni working at Andersen.
As Maclan contemplates how he'll shape his legal career going forward, he hopes he can find ways to weave together his experience in the private sector with his nonprofit work.
"No matter what, I want there to be some pro bono aspect to my work," he says. "There are so many people who need legal help but can't get it. If I can do my part in alleviating that, I want to."
Kyle Moreno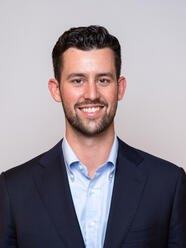 When it came to choosing a law school, Kyle Moreno '20 had been advised: location, location, location. For Moreno, who was looking to combine his economics background with a career in law, San Francisco made sense.
"A lot of the firms in the Bay Area work with young startups, which is really interesting to me," he says. But in the end, it was USF's personal touch that tipped the scales.
Moreno had been offered the Provost Scholarship but hadn't made his decision when the dean called him. "I was able to ask questions and talk through my decision. It made a huge difference," says Moreno. "I felt really blessed."
That level of personal attention has been a hallmark of his time at USF.
"I've been blown away by how great the professors are, how accessible they are. They're super eager to talk and help you," he says.
Moreno has been determined to make the most of his time at USF. To that end, he's participated in moot court and Law Review and, as a student in the top 10% of his class, he's a member of the McAuliffe Honor Society. He's also spent summers at the Superior Court of California, the Alameda County District Attorney's Office, and, most recently, the Silicon Valley office of the international law firm Jones Day.
Moreno has made it a goal to work with as many professors as he could. One professor at the top of his list, Professor Lara Bazelon, directs the School of Law's Racial Justice and Criminal and Juvenile Justice Law Clinics. Moreno spent a semester in the Racial Justice Clinic representing a Humboldt State University student facing disciplinary proceedings.
Another highlight has been his ongoing work as a research assistant to Professor Joshua Davis. Davis, who has published widely on antitrust issues, is conducting research on antitrust class action lawsuits. As part of the research, Moreno is collecting and analyzing data on completed antitrust class action suits to determine the factors that lead to success or failure.
"It's been a huge privilege," Moreno says. "Professor Davis is so knowledgeable and excellent at explaining. It's been an incredible learning experience."
Sigourney Jellins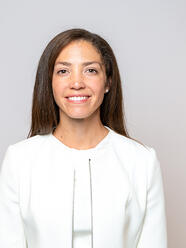 Sigourney Jellins '20's path to law school has been unusual, to say the least. Jellins has been training horses professionally since college. Just after graduation, she spent several years at a nonprofit providing equine therapy to children with autism. Jellins now runs her own horse training business, a venture that's not only successful but also a great foundation for a career in law, she says.
"I have a unique set of problem-solving skills. When you have your own business, you have to deal with everything yourself, including managing clients," explains Jellins. "I've also worked with so many different people. A love of horses brings together people of all ages and backgrounds, and I think that's important for a lawyer because your clients also come from all different backgrounds."
But being an entrepreneur and a law student has also proven a true juggling act, requiring razor-sharp focus and time management skills, and, Jellins adds with a laugh, not a whole lot of sleep. Jellins initially enrolled in the part-time program so she could continue running her business. She found, though, that she loved law school so much that she switched to being a full-time student after her first year.
"The Provost Scholarship has allowed me to do that," Jellins reflects. "It's allowed me to take advantage of my law school experience to the fullest."
Jellins still runs her business, but she dove headfirst into law school, excelling both in and outside of the classroom. She's a Law Review staffer and has competed in moot court. Jellins also served as Women's Law Association secretary and is a member of the McAuliffe Honor Society. Her participation in the Intensive Advocacy Program, USF's two-week trial techniques bootcamp, solidified her interest in litigation.
To that end, Jellins spent last summer as an associate at Wilson Sonsini Goodrich & Rosati, a premier law firm specializing in business, securities, and intellectual property law. Jellins worked in securities and commercial litigation, a path she plans to pursue after graduation.
Still, she says, she won't abandon her first love. "Life may change as I graduate, but riding is something I will always do."
John Wiese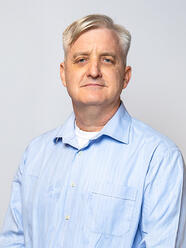 Before he started law school, John Wiese '19 had some concerns about how he would fit in with his classmates, many of whom were half his age.
Wiese arrived at USF with not one, but two careers under his belt. His first was in the Navy, as a frigate navigator. Wiese then got an MBA and worked in finance. He also married and became a father of two. His concerns, however, vanished once he set foot on campus.
"Everyone was extraordinarily welcoming," Wiese says. "If you come to USF, regardless of age, race, culture, or sexual orientation, you're accepted."
In fact, Wiese found that his life experience enabled him to contribute to his new community in a unique way.
"As an older student, it was really rewarding to say 'I've made all of the mistakes so you don't have to,'" says Wiese, who was a teaching assistant for Judge Lynn Duryee's '79 Civil Procedure class, an experience he calls one of his most rewarding at USF.
"I was able to engage with a lot of students on a personal level, not only on how to do civil procedure but also things to consider when they think about their careers."
In Judge Duryee, Wiese found a mentor. So, too, was Wiese inspired by Professor Daniel Lathrope, whose class on federal income tax ignited in Wiese a desire to guard clients' assets. Wiese served as president of the Estate Planning and Tax society, through which he made many connections to USF's alumni network.
"I think one thing that really sets USF apart is that as a student, if you call up an alumnus, you can bet the graduate on the other end of the phone is going to help you or put you in touch with someone who can," says Wiese. "My first connection to Deloitte was an alum who talked about being a tax lawyer. That really inspired me and confirmed what I was thinking in terms of career." Wiese went on to intern at Deloitte, and after he finishes his LLM in Taxation, he will start full-time in the company's private wealth and tax controversy group.