Equipped to Lead and Succeed
Meeting the Moment: Diary of a Law School Pandemic
Image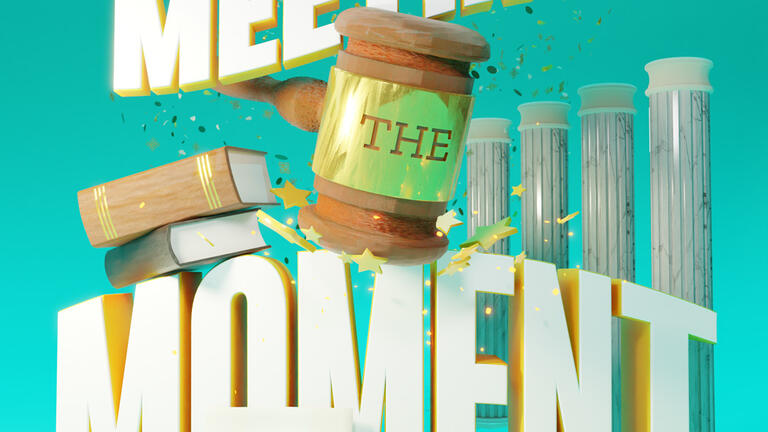 Saturday, March 7, 2020USF Law students receive a message from Dean Susan Freiwald that they would be switching to remote learning for their safety due to a burgeoning health crisis. Soon after, they learn that the entire rest of the semester would be remote due to the COVID-19 outbreak. Graduating students would celebrate their commencement via Zoom.
Tuesday, April 28, 2020
Class of 2020 graduates learn that the bar exam will be postponed from July to September 2020.
Monday, July 20, 2020
Graduates are informed that the exam would be pushed back once more, to October 2020. For the coming months, the California Bar would need to resolve the overwhelming technical difficulties involved in a remote exam.
Mid-January 2021
USF Law receives the news that 2020 graduates had passed the October California bar exam with an 81% pass rate.
The first entry in the diary was a shock. The second was devastating. The third incredibly nerve-wracking. The fourth? Triumphant. This is the story of how a graduating class and their law school community banded together to succeed during a historic global pandemic.
"Last summer was unprecedented, and the pressure that each one of our students endured and persevered through was awe-inspiring," said Associate Dean for Academic Affairs Amy Flynn '04, supervisor of the Academic and Bar Exam Success program (ABES). "For so many law grads, preparing to take the bar is the most stressful period of their lives. For our grads last year, they had that stress, plus the strain of not knowing when the actual test would occur, and the enormous economic hardship caused by the delay in launching their careers because of the extended study period." She praised ABES faculty for the curriculum and support they provided to students throughout the year and especially during the pandemic, and emphasized that it was the students, ultimately, who had to use the tools they were given to build their success.
Those tools included study materials, tutorials, and practice questions that ABES co-directors painstakingly developed after years of experience grading bar essays, reviewing published exam answers, and learning about the best ways to prepare students for success. Students' study schedules had to be updated twice, once after each announcement of the bar exam delay, in order to prevent burnout. ABES Co-Director Jonathan Chu said "We offered supplemental grading, advising, and tutoring. After both exam postponements, and during a time of major concern regarding the software being used to administer the exam, our students stayed determined and focused." Co-director Katie Moran added, "Rather than being thrown by the pandemic curveballs, USF graduates saw those extra 11 weeks as an opportunity. They were optimists in the most trying circumstances. They doubled down on tough subjects; they created attack plans for murky topics; they wrote essays upon essays and asked for more feedback; they practiced multiple choice questions over and over and over again. That additional work that they put in until October paid off in spades."
According to Dean Susan Freiwald, "The ABES team built on the strong foundation provided by the law school's dedicated staff, faculty and alumni. Professors Jonathan Chu, Katie Moran, and Sebastian Lethuele lived and breathed bar exam preparation for the months preceding the October bar, and the intensity of their commitment inspired the students they prepared." Here, five of these recent graduates reflect on their journeys as the firsttime takers of a pandemic California bar exam.
Image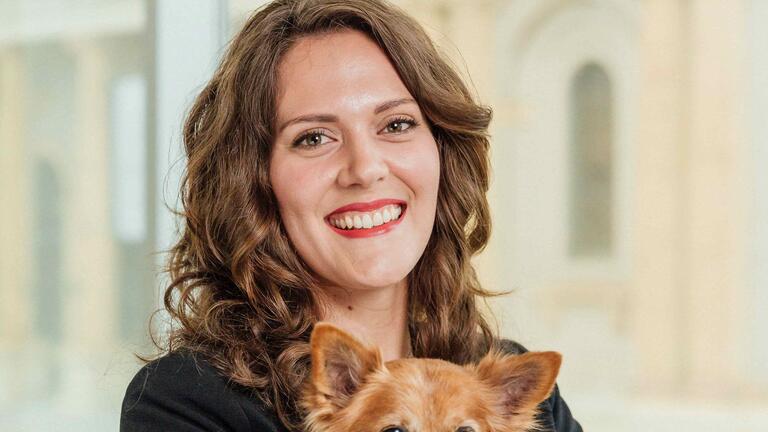 Isabel Callejo-Brighton
Litigation Fellow, Animal Legal Defense Fund
During their third year at USF Law, Isabel Callejo-Brighton and her husband, Zach McCoy were the editor-in-chief of the Law Review and the president of the Student Bar Association (SBA), respectively. They were "in the know" when it came to happenings at the law school — in constant communication with the administration, they were used to being the ones to disseminate information to their peers. But on Feb. 28, 2020, that all changed.
"No one knew anything. I clearly remember presenting to faculty on that Friday, and gathering my things afterward because it was spring break. The next time we were allowed back on campus was 10 days later, when we were permitted to collect our belongings, and it was surreal to see everyone in masks and gloves, not knowing when we'd see each other again," Callejo-Brighton said. As it turned out, many of them never would.
The ABES bar prep program began in earnest in March, virtually. Callejo-Brighton was determined that no matter the mounting uncertainties surrounding the bar exam, she would do what she had control over — namely, follow Professor Jonathan Chu's every recommendation. "He and the ABES faculty were so nimble. The bar exam process was complicated by the exam accommodation process, and even though it felt like we were hit with tremendous uncertainty after each postponement, the ABES team recalibrated our program so we didn't burn out. After every setback, they were there for us with a new plan." The plans worked, and last October Callejo-Brighton passed the exam that she'd been prepping for since March 2020.
Now a litigation fellow at the Animal Legal Defense Fund, Callejo-Brighton said that her and McCoy's time at USF created a family that extends beyond their own home. "We went through a wedding, the deaths of family members, and the pandemic during our three years in law school. Every time the pressures seemed overwhelming, there were the faculty and staff at USF Law, doing everything they could to propel us forward. We had a law school that was invested in seeing us succeed in life and in law."
Image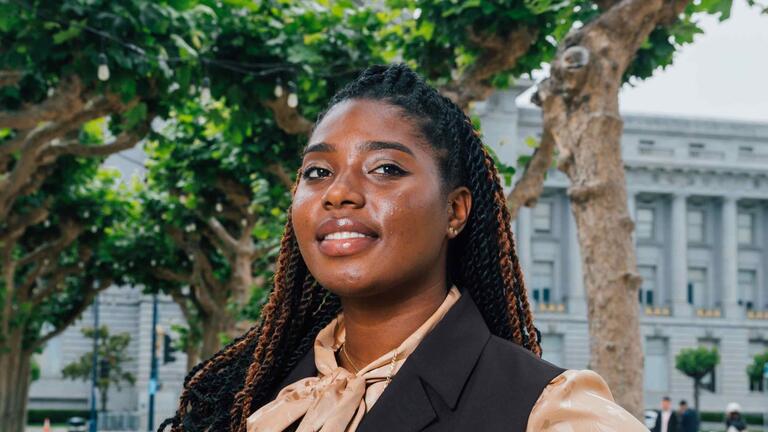 Tatiana Howard
Deputy Public Defender, Office of the Public Defender, Contra Costa County
When asked how USF Law helped her to pass the bar exam, Tatiana Howard answered, "Seven words — God, family, Jonathan Chu, and Sebastian Letheule."
Tumultuous only begins to describe Howard's experience during a mid-pandemic bar prep. Like many other students who didn't know when they'd be eligible for employment due to COVID-19 hiring freezes, she moved home to save money. She'd worked two jobs to support herself during law school, and with all the uncertainty surrounding the pandemic, home was the only option. Studying with family members around proved difficult, and the fact that she couldn't leave the house to study because of the lockdown added stress, too. But Howard said that more than anything she was grateful to have a support system amidst all the upheaval.
That support system extended to the ABES faculty, she said. "Professor Chu's bar prep materials were phenomenal, and Professor Letheule was tremendous. He and I went over multiple choice questions every week, we discussed essays, and he answered any and every question that confused me. He served as a personal therapist and cheerleader, and when the State Bar pushed the exam back for the second time, he created a study schedule that managed my mental exhaustion. On the days of the actual exams, he helped to calm my nerves and prepare for the next day's test. I value and swear by these two individuals and think they, along with my family, are the reason I passed."
It isn't just the support in passing the bar that Howard appreciates. She notes that Associate Dean Amy Flynn took the time to pull her aside in her first-year criminal law class and helped her pinpoint why she wanted to pursue criminal law. Flynn became her self-appointed mentor and swore her in as an attorney. Howard, now a deputy public defender in Contra Costa County, plans to spend her career as an advocate for her community . . . in whatever form that takes. "I didn't actually believe that I would ever attend law school, let alone graduate. I was a first-generation college student, and now I'm a fullfledged attorney. Who knows what blessings the future will hold?"
Image
Christian Jajeh
Associate Attorney, Dudnick, Detwiler, Rivin, and Stikker LLP
"Role of the witness in ancient Athenian litigation." Classics major Christian Jajeh's thesis so impressed his UC Irvine adviser that she told him she would write a letter of recommendation if he applied to law school. She did, he did, and USF was his top choice, both due to its proximity to his family in San Bruno, California, and because it was Jesuit, like his alma mater Junípero Serra High School. He considers attending USF Law one of the best decisions he's ever made.
"I loved law school, especially my tax classes. My time with Professor Joshua Rosenberg was a highlight; he was extremely kind and encouraging. I loved the friendly and approachable way he taught — he'd say, 'Call me, text me, Zoom me.' I ended up writing my graduate thesis with him."
Jajeh's love of the collaborative environment at USF Law extends beyond the tax program. He counts ABES as the highlight of his three years, and said "Jonathan Chu is a godsend for USF. The program he developed was spot-on what we needed to learn, and two weeks into it I stopped using Barbri because I realized ABES was the only bar prep I would need. I followed it to a T, was so grateful for the updates that came after both postponements, and I passed because of Jonathan Chu's, Katie Moran's, and ABES tutor Meera Balat's diligence in administering the prep program."
Jajeh now practices estate planning, which was his goal when he entered USF Law. "I love the transactional aspect of it, and I love my firm." The work-life balance in estate planning is a highlight, as it gives him time to help his 2L wife study for her law classes and also practice his creative hobby: oil painting, of religious icons specifically.
Image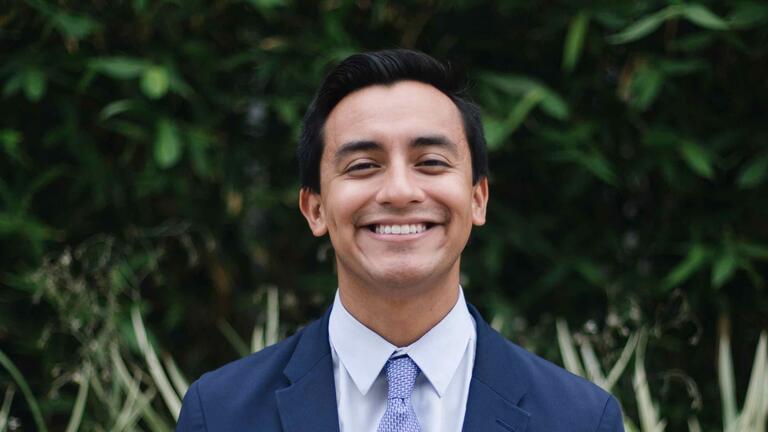 Adrian Valenzuela
Deputy District Attorney, San Mateo County District Attorney's Office
After discovering a passion for oral advocacy thanks to the speech and debate team at Windsor High in Sonoma County, Adrian Valenzuela spent a summer during his time at UC Berkeley clerking for an immigration law firm in Madrid. There, he saw close up how the law helps people, and he decided to go to law school. After attending an open house at USF, he knew it was the place he wanted to earn his JD.
"It was the faculty I met during the open house that made it an easy decision. And it turned out to be the right one," Valenzuela said. He credits his time with professors like Peter Jan Honigsberg and Edith Ho for narrowing his focus on areas that played to his strengths, including legal writing and oral advocacy, and praises faculty members Jonathan Chu of ABES and Heidi Ho and Carol Wilson of the Academic Support Program (ASP) for preparing him to take the bar under unprecedented circumstances. "ASP is a family," he said. "Because of that program, I was connected with Judge Charles Wilson, a USF alum and former ASP participant, and I clerked for him during my first law school summer at Santa Clara County Superior Court." That clerkship cemented Adrian's decision to practice criminal law, and a USF recruiting event led him to the San Mateo District Attorney's Office, where he's worked as a deputy district attorney since February 2021.
"After the upheaval of last year, what gave me faith that I would pass the bar was the support of the USF Law faculty and staff. And I did." His goal now? To be able to look back on a career and see that more than just bettering his own life, he spent his profession helping others.
Image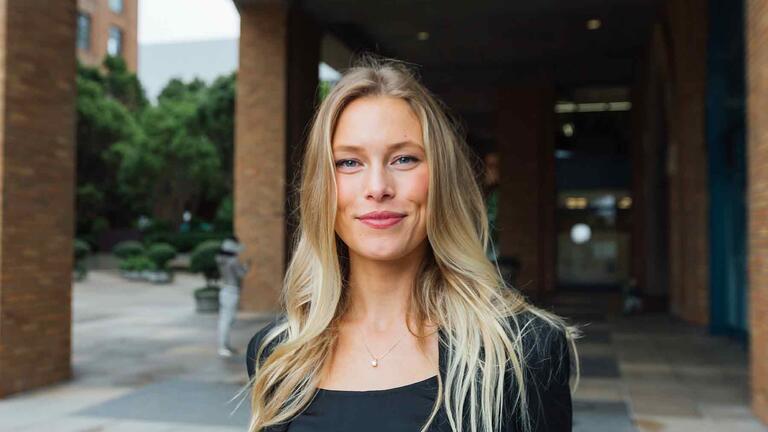 Tayler Walters
Associate Attorney, Gibbs Law Group LLP
When considering Tayler Walters' family history, her career as an attorney would seem almost preordained. "Literally everyone, aside from my brother and one aunt, is a lawyer," she said. "Growing up, both of my parents had their own firms, and I have lots of memories of attending panels, conferences, and American Board of Trial Advocates (ABOTA) meetings with them in San Diego." But a young Walters swore she would never be a lawyer, and she devoted her childhood and time in high school to traveling the country as a competitive equestrian. It wasn't until she spent the summer after her first year at University of Colorado, Boulder, working in her mother's law firm that the family business finally clicked for her.
"I absolutely loved it. I loved listening to my parents talk about their cases, and I could really see the good they were doing. I saw the relationships they built with their clients; they each would receive hundreds of Christmas cards every year from past clients and even after the cases were over, they always stayed in touch. That's what really drew me to the law: seeing the difference you could make in people's lives."
When asked what drew her to USF, Walters immediately answered, "It was the alumni." She knew she wanted to clerk at the California Supreme Court, and that the USF Law alumni network was a dynamic one, especially on the court. "Knowing that USF Law placed so many students there over the years was a huge draw." Walters was externing for the Chief Justice of the California Supreme Court by the second semester of her third year. Of course, that coincided with the onset of the pandemic.
Walters credits Jonathan Chu and Katie Moran with serving as what she called "bar prep therapists," noting that "I wouldn't have been able to pass the bar exam without them." And she credits the moot court program with preparing her to practice law. "It forced us to think about how the arguments make sense in practice, and what kind of impact we actually have on the legal system. It was a great way to ground my overall understanding of the law, and of legal theory." Where does she want to take that overall understanding? To a partnership, and eventually to her own firm. "I want to make a difference in people's lives, for the better."