Engaged Learning
Go Forth and Set the Words on Fire
In a new program, USF Law brings better writing to the field of tax law.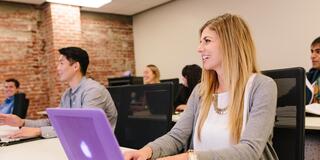 Quick. What sounds like the most boring subject on campus? Then name the most demanding subject in school. Now combine them.
"Yep! You've got it. Tax and writing," says Nate Wadlinger. "That's what I teach."
So why is he smiling?
Wadlinger, adjunct professor at the USF School of Law, is smiling because he loves tax, because he loves writing, and because he has helped to develop a forthcoming professional certificate program that's one of only a few of its kind in the United States. In the Advanced Tax Research and Writing program, USF convenes three courses — Tax Research, Tax Writing I, and Tax Writing II — that teach the three skills that lawyers and accountants need the most, says Wadlinger: "Critical thinking, keeping up with new technology, and clear writing and communication."
The Road to Success
In the world of tax law, critical thinking, keeping up with technology, and clear communication can mean the difference between a happy client and a former client, says Wadlinger.
"I've known many CPAs at Big 4 accounting firms who want to keep doing the same tax returns year after year," he says. "They don't want to think critically about new tax issues. They don't want to learn new technology needed for new projects. They don't want to develop their writing through new research and writing assignments. And in the end, their clients are the ones who lose out." In USF's new program, the road to success starts with Tax Writing I, Wadlinger says. "In that class you learn how to write a tax memo. You learn how to structure it. It's an approach, and a way of thinking, that you can use for the rest of your career."
Learn by Doing
So what's it like in one of Wadlinger's classes?
"It's engaging," he says. "In Tax Writing I, you watch me write a tax memo, from scratch, right there on the screen. Instead of me just giving you a sample memo and leaving you
to figure it out, I actually write the memo and walk you through the process, step by step, so you can see how I do it. And then you write your own memo."
Students in USF's graduate tax programs are accountants and lawyers from firms large and small. They attend class online from not only the Bay Area but from all over North America, plus four other continents. They attend lectures asynchronously, whenever it's convenient for them.
"This whole program is truly designed to serve the working professional," says Olivera Jovanovic, director of LLM and master's programs at USF School of Law. "Our classes even avoid the busy tax season." After each assignment, Wadlinger first sends each student written feedback and then meets with each student over Zoom. He also teaches them how to use artificial intelligence software in their tax law research. "This is cutting-edge tech," he says.
Have Robe, Will Gavel
Wadlinger is well qualified to teach tax writing. He earned undergraduate and graduate degrees in accounting and worked for Ernst & Young for three years. Then he earned a JD at the University of Florida and an LLM in taxation at Boston University. He now works part time in the tax services group of a CPA firm in Florida. But he spends most of his time doing what he likes to do most: teach.
Because he knows that some people assume they will be bored by tax writing courses, he tries to enliven his lectures.
"I wear a Sherlock Holmes costume to introduce research methods. I wear a tuxedo to present awards for the top 100 code sections, top 50 tax cases, and top 40 tax doctrines of all time. I wear a judge's robe and carry a gavel to introduce how a tax case makes its way through the U.S. court system," he says.
"Nate makes class fun — and he makes his lessons stick," says Kate Rogers, a senior manager in the Los Angeles office of Andersen, the global accounting firm. "I was surprised to learn so much in just one of his classes at USF, and possibly more than in the relevant equivalent in my LLM program at another school, plus in my job."
Meeting a Need in the Marketplace
The seeds for the Advanced Tax Research and Writing program were planted in the fall of 2014, says Daniel Lathrope, E. L. Wiegand Professor of Taxation Law and academic director of Graduate Tax programs at USF. That semester, USF launched its LLM in Tax program, and Lathrope started teaching tax law to USF students and Andersen employees at their headquarters in San Francisco.
Soon the classes moved to USF's Downtown Campus at 101 Howard Street. In the fall of 2015, USF launched its Master in Legal Studies in Taxation (MLST) program to meet the demand for a tax law education among professionals who do not have a legal background. Over the next five years, says Lathrope, USF added writing classes to its tax research curriculum.
Today, Andersen sends about 30 new employees to USF each semester for tax classes. Once the Advanced Tax Research and Writing certificate program is approved by the American Bar Association and by the Western Association of Schools and Colleges (approval is expected by spring 2023), Andersen plans to require all of its senior managers to take and pass the program.
"That Andersen sends its people to our program is a testament to the importance of elevating legal taxation skills — and a testament to our program," says Lathrope. "But we don't just teach people from Andersen. Far from it. We have nearly 200 students from law firms and accounting firms including EY, Deloitte, and KPMG, among many other places. And our newest program meets a need in the marketplace — a need for tax professionals who write well." Davis Yee knows the need for clear writing. In his years working as a CPA, as an attorney adviser for the United States Tax Court, as an associate at a law firm, and as an adjunct professor in the USF School of Law who has twice won the Warren E. Burger Prize for legal writing, he has noted one skill that all successful accountants and lawyers possess. "The people who are really good leaders? They know how to communicate, both in writing and in speaking," says Yee.
Carissa von Koch, a senior manager at the Andersen office in Seattle, says, "Professor Wadlinger helped me take the training wheels off my technical writing skills. I appreciated the way I could immediately apply what I was learning to my work at Andersen."
"Tax touches every part of our lives," adds Lathrope. "Our graduates make sure their clients are treated fairly and in accordance with the law, so taxes affect us all and impact the world."