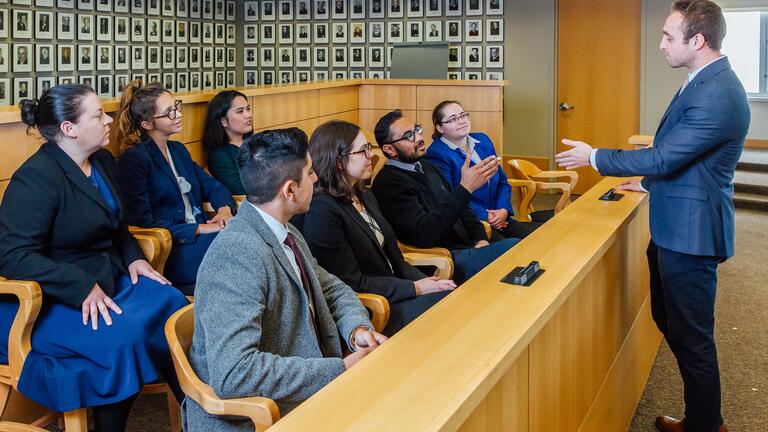 Intensive Advocacy Program
The Intensive Advocacy Program (IAP) is a two-week intensive course open to all U.S. law students, focusing on litigation and trial techniques and strategies. The program brings seasoned lawyers and judges from across the nation to train law students in the art of advocacy.
This exciting program, open to students from all U.S. law schools, features more than 80 hours of lectures, demonstrations, and practice workshops. Participants earn three units and significant real-world experience, guided by skilled practitioners from around the country in the art of advocacy.
About the Program
2023 Session: May 22 to June 3, 2023
Deadline to Apply: USF and non-USF students: Spring 2023, Monday, April 10, 2023
In addition to teaching and modeling, the IAP faculty provide suggestions that will immediately improve the students' skills. Topics covered include taking and defending depositions, evidence, direct and cross-examination of witnesses, direct and cross-examination of experts, jury selection, opening statements, and closing arguments.
The program is designed after the renowned NITA (National Institute of Trial Lawyers Association) attorney training program.
Law students conduct portions of a simulated deposition and trial, receive critique, and review their recorded performances under the guidance of experienced faculty members. Generally, each classroom has eight students and one or two faculty members. Each student is assigned a case file and a problem to use for his or her presentation.
At the conclusion of the program, each student conducts a mock jury trial. The student lawyers work in teams of two and try either a civil or criminal case before a judge and jury. The pressures and challenges of trial practice give students the opportunity to bring together all of the acquired knowledge and skills developed in the various workshops over the course of the program.
The Intensive Advocacy Program is useful for all students, whether you intend to enter the courtroom or not. The purpose of the program is to develop skills in gathering information, marshalling facts, making persuasive arguments, and making real life court appearances. Most importantly, this course teaches students what to expect after graduating from law school and beginning their legal careers.
Student Testimonials
While the program is advertised in different ways, USF students often find their way to IAP through enthusiastic recommendations by their peers who are former participants. Many IAP alumni consider it one of the best classes they had in law school.
I can honestly say after IAP, the fire and love for the law has been reignited in me. When I looked at all the attorneys in the room, I was consistently reminded why I pull all-nighters and beat myself up over the 1L USF curve, why I take out loans and spend money on this JD education, why I commute hours a day to make it to class... and that "why" is because I want to be like the attorneys in the room."
Gabriella Trapani '21
This program taught me that great people do things before they're ready. They do things before they know they can do it… I was surprised by the amount of invaluable feedback and one-to-one mentorship that I and every student received from the IAP faculty. The faculty consists of trial lawyers and judges from all over the nation, and the professional connections that I made when working so closely with them are extremely beneficial."
Danielle Potestio '20
Even if you don't intend on being a litigator, the takeaways from IAP are invaluable. Since taking the program, I am more confident in interviews, public speaking, analyzing issues, and understanding courtroom procedure. Without question, no class on campus will teach you as much about yourself as a future lawyer than the Intensive Advocacy Program."
Katie Moran '16
Faculty
Doris Cheng '98 and Elinor Leary '03 are co-program directors. Doris Cheng is a Shareholder at Walkup, Melodia, Kelly & Schoenberger. She is an active leader in the legal community, currently serving as the President of the San Francisco Bar Association and a seasoned instructor of trial advocacy, teaching lawyers and judges nationally and internationally. A USF law school alum and former Alameda County Deputy Public Defender, Elinor Leary is a Trial Team Leader at The Veen Firm. She has also been the assistant clinical director of the USF School of Law Criminal and Juvenile Justice Clinic. Both are alumnae of USF's Intensive Advocacy Program and are committed providing the invaluable experience they were given as law students.
IAP recruits a diverse and distinguished volunteer faculty with extensive trial experience. Several are members of ABOTA and some are NITA trained and travel to the program from cities across the country, including: Boston, Chicago, Denver, Miami, New York, San Diego, Washington DC.
Public Defenders and District Attorneys from Alameda, Contra Costa, San Francisco and San Mateo counties are also well represented in the IAP faculty. For the bench and jury trials the program brings in acting and retired judges from county Superior Courts, California Courts of Appeal, and US District Courts, among others.
Represented area law firms sending faculty include: Alioto Law, Hanson Bridgett, LLP, Littler Mendelson, Murphy Pearson Bradley & Feeney, The Veen Firm, and Walkup, Melodia, Kelly & Schoenberger. Also included are public defenders from San Francisco, Alameda and San Diego Counties, as well as district attorneys from San Francisco and Oakland.
Since its inception 30 years ago, many volunteer faculty seek to return year after year due to the positive experience they have. They enjoy working with students, desire to give back to the legal community, and also state that participation allows them to brush up their own skills.
In total, 60 faculty attorneys and judges join the two week program each year, giving students small group as well as one-on-one attention and critiques. This interaction affords students opportunities to talk with these professionals about their practice experience and build relationships for future contact.
Apply to IAP
2023 IAP Session
The 2023 Intensive Advocacy Program will take place in-person, with some hybrid (in-person and via Zoom) modality, corresponding to University and Law School guidelines and best practices. Going forward IAP will be prioritized to meet in-person with hybrid accommodations as needed. Students participate in lectures, small groups and are responsible for work outside of class to meet ABA requirements for 3 units.
Program Dates
The 2023 session will take place from May 22 to June 3, 2023.
Deadlines
Applications: Spring 2023, April 10, 2023
Priority deadline for financial aid (USF students): April 15, 2023
Tuition: May 1, 2023
Last day to drop and receive a refund: May 15, 2023
Last day to withdraw with a W, no refund: June 3, 2023
Eligibility
Students who have satisfactorily completed one year of study at an accredited law school and are in good standing are eligible to enroll. 
Credit and Grades
The Intensive Advocacy Program is offered as part of the fully accredited curriculum of the University of San Francisco School of Law. Participants receive three units of credit. The program is offered on a credit/no credit basis. If a student's home school requires a letter grade, this can be arranged on an individual basis. The program complies with ABA requirements.
Tuition
TUITION AND AID FOR LLM & MASTERS PROGRAMS
Deposits, Payments, and Refunds
Enrollment is limited and applicants are accepted on a first-come, first-served basis, limited to 24 spots. A waiting list will allow students to enroll as applicants withdraw their applications.
The University of San Francisco reserves the right to cancel the program, in case of emergency or under-enrollment. In the event of such cancellation, all payments will be refunded.
Applications
You must fill out the IAP online form. Once you have submitted your application and it has been reviewed, you will be contacted at acceptance, after the April 10, 2023 deadline.
Please contact Andrea Crawford at usflawiap@usfca.edu with questions.
Visiting Students
Students from ABA accredited law schools are required to have their home schools provide a letter of good standing indicating permission to enroll in IAP before registration will be permitted. If your school requires that IAP issues a letter grade, that must be stipulated in that letter. Members of the bar are required to present their bar card.
Non-USF students must submit a $50 non-refundable application fee to cover processing. This should be a check or money order made payable to: USF School of Law.
Visiting students are also required to submit an application form and a non-degree personal data form. Please reach out to usflawiap@usfca.edu to request the required forms.
Financial Aid
Students enrolled in the IAP program may or may not qualify for financial aid. Please note that if an enrolled student does not qualify for financial aid, s/he will be required to pay tuition in full.