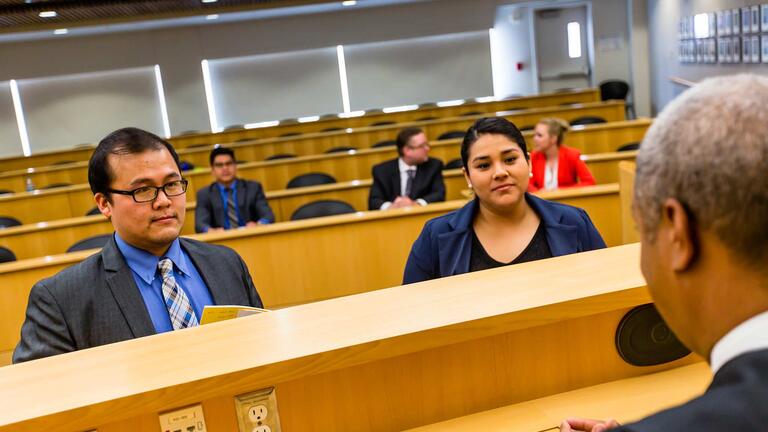 SCHOOL LIFE & CAREERS
Build Your Network
Building a network of professional contacts while you're in law school will bolster your career development, and at USF you'll have countless opportunities to connect with lawyers and leaders in all practice areas.
When I made the decision to move to Chicago, one of my former professors introduced me to a USF alum who's a prominent criminal defense attorney there. My experience with that attorney was instrumental in securing my current position."
ELISA CERVANTES HAMILTON '10 Deputy Bureau Chief at the Illinois Attorney General's Office
Supportive Alumni
USF Law has an accomplished alumni community that is deeply committed to helping students launch successful careers. Our dedicated alumni are eager to help students build their networks of career advisers and career connections.
Welcoming, supportive alumni regularly host and attend networking receptions, connect with students, and help students secure employment.
Reach out to the Office of Career Services to be connected with alumni in your preferred areas of interest.
Networking & Social Events with Lawyers
Building a network of career allies is key to developing your legal career. But how do you meet all these attorneys who can help you? The USF Law Office of Career Services offers a wide range of opportunities to get to know attorneys, including:
Involvement with Local, State, and National Bar Associations: Being engaged in the legal community in which you wish to work means getting involved with local, state, and national bar associations. Bar associations are a great way to expand your network. Most bar associations have substantive sections based on practice areas and committees on hot topics in the legal profession. Reach out to bar association leadership, let them know you are a law student who wants to get involved, attend monthly section meetings, write an article for the newsletter, and volunteer for upcoming events.
Networking Receptions and Alumni Events: Our supportive alumni regularly host and attend networking receptions in the Bay Area. The law school also hosts receptions for alumni in regions around the country, offering students the chance to create professional relationships with attorneys wherever they would like to practice.
Conferences: Attending a conference helps students develop their careers while furthering their leadership skills. You can meet attorneys and learn about cutting edge legal issues. We support student attendance at legal conferences by offering limited funding to cover registration fees and travel expenses and by maintaining a list of prominent conferences you might consider.
Student Groups: With more than 30 active law student groups on campus, you'll easily find students who share your interests—or you can start your own group. Student groups host networking events regularly, including speed mentoring, speaker panels, and receptions.
Off-Campus Events: Through social media and a weekly newsletter, we connect students with external local, regional, and national events regularly to give you even more opportunities to meet and socialize with attorneys.
Mentor Programs
Mentor relationships can provide you with key support and advice from legal professionals. The law school fosters those connections in many ways.
Alumni-Mentor Program (AMP): Annual program connecting students with alumni to develop mentoring relationships. 
Student Bar Association Mentorship Program: First-year law students are matched with third-year students, who help guide them through law school and their career development.
Beyond the Bay Area
No matter where you decide to practice, the Office of Career Services will help you launch your career. With a widespread alumni base and contacts all over the country and abroad, USF offers several ways for you to connect with attorneys outside the San Francisco Bay Area.
Externships Around the Country and Abroad: Students may earn academic credit for civil, criminal and judicial experience they gain outside the Bay Area, including abroad.
Geographic Search Teams: Work with the Office of Career Services and connect with other students to learn about job opportunities and alumni outside of the Bay Area; in Sacramento, Los Angeles, Orange County, San Diego, Hawaii, Portland, Seattle, Boston, Chicago, New York, and Washington, D.C.
Regional Receptions: USF hosts receptions for alumni in regions around the country, offering students the chance to meet attorneys wherever they would like to practice.