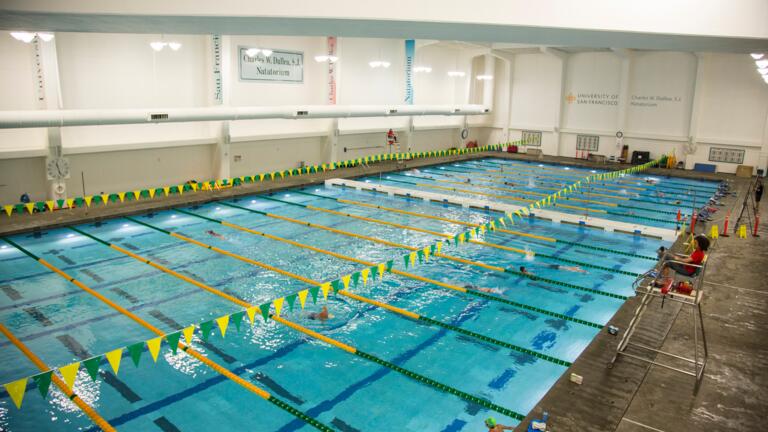 SCHOOL LIFE & CAREERS
Health & Wellness
The USF School of Law is committed to fostering the physical, mental, emotional, and spiritual health of all students.
Our students benefit from extensive services within the law school itself, as well as many resources and of the larger university. The law school and the university's comprehensive program of student services includes a student health clinic, counseling services, and a disability resource center. All students have access to the award-winning Koret Health and Recreation Center, which features an Olympic-sized pool, indoor basketball courts, intramural sports, group exercise classes, and the latest in fitness equipment.
Koret Health and Recreation Center
The state of the art Koret Center facility features and Olympic-size pool, group exercise classes, fitness equipment, intramural sports and more. Law students have full access to the facility.
Counseling
USF's Counseling and Psychological Services (CAPS) seeks to assist students in developing greater self-understanding and help resolve problems that interfere with their optimal personal functioning. The office also provides crisis support and referrals.
Disability Resources
USF's Student Disability Resources office provides services to ensure that students with disabilities have equal access to all areas of student life and receive appropriate educational support and services to foster their academic and personal success.
Student Health Services
Law students benefit from the services provided by the USF Office of Health Promotion Services, and may visit Dignity Health Medical Group (DHMG) clinics during regular business hours regardless of their health insurance plan.
University Ministry
University Ministry is the center of spiritual life on campus, supporting the rich diversity of faiths represented by students and providing opportunities for spiritual growth.