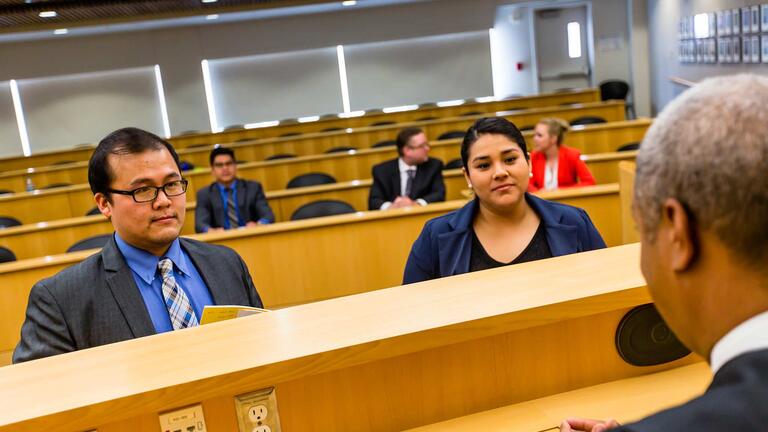 SCHOOL LIFE & CAREERS
Market Yourself
From cover letters to interview skills to savvy social media use, USF's career planning team will help equip you with the skills you need to set yourself apart from the crowd as you launch your job search.
Being able to schedule multiple mock interviews with my Career Services counselor helped me become more confident, articulate, and comfortable with the interview process for my summer job. The interview and networking skills my counselor worked with me on are invaluable in regards to my future legal success."
MARILENA GUADAGNINI '16 Associate Attorney, CDF Labor Law LLP
Resumes & Cover Letters
Your resume and cover letter are often your first chance to make a lasting impression on an employer. The Office of Career Services is here to make sure it's a great one.
The Office of Career Services conducts hands-on resume and cover letter workshops to demystify how legal resumes and cover letters work together and demonstrate how you can write a truly effective cover letter. We explain assessing and updating your resume, dissecting a job description, and drafting an effective skills-based cover letter.
Career Services counselors are available to review your resume and cover letters individually, either by email or during an appointment.
Social Media
Social media has become a key tool for job seekers connecting with potential employers and building relationships to expand your legal community network. The Office of Career Services will help you transition to professional and proactive use of social media to advance your career.
The Office of Career Services conducts workshops led by experts to help students create and use social media platforms in their job search and long-term career development. Career Services counselors will meet with you to review your accounts and recommend revisions to ensure you are leaving viewers with a professional impression.
One of the best ways to use social media professionally is through LinkedIn. USF School of Law has several LinkedIn groups for students to find and connect with alumni in their fields of interest. There are close to 3,000 alumni and students in the USF School of Law LinkedIn group.
Here are a few resources to get you started:
Interview Skills
To get that job, you'll need to nail that interview. No matter your interview experience level, the Career Services team will help you develop interviewing acumen to stand out from other candidates.
The Office of Career Services hosts Mock Interview Programs each year, during which students can practice their interview skills with local attorneys. Career Services counselors are available to conduct interview preparation and strategy sessions as well as additional mock interviews.
We also host regular interview workshops with private and public sector attorneys who have conducted hundreds of interviews.
Professionalism
Professionalism is more than wearing a suit and showing up to an interview on time. It starts when you walk through the door to law school. Everyone you meet could be a future colleague, mentor, or source of client referrals — what kind of an impression will you leave?
We have developed specialized programs to ensure that students understand what professionalism means in the legal field. We cover everything from handshakes and the 30-second elevator pitch to drafting appropriate email messages and knowing when and how to follow up with an employer.
Career Services counselors are happy to answer any questions, small or large, to help students navigate the important transition to becoming a professional for the first time or transforming into a legal professional from another field.
Networking Skills
Ever heard the phrase, "It's who you know"? It's true! To land a great job, in addition to developing strong legal skills, it is key to know a lot of lawyers. At USF Law, you get a running start because of the school's extensive and supportive alumni community.
The Office of Career Services holds workshops to help you learn to network effectively. Students learn how to approach attorneys, conversational tips, and how to develop a lasting professional relationship. Students also learn how to find attorneys and connect with them in person or online to conduct informational interviews. Career Services' attorney-counselors can facilitate email introductions with alumni and other contacts in the legal community.
Throughout the year, we offer a range of events.