Passion for Justice
One to Watch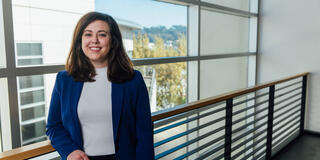 Linda Szabados '20 is a first-generation college graduate who came to USF School of Law to pursue her passion for antitrust, consumer protection, and privacy law. Her years writing about antitrust law as the U.S Head of Legal Content for PaRR Global in Washington, D.C. inspired her to take the leap and return to school to study it.
As a research assistant to Prof. Joshua Davis, Szabados works on innovative research that tracks the outcomes of civil antitrust litigation. She is editor-in-chief of the Intellectual Property and Technology Law Journal this year, involved in the Women's Law Association, and a policy monitor and newsletter contributor to the ABA Section of Antitrust Law's Legislation Committee. She has interned with the Federal Trade Commission and the Criminal Division of the U.S. Attorney's Office for the Eastern District of California, and most recently spent her summer in the antitrust practice group at Cotchett, Pitre & McCarthy.
Who or what most influenced your path to law school?
My parents — who are Hungarian immigrants — influenced my path with their work ethic, grit, and service to others. I've been interested in the law since college, but my professional career truly inspired me to go to law school. After I was involved in an accident, going through the litigation process as a plaintiff made me realize that I wanted to advocate for others who were not in a position to advocate for themselves. I have also really benefited from the support of my fiancé, family, and amazing mentors along the way.
Did you dream of being a lawyer as a kid?
Not at all. I loved art and wanted to work in fashion design. I ultimately followed my other interests — history, literature, and politics — which led me down the path to law school.
Which law school class has challenged you the most?
Prof. Peter Jan Honigsberg's Administrative Law class stands out amongst many. Prof. Honigsberg's use of the Socratic method in a small seminar class not only kept me on my toes, but also ultimately built up my confidence in analyzing the law. The caliber of doctrinal rigor in his class trained me to truly "think like a lawyer."
What is your role on Prof. Joshua Davis' research team that revealed that billions of dollars are lost to criminal antitrust conspirators? Why is it important work?
As a research assistant on his team, I extract data from federal court cases that have ended and document the outcomes of those cases. These outcomes will ultimately provide attorneys — particularly plaintiffs' firms — with important metrics for evaluating potential cases. This research is not only fascinating, but also pretty ground-breaking; there is simply not much research that currently tracks the outcomes of private antitrust enforcement.
What were the best parts of your summer working at Cotchett, Pitre & McCarthy?
Cotchett, Pitre & McCarthy is involved in many of the notable antitrust cases I used to follow in my role with PaRR, so it was a tremendous learning opportunity to now get to see the inner workings of some of those cases. The attorneys gave me interesting assignments and offered me professional development opportunities, such as attending court hearings, the deposition of a former C-suite executive at a major airline, and even a meeting with a Fortune 500 company about potential claims in a cartel case.
What advice would you give new law students?
Take advantage of every resource USF has to offer, including all the networking opportunities. There is no GPA requirement for networking, so regardless of whether you have the grades you want, make sure to put yourself out there repeatedly.