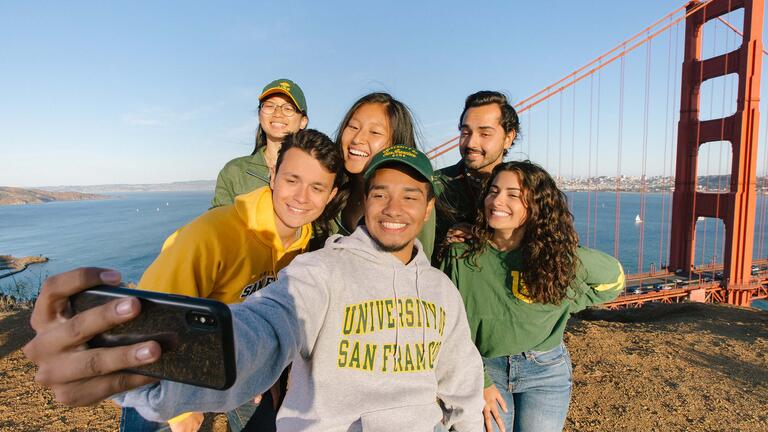 OUR DIFFERENCE
San Francisco Advantage
Our style of education is inspired by the city that surrounds us, our mission fostered by its passionate, progressive, innovative spirit. With modern facilities situated in the center of one of the world's most dynamic cities, perched on the edge of the Pacific Rim, there is no better place to launch your legal career than the USF School of Law.
There's at least one USF Law alum at every firm or public agency in San Francisco. Everyone is usually very supportive of each other, and it's a vibrant community. It's so helpful, and, frankly, makes practicing law more fun.
Cameron Cloar-Zavaleta '09 Director & Sr. Attorney, Alaska Airlines
San Francisco
The San Francisco Bay Area functions as an extension of our campus and plays a vital role in the educational experience. The school is located on a hilltop campus overlooking Golden Gate Park, the Pacific Ocean, and downtown San Francisco. It's minutes away from the Civic Center, home to federal, state, and local government agencies, as well as federal and state courts, including the Supreme Court of California.
Local courts, the largest law firms, and select corporate headquarters are so close to USF—you'll also find a sampling of the 120+ externships our students had recently within San Francisco and the broader Bay Area. 
Experience Matters
The city and its surrounding communities provide exceptional learning, practical, and service placements that complement our curricula. Students represent clients in law clinics, clerk for judges, and extern in major law firms, legal departments, and public interest and government agencies. Studying at USF offers unparalleled hands-on, practical experience that prepares you for a successful legal career.
The Ultimate Study Break
When it's time to unwind, our backyard is Golden Gate Park—a 1,000-acre spot for running, cycling, or studying in the afternoon sun. From campus, you're never more than four miles from every cafe, restaurant, and world-class cultural and sporting event the city has to offer.
Opportunities
Across San Francisco you'll find thriving high-tech company headquarters, state and federal courts, and some of the nation's most prestigious law firms. Studying at USF School of Law offers vast externship and career opportunities at these venues.