Engaged Learning
IP Support Network
Students in USF's IP Clinic help clients elevate their business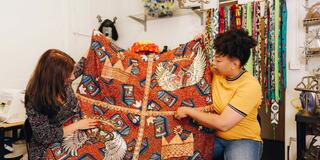 What do you do when your dreams are big but your budget is small?
When Heroic Girls, a nonprofit based in Sacramento that seeks to improve representation of women and girls in popular culture, wanted to trademark its brand but couldn't afford legal fees, it turned to USF School of Law. Students in the Internet and Intellectual Property Justice Clinic worked with Heroic Girls to submit the paperwork required to protect its brand and identity.
"If it weren't for the clinic, we wouldn't have been able to file our trademark applications for years, potentially losing the name Heroic Girls," says Sarah Phillips, member of Heroic Girls board of directors. "For nonprofits like us who have limited resources and people power, to be the recipient of such legal services is a gift."
Since 2001, the Internet and Intellectual Property Justice Clinic, known simply as the IP clinic among students, has served hundreds of clients across a range of industries, representing them before the U.S. Patent and Trademark Office. Through the clinic, nonprofits, individuals, and startups get pro bono IP legal assistance. In exchange, students gain hands-on experience that helps them land jobs after law school.
In fall 2021, the clinic added patent services to its offerings when USF became the first accredited law school in Northern California to be part of both the USPTO's patent program and its trademark program. Students can now file patent applications on behalf of clients and be listed as attorneys on the patent documents, under the direction of adjunct professors Paul Tomita and Amir Adibi. At the same time, the clinic's popularity among students has surged. Enrollment reached a record high during the spring semester, with a waiting list of more than 10 students. "IP is a very interesting and applicable area of the law, especially given our location," says Jessica Fajfar, clinic director, assistant professor, and a trademark attorney.
"On top of that, it's a type of law that addresses social justice, but in a way that's different than what many people might think of social justice work. We're working with clients who are doing good for the world, or working with owners who are underrepresented, including BIPOC, LGBTQIA+, and women, working with talented (yet struggling) artists, and working with businesses that are benefiting their communities. For these people, this is their livelihood."
A Patent for Amelia
Mark Langer wanted to patent his invention, a delivery drone he calls the Amelia. Unlike other delivery drones, Amelia is all-electric and uses standard warehouse equipment so there's no need to repackage goods into specialized sizes, he says. He and his cofounder spent about 18 months creating the drone, but outside investment for the industry as a whole — and, as a result, for his company — is hard to come by.
"I wanted to protect what we had built," Langer says. "We would not have been able to apply for a patent without the law clinic. It's really a public service for people like me who are looking to take something novel and protect it."
Last fall, three students worked with Langer to submit a patent application for the drone technology. Under faculty supervision, the students met with Langer, ensured they fully understood the invention, researched similar technologies, created drawings, wrote detailed descriptions of it, and ultimately drafted claims for the patent.
One of the three students, Aaron Posner '23, says that the Amelia patent project helped solidify legal concepts he learned in the classroom and also bolstered his technical understanding of the invention. That was largely because of the diverse group of students he worked with, he says.
"Working in a group forced me to fully understand some really technical concepts enough that I could explain them to others," Posner says. He has a science background, with a degree in engineering and experience in heavy industrial engineering. "We all wrote a claim for the invention and while my claim was more technical, it may have been too rigid. Other claims were broader but may have been too broad. As a group, we had a lot of back and forth to help us hone the patent to what is patentable and offer the broadest protection possible that would still be acceptable to the patent office."
Langer's patent application has been filed, but it can take three years or more for a patent application to be fully reviewed and potentially approved.
Stephanie Moser '23 worked on a patent application for a mobile internet-of-things security device. "It's an amazing experience interfacing with new clients, going to meetings, having deliverables that you need to get done to either submit to the USPTO or report to your adviser or your client," Moser says. "It's different than in class where you just have your professor to answer to. This is real-world experience."
A Trademark for NurseBrain
Like all students who work on patent applications, Moser also worked with trademark clients. She helped an entrepreneur trademark the name NurseBrain, an app for nurses to keep track of their tasks. She and another student also worked with Scientella, a nonprofit that supports the next generation of women in STEM fields, to seek trademark protection.
"We had a great experience working with the students," says Ricardo dos Santos, Scientella's founder. "They guided us through the entire process. That encompassed conducting an interview to get background information on the mark, conducting a clearance search and memo so that there are no similar registered marks and, lastly, filing the application with the trademark office." In short, the work students do with trademark clients is the same work they would do as attorneys working in trademark law. As with the patent cases, students are the primary contact for clients. In many cases, it's more direct client work than most first-year associates get.
Jordan Hameen '21 worked with a variety of clients, including a nonprofit that provides resources to marginalized women and a local rap group that needed a coexisting agreement with another local, well-known Bay Area rapper. "The artists couldn't really afford legal representation," Hameen says. "They were so thankful since they were just going to give up if they hadn't had the clinic's help." She saw the impact the clinic's work had on other clients as well. "They're entrepreneurs. They're making it from the ground up, and if somebody else is able to use their trademark and dilute their brand, that could end their source of income," she says. "This is especially important in spaces with individuals of color. Some may have gone through the prison system and have limited options for where they can work. Some may not have a traditional four-year degree. They are creating their own businesses to have an income and they need these trademark resources to continue to thrive in the market."
Experience That Takes You Places
Hameen currently works for Gap Inc. as a law clerk in brand services. In November she'll join Perkins Coie as an associate in the firm's Trademark, Copyright, Internet & Advertising Group. She credits the IP clinic with giving her trademark experience and tangible examples of her work.
Carlo Bustillos '22 says that his experience crafting a patent helped him to land a position at Nixon Peabody in San Francisco.
"They told me they really liked my clinic experience." After helping to draft a patent application in the IP clinic, twins Alexis Ramsey '21 and Jessica Ramsey '21 chose to work in patent litigation. Knowing what goes into drafting a patent has been critical in understanding how to litigate one, they say.
"IP rights are extremely important for small and large businesses," says Alexis Ramsey, now at Ropes & Gray LLP, who helped obtain trademarks for Afatasi The Artist, whose art focuses on her Afro-Polynesian heritage. Alexis explains, "with Afatasi, interesting legal issues came up with respect to the trademark "(Tapa)stry," used with Afatasi's tapestry art pieces made of tapa (the bark of a mulberry tree), which required significant back and forth with the trademark examiner." But "Without a trademark, it's hard to brand your business. And, of course, without a patent you can't stop others from taking your invention for themselves. All of this takes capital and doing it right, with an attorney, is just far outside the budget for most individuals."
Adds Jessica Ramsey, now at Wilson Sonsini Goodrich & Rosati, "In a lot of ways, the law can prevent people from reaching for their dreams of invention. The IP clinic aims to clear some of those legal challenges for folks. That equality in what people get to do with their lives? That's what the IP clinic aims for."
And under Professor Fajfar's leadership, the clinic continues to expand and extend its efforts. Fajfar says that given new privacy laws in California such as the California Consumer Privacy Act (CCPA) and the upcoming California Privacy Rights Act (CPRA), "privacy is a hot topic these days." While the clinic already handles one to two privacy cases each year, Fajfar plans to build out a more robust track in the coming year, saying "Many businesses need help navigating these complicated laws' and the clinic is well-positioned to support them." She adds that she gets her inspiration from former clinic director Prof. Bob Talbot, noting "he sought to meet a need in the market and fill that gap, while giving students a hands-on experience. Bob passed away earlier this year, but his passion for supporting our students and community in this way lives on in our clinics."