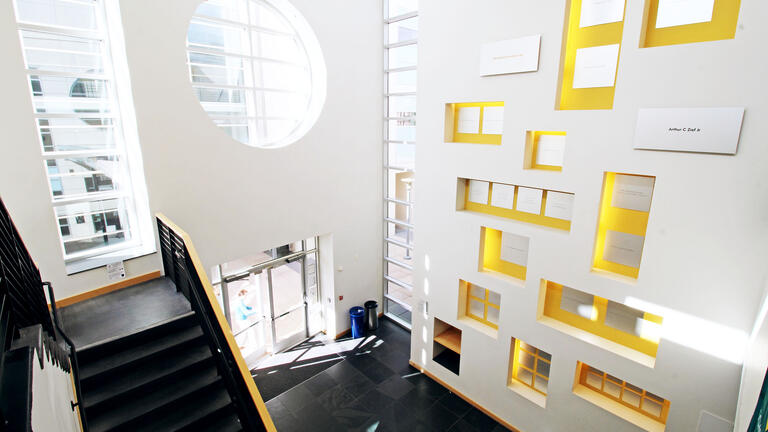 SCHOOL LIFE & CAREERS
Public Service & Social Justice
The law school offers a rich array of opportunities for students to contribute to building a more humane and just world. Each year hundreds of USF law students participate in academic and community service projects across the Bay Area, throughout the United States, and around the world.
USF taught me the skills I needed to represent my clients and the value of public service. USF School of Law provided me with a strong academic foundation for moving forward professionally."
HON. MARY JANE THEIS '74
Illinois Supreme Court Justice, First District
Pro Bono & Public Service Opportunities
Throughout the year, the Office of Student Affairs works to connect students with volunteer projects at legal aid agencies, court-based programs, and social service providers. Pro bono service is a great way for students to gain practical skills and while serving our community. 
Students who participate in the Keta Taylor Colby Death Penalty Project perform hands-on legal work aimed at the interim reform, and ultimate abolition, of the death penalty in the United States. The Public Interest Law Foundation, a USF student group, provides grants to students working in unpaid summer externship positions with public sector organizations.
In addition, students may earn a Public Interest Law Certificate through a combination of course work, practical experience, and community service.
Pro Bono & Public Service Opportunities
Public Interest Law Foundation (PILF)
The Public Interest Law Foundation (PILF) is a student-run organization that supports USF law students working in unpaid summer internships in the public interest and public sector and provides support to help them pursue careers in the public interest and public sector upon graduation.
Its mission is to: 
Foster a community of law students interested in public interest work.
Educate students about job opportunities in the public interest sector and serve as a resource for job leads.
Raise money to support unpaid summer work in the public interest.
Encourage law students to volunteer in the community and provide meaningful and appropriate opportunities to do so.
Educate students about ways that private firm attorneys can make meaningful contributions to the public interest through pro bono and other public service opportunities.
Instill a sense of community ownership, pride, and responsibility that will motivate students to make positive changes.
PILF promotes its goals by fundraising and sponsoring public interest and community service events to educate students about the rewarding career possibilities in public interest law. PILF's annual fundraising efforts directly support summer grants for law students with a demonstrated commitment to public interest who work in unpaid, full-time summer positions at local, national, and international public interest/public sector agencies, organizations, and firms. 
The funding for our PILF Summer Grant Program is raised through year-round contributions by members of the USF Law and greater legal community, as well as through events that PILF and its Advisory Board members organize. 
Since 2004, PILF has awarded more than 200 grants to students serving in unpaid summer internships across California and the globe. Our students have worked for a variety of organizations, including Legal Services for Children, AIDS Legal Referral Panel, Legal Aid of Marin, Alameda County Public Defender's Office, Bay Area Legal Aid, Asylum Access, ACLU of Northern California, Eviction Defense Collaborative, Lawyers' Committee for Civil Rights, Disability Rights Education Defense Fund, and San Francisco District Attorney's Office. 
While PILF Grantees receive summer funding in the amount of $4,000 to enable them to provide unpaid services, the community receives the benefit of legal assistance from some of our most accomplished USF students. Though the grant program has changed over the years, it remains unchanged at its core: our PILF grantees are dedicated to USF's mission to gain practical legal skills while serving those most in need.