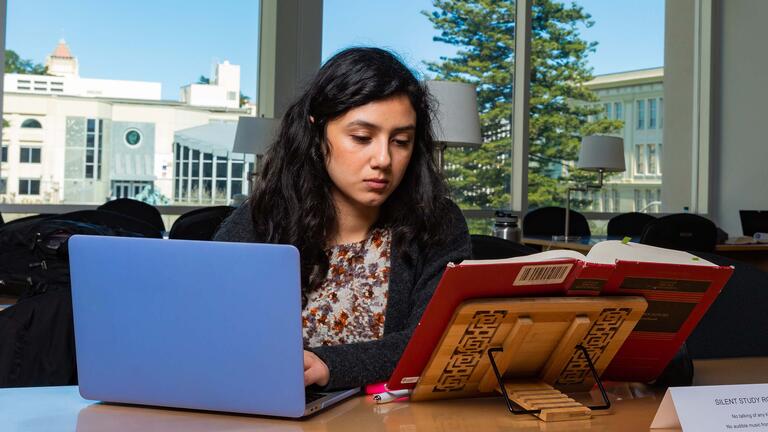 Student-Run Academic Journals
Our student-run academic journals provide opportunities for students to improve their writing and analytical skills in their area of interest.
USF Law Review
The University of San Francisco Law Review is a student-run organization that publishes a journal of legal scholarship.
Since 1966, the Review has served as USF's voice in the ongoing academic debate regarding the evolution of law.
USF Law Review publishes three issues each year. Each issue is typically comprised of four articles by professors and practitioners and three student notes and/or comments. The Law Review Forum was introduced in 2014 as a new platform to bring legal academics, practitioners, and students together to discuss recent scholarship and current events impacting the legal community. All articles are subjected to a rigorous editorial process in order to strengthen substance, polish tone, and ensure citation accuracy. The Board of Editors makes all editorial and organizational decisions.
Subscriptions to the Review are held by judicial, municipal, and state libraries nationally and internationally. The Review is also available on Westlaw, Lexis, and Hein On-Line. In addition, we encourage our authors to publish drafts of their work on the Social Science Research Network. To submit to the journal, please visit USF Blogs for instructions.
Law Review Print Archives Law Review Forum Annual Law Review Symposium
The Law Review provides students with hands-on experience in research, writing, and substantive and technical editing-skills that are key to success in the legal field. Not only do staff members gain skills by researching and writing their own publishable-quality comment or note, but they also greatly increase their editing skills by thoroughly editing submitted practitioner articles.  

In addition, the Law Review allows editors and staff to gain in-depth exposure to a wide range of legal issues as viewpoints while developing their interpersonal and collaborative ability in a legal context.

For these reasons, employers look favorably on candidates with Law Review experience. Many firms who participate in on-campus interviewing exclusively consider candidates with Law Review membership.

Unit Requirements

Law Review senior staff members, those who are in their second year as Law Review members, earn one unit during the spring semester of their third year. However, they are expected to complete 60 hours beginning the summer after their second year and finishing at the completion of their third year. 

Law Review staff members, those who are in the first year as Law Review members, earn one unit each semester. Staff must complete 45 hours each semester comprised of the following:

Office hours - 2 hours each week
2 Saturday edit sessions - 10:00a.m. to 4:00 p.m.
Symposium assistance and attendance
Training in citation format and research skills
Individual projects given by assigned editor

Writing Requirement

Law Review members may satisfy their USF's upper level and writing requirement by authoring a publishable legal article.  The Law Review will direct this process, and the requirement is satisfied upon completion of a note or comment, 25 to 35 pages in length, that is approved by a Law Review faculty adviser.

A comment is a thorough analysis of a complex legal issue.  A note is a typically shorter study of a case, statute, or narrow legal problem.

1L Application Process

1Ls will be able to apply for membership on the Law Review at the conclusion of their spring exams. Your must be in the top fifty percent of your class at the end of your first year to apply. (Note, your class standing can change considerably between the fall and spring).

To apply, you will be required to write an abbreviated case note based on a closed universe compilation of sources and authorities. (This is similar to your LR&W final). The writing competition is submitted anonymously and will be graded by at least three editors. Selection is based upon a weighted scoring system with one-half on technical and one-half on substantive performance.

2L Write-On Application Process

Students completing their 2L year may apply for Law Review membership though a write-on application process.

A student must be in good academic standing and in the top fifty percent of his or her class to qualify for Law Review membership.
The submission deadline for write-on candidates will be before the end of July.  Final due date to be determined.  Papers will be emailed to the executive editor, who will strip any personal identification information from the paper and route it to the editors for review.  The executive editor does not take part in the grading process, so there are no anonymity issues when submitting to him.
Two types of student pieces may be submitted to Law Review: 

Comment - A comment is a thorough analysis of a complex legal issue written by a student.  A comment identifies the legal and factual background of the issue, discusses the problem that has arisen, and then provides a solution to the problem.
Case Note - A case note is a complex analysis of a case or statute, written by a student.  It sets out the background of the law, and assesses the impact the case will have on the law. This is not simply a paper about the case, but an analysis of the case and its future implication of the law.
Reserve materials and recent volumes of the USF Law Review will help you understand what is expected in terms of style and content.  Professors, librarians and outside attorneys are also good sources of information and advice on interesting topics.

The comment or note must be of nearly publishable quality. These factors include: 

Organization and quality or writing
Presentation of substantive issues
Pre-emption (i.e. has your paper already written. Is your point of view original? Check with the Executive Editor to review topic proposals selected by current staff.)

Once you become a staff member, you must complete 90 hours of staff work over the year for two units of credit.  This involves office hours, edit sessions, and other activities including the Law Review symposium.
As a staff member, you also must complete your submitted note or comment.  Once accepted, your comment or note will be judged for publication in the same manner as the rest of the Law Review staff.  Completion of a final draft satisfies the upper division writing requirement.
Decisions regarding write-on applications are final and there are no appeals.  Law Review plans extend offers to all students who submit articles of publishable quality. However, if we receive more qualified submissions that anticipated, Law Review reserves the right to limit offers.  This determination is purely discretionary.  The Law Review editors welcome inquiries regarding your proposed topic and are willing to offer comment during the draft process.

Transfer Student Application Process

The University of San Francisco Law Review invites all active admitted transfer applicants who have submitted an admission deposit to apply for membership in the Law Review. The application is a write-on competition. The competition consists of a closed universe compilation of sources and authorities from which you must write an abbreviated comment or note. The writing competition is submitted anonymously and will be graded by at least three editors.  Your written piece is scored based on both your technical and substantive performance. Your writing score will then be compared with the other applicants' scores.

The competition materials will be electronically distributed to you mid-July.  You will then have five days to complete your submission.  Offers will be distributed approximately two weeks later.  Additional details about the submission process will be provided along with the competition packet.  Please contact Kenji Quijano at kaquijano@usfca.edu or at 415-422-5896 for more information. 

Volume 58 - 2023-24

BOARD OF EDITORS


EDITOR-IN-CHIEF
Corliss Brekken

MANAGING EDITOR
Madison Donahue-Wolfe

EXECUTIVE EDITOR
Christina Leung

TECHNICAL EDITOR
My Kim Ong

ARTICLE EDITORS
Tyler Carlo
Alejandra Chumbes
Diana Jimenez

SYMPOSIUM EDITOR
Kasey Isobe

FORUM EDITOR
Christina Smith

COMMENTS EDITORS
Jennifer Ayala
Paige Baker
Samantha Phelan

SENIOR STAFF MEMBERS
Piper Blank
Ariana Camarena
Khusbeen Dillon
Alicia Flynn
Eva Huffman
Vivian Huynh
Gurrinder Jassar
Amanda McKee
Juan Rizo
Courtney Rockwell-Gehrett
Ariba Siddiqui
Alison Walter
Payton Wilson
Rex Yoshida
Sachiko Yoshotsugu

STAFF MEMBERS
Chika Amene
Nathan Candler
Michaela Carbaat
Madeline Coke
Jessica Dimas
Katrina Garry
Lindsey Hom
Lauren Kilger
Shannon Labuscahgne
Annie Llombart Portabelle
Thao Annie Le
Aram Manoukian
Moneer Mujaddidi
Sabrina Murugesu
Isabella Niven
Stephen Nick Ondrish
Fabiola Pardo Garcia
Alyssa Tilley
Grace Tillman
Liam Vlaming
Davis White
Alexandre Wilhite
Matthew Zampa

FACULTY ADVISORS
TBD

SYMPOSIUM ADVISOR
Juan Carlos Ibarra
Alice Kaswan
Intellectual Property and Technology Law Journal
The University of San Francisco Intellectual Property and Technology Law Journal is a student-run journal that provides thoughtful commentary on the current developments of all aspects of intellectual property, privacy and Internet law in the United States and abroad.
Since Professor J. Thomas McCarthy founded the Journal in 1996 to provide a publishing forum for students, it has grown into a widely-circulated legal periodical. The Journal continues to publish work by USF students and faculty, as well as articles by practitioners and professors unaffiliated with the University of San Francisco. The Bulletin is now called the Intellectual Property and Technology Law Journal.
The Journal publishes two issues each year, typically containing three to four student or alumni-written articles, as well as six to eight written case surveys on current intellectual property and Internet law issues. The Journal also keeps a pulse on the current legal landscape frequently discussing issues in the news on the Intellectual Property Law Bulletin: In A Nutshell.
Judicial, municipal, and state libraries nationally and internationally subscribe to the Journal, and USF also makes it available on Westlaw, Lexis, and Hein On-Line. The Journal is distributed to several non-legal companies interested in intellectual property issues as well.
A yearly subscription includes two issues of the journal, published in the Fall and Spring. Subscriptions renew automatically each year unless you notify us by September 1. To submit to the journal, please follow this link for instructions.
The Intellectual Property and Technology Law Journal Online
The Intellectual Property and Technology Law Journal provides students with hands-on experience in research, writing, and substantive and technical editing skills that are key to success in the legal field. Not only do members greatly increase their skills by thoroughly editing submitted articles, but they can also research, write, and publish their own case survey, a brief summary of a recent, groundbreaking intellectual property or technology case.

In addition, the Journal exposes editors and staff to a wide range of legal issues while developing their interpersonal and collaborative skills in a legal context. Employers look favorably on candidates with Journal experience as it shows a grasp of the nuances in complex legal matters, the ability to write concise, synthesized pieces for varied audiences in a deadline-driven environment, and the opportunity to showcase published work.

Editing and Publication Process

All articles are subjected to a rigorous editorial process in order to strengthen their substance, polish their tone, and ensure citation accuracy. The Board of Editors makes all editorial and organizational decisions.

Citations in the Journal conform to The Bluebook: A Uniform System of Citation (20th ed. 2015). The Bluebook is available in its entirety online at www.legalbluebook.com. The Journal also conforms to grammar and stylistic rules according to The Chicago Manual of Style. The Journal is printed by Joe Christensen, Inc., in Lincoln, Nebraska.

Archived PDFs of articles and surveys can be found by volume number on our website.

Unit Requirements

Executive Board and Senior Staff members in their final year of law school will earn two credits each semester. Journal articles and surveys editors, the technical editor, online editor, and staff members do not earn credit.

Board members are expected to attend all training sessions, sponsored events and office hours as requested.

Board Member Application Process

Applications for editorial board and staff membership to the Journal will be available during the spring semester. You must be in good academic standing to apply.

To apply, you will be required to submit any of the following: resume, statement of interest, writing sample, and a technical assessment. Each applicant for editorial board positions will be contacted to arrange an interview.

Selection is based upon weighing each part of the application process, including substantive performance from previous experience on the Journal.

1L Application Process

1Ls will be able to apply for membership on the Journal during their spring semester. You must be in good academic standing at the end of your first year to apply. (Note: Your class standing can change considerably between the fall and spring).

To apply, you will be required to submit any of the following: resume, statement of interest, writing sample, and a technical assessment. Selection is based upon weighing each piece of the application process.

Please contact the current Editor-in-Chief or usf.iplb@gmail.com for more information.

Volume 27 2022-2023

Board of Editors

EDITOR-IN-CHIEF
Pierce Stanley

EXECUTIVE EDITOR
Kristal Sinaj

MANAGING EDITOR
Adena Chen

SENIOR ARTICLES EDITORS
Nicholas Gennaro
Allen Saylor

SENIOR SURVEYS EDITOR
Gabrielle Sullera

TECHNICAL EDITORS
Evan Allen 
Juan Rizo
Katherine Stormin

ARTICLES EDITORS
Nathan Banks
Kathleen Hinkson
Joty Jhaaj
Gabriel Rishwain
Ariba Siddiqui
Ryan Sloan

SURVEYS EDITORS
Rebecca Gonzalez
Seaf Hartley
Danielle Eden Silva
Lauren Silva
Thomas Tuon

ONLINE EDITOR
Tyler Carlo
Cameron Freeman
Vivian Huynh

STAFF MEMBERS
Dylan Artunian
Koreina Buford
Madison Cassulo
Meghan Gleeson
Erlyn Lazaro
Christina Nieves
Nicholas Ondrish
Nhi Pham
Elisa Rivas
Jada Smith
Slater Stanley
Payton Wilson