Alumni
Beyond the Music
This USF lawyer walks the leading edge of entertainment law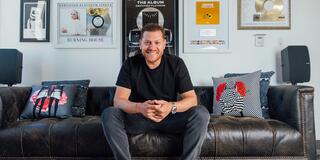 Who knew that an electronic music producer and DJ named Marshmello could stream a live concert during an online video game called Fortnite — and draw more than 10 million people? And who knew that Marshmello would become a Fortnite game character? Josh Binder '01 knew.
Such a boundary-blurring event was only the latest for Binder, the music attorney whose clients cross the lines between music and social media. Marshmello, for his part, is not only a top 10 artist on Spotify, but he also has a top Instagram account and YouTube channels.
"My job in this constantly evolving industry is to find solutions and new ways of doing things for my clients," Binder said. "So I always look at situations from every vantage point."
Binder's client roster also includes Kendrick Lamar — the Pulitzer Prize–winning rapper; the singer SZA; Latin chart topper Daddy Yankee; country artist Cam; and the production company Kids at Play. Binder, who's been named one of the music industry's top lawyers by Billboard Magazine, launched his own firm last year, Rothenberg, Mohr & Binder LLP, with offices in Beverly Hills, New York, and Miami.
Obsessed With Music
"Ever since I was a kid, I've loved music," Binder said. "I wanted to work in the music business. I didn't want to be an agent or a manager, and I knew I wasn't talented enough to be an artist. My dad is a lawyer, and I had always seen myself practicing law. By combining law and music, I was able to follow my passion and utilize my talents."
Binder's vision was always clear, but his path wasn't. In law school, he took classes on intellectual property law, copyright, and trademark. After his 2L year, Binder interned in the legal department at Sony Music and hoped to land a job there after graduation. The problem? It was 2001. Napster was disrupting the music industry, and the industry was rapidly contracting. No one was hiring music attorneys.
Undeterred, Binder opened his own firm out of his West Hollywood apartment. Binder describes those early years as lean, with no superstar clients, just those who one day could be. "If I had a $5,000 legal fee, I was thrilled," he said. He found his clients any way he could, relying on his ear to go after artists he believed would be successful. Binder learned as he practiced, always aiming to build value for his clients in some way.
Loyal to Clients
That dedication earned him clients, including Lamar, who remains loyal to this day. Binder managed Lamar's first record deal, his first publishing deal, and continues to handle all of his transactions. Binder even accompanied Lamar when he visited the White House on the Fourth of July in 2016.
"I have loyal clients who have been with me for more than a decade. Those clients are the reason I'm here," Binder said. "We've built loyalty, a relationship, and experience running and building a business together. I've watched as they have become moguls and unparalleled leaders in the business."
When Binder's business took off and the actual running of the firm took too much time, he joined a boutique music firm as partner. He stayed there for about six years before betting on himself again, this time with two other music attorneys as partners. The new firm, which is 90 percent music and 100 percent transactional, just hired its eighth attorney.
This time around, clients seek out Binder. Yet his approach remains the same — add value and build businesses in innovative ways.
"I wasn't raised in the music business, so I don't approach things in the same light" Binder said. "I look at the business from a different perspective and am not bound by the ways things have always been done. Just because something is the 'usual' way of doing things doesn't make it the only way to do it. If a client wants to approach something differently and try something new, I can help them realize their vision because I come from an independent mindset."
Open to the Future
Binder credits his time at USF School of Law with instilling an expectation of quality. That emphasis, he said, has translated into working hard in everything he does.
"I look back at USF and think I learned about dedication to doing things right and the need to put in the kind of effort that separates me from the rest of the group," he said.
At 44, Binder already knows the type of impact he hopes to have during his career.
"You want to impact culture," he said. "You want to be a part of culture-changing artists. The job of an artist is to make people feel, to make people think, and to make people expand the way they see the world. My job is successful if I'm part of teams of artists that help make that happen."