International & Comparative Law
Image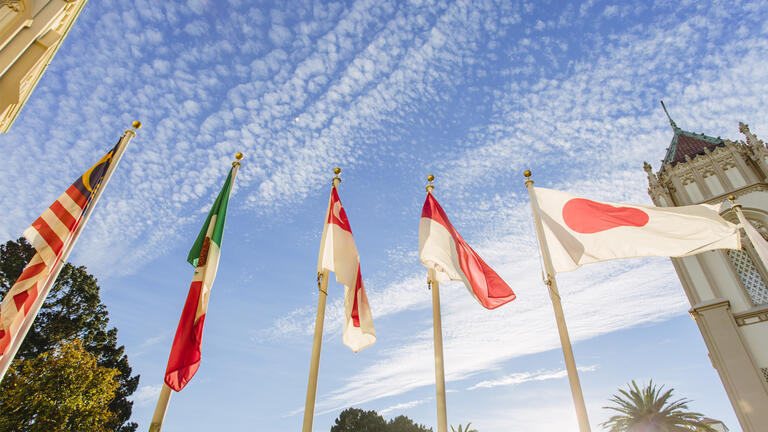 It's no longer enough for lawyers to understand domestic legal issues.
Through USF School of Law's extensive menu of international programs, you'll develop a comprehensive understanding of how to do business and pursue justice in across the globe.
Coursework recognizes the increasing globalization of the practice of law, whether specializing in comparative, business, or human rights law. USF Law provides extensive opportunities to study abroad in traditional or immersion courses. Externships, in which you'll apply the skills you've learned in school at NGOs, international law firms, nonprofit organizations, and foreign judicial officers, present unbounded opportunities for learning and growth.
Students who participate in the innovative Frank C. Newman International Human Rights Law Clinic present on critical human rights issues to the United Nations, in both Geneva and New York. Learn about the clinic's director Professor Connie de la Vega, who was recently the first woman to receive the State Bar of California's Warren M. Christopher International Lawyer of the Year Award, in this Q&A in the California International Law Journal.
USF students have the unique opportunity through the Frank C. Newman International Human Rights Law Clinic to represent an NGO before United Nations bodies in Geneva and New York. Our students experience human rights mechanisms first hand, as they present written and oral interventions, as well as advocate for language in resolutions that helps to promote and protect human rights."
Professor Connie de la Vega
Select Courses
Asian Legal Systems
Chinese Business Law
Comparative Law
E.U. Law
Global Legal Research
International Criminal Law
International Human Rights
International Refugee Law and the European Crisis
Public International Law
Faculty
Certificate
Clinic
Student Exchanges
Beijing, China
Prague, Czech Republic
Representative Externships
Baker & McKenzie LLP, Vietnam
Boehmert & Boehmert, Germany
Cleveland Scott York, United Kingdom
De Gaulle Fleurance & Associés, France
Deloitte, Czech Republic
Duane Morris LLP, Vietnam
Ernst & Young, Mexico
Trevisan & Cuonzo Avvocati, Italy
Student Organization
International Law Society