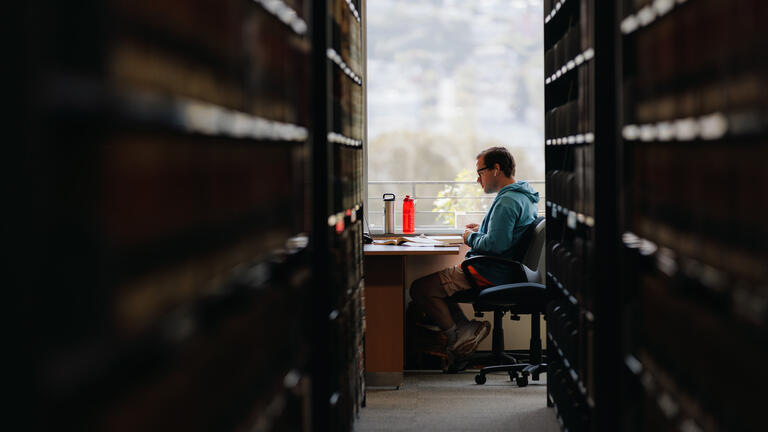 ADMISSIONS & AID
Admissions Policy
Admissions Information
Admission to the University of San Francisco School of Law is based on a judgment of an applicant's capabilities for the study of law.
The Admissions Committee considers all factors relevant to predicting success in law study and in the profession. Particular emphasis is placed on the prelaw academic record and performance on the Law School Admission Test. However, no formula is used to determine an automatic decision, and the Committee does not set any mandatory cutoff for consideration.
Transcripts are carefully evaluated to determine the strength of the undergraduate curriculum and the validity of the applicant's grade point average. The Committee considers recommendations from individuals with whom the applicant has studied and/or who have had recent and substantial opportunity to observe the applicant's character and potential. Consideration is also given to the personal statement as well as information concerning achievements and accomplishments.
The Admissions Committee applies the same standards for admission to both the full-time and part-time divisions.
Pre-Law Studies
Admission to the law school requires a baccalaureate degree from an accredited college or university.
The law school does not prescribe a particular prelaw curriculum.
The faculty strongly recommends an undergraduate program providing a wide-ranging, liberal education. A broad exposure is considered more advisable and useful than a narrow emphasis on vocationally oriented courses. Courses which provide training in written and oral expression and which are intellectually and analytically demanding are particularly recommended.
Admission Procedure
The USF School of Law begins accepting applications for both divisions of the Juris Doctor Program after Labor Day. Applications are considered in the order completed. The Admissions Committee will not consider any application for admission until all required documents are received. Applicants are encouraged to submit all supporting documents as soon as possible.  Because the Admissions Committee uses a rolling admission system and begins the review process in December, applicants whose files are completed later in the application period may jeopardize their chances for admission.
Applicants, and those interested in applying, are urged to visit the law school. The law school holds periodic informational open houses and tours.
First-Year Applicants
Applicants for the entering class are accepted for the fall semester only. Applicants must indicate on the application form whether they wish to apply for the full-time or the part-time degree program; an applicant may not apply to both programs
Any applicant who has previously registered at another law school must have a letter of good standing submitted by that law school. In the event that the student sat for an examination at another law school, an official transcript and class rank also are required.
Commitment to Diversity
The USF School of Law seeks to admit a diverse group of students who, individually and collectively, are among the most capable law students in the nation. We strive to admit students capable of succeeding in law school, and after graduation as attorneys, public servants, or in any endeavor in which they use their legal training. We seek students who will work to promote the well-being of society, further social justice domestically and abroad, and contribute to the common good.
The law school considers multiple factors and objectives as it goes about admitting students, including an applicant's undergraduate grade point average (GPA) and the relative strength of the applicant's Law School Admission Test (LSAT) score(s). But much more goes into the consideration of an applicant's qualifications. We also consider the quality of the applicant's undergraduate school, the applicant's course selection and performance in various courses while an undergraduate, and any graduate degrees. In addition, we consider past work experience, community service, an applicant's overall potential to render significant contributions to the legal profession, and diversity.
Diversity is a core value of the law school and, consistent with our mission, we aim to admit a class from diverse backgrounds, including men and women of differing races, ethnicities, religions, sexual orientations, and ages as well as individuals with disabilities.
We recognize that diversity has the potential to enrich everyone's education and to make the law school class stronger than the sum of its parts.
Diversity enables students to learn from each other, promotes a variety of perspectives and a willingness to share experiences and world views in order to expand student horizons, and enhances capacities for empathy and critical engagement.
We recognize that prior discrimination and/or disadvantage could result in GPA and LSAT scores that fail to reflect a candidate's true potential for success. The law school therefore looks at all aspects of an applicant's background, including any ethnic, social, cultural, and economic circumstances that indicate a history of overcoming societal discrimination and/or social or economic disadvantage during childhood, deficient early schooling, or coming to this country as an older child or adult, and/or learning English as a second language.  While such experiences alone do not establish eligibility for admission, we believe that candidates with such experiences, who can demonstrate their capacity to succeed despite adversity, are particularly likely to add to the overall educational experience at the law school.
In particular, the law school has a goal of providing meaningful representation of historically underrepresented minorities.  We recognize that, by virtue of our nation's struggle with racial inequality, such students may be likely to have experiences of particular importance to the law school's mission and may be less likely to be admitted in meaningful numbers on criteria that ignore those experiences, and may have objective indicators – LSAT scores and undergraduate GPAs – that do not fully reflect their potential.
The law school makes a holistic review of each applicant's file and gives serious consideration to all of the ways in which the applicant might contribute to a diverse educational environment in the law school. In order to assess these qualities, applicants may submit an optional essay on diversity.